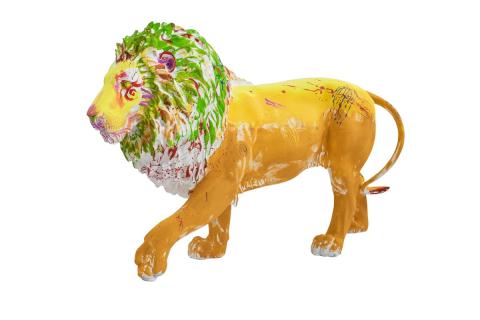 A global pride of 47 life-sized lion sculptures has appeared on the streets of cities around the world to raise awareness of the threats facing lions and raise funds to support conservation projects across Africa.
The sculptures, painted by artists that include Rolling Stones guitarist Ronnie Wood and actor John Cleese, first appeared on World Lion Day (Aug. 10) in Wellington, N.Z., London and Bristol in England, The Hamptons in New York, Edinburgh, Scotland, Nairobi, Kenya and Sydney, Australia.
Collectively they're known as The Tusk Lion Trail in recognition of Tusk, an organization that has supported conservation efforts in Africa for 30 years.
The Tusk Lion Trail is curated by Chris Westbrook and will run through Sept. 27.
By partnering with leading and emerging conservationists across Africa, Tusk secures donor funding to invest in grassroots initiatives that involve local organizations and encourage and enable African leadership.
While Tusk accepts donations, additional money will be raised through The Tusk Lion Trail by auctioning off the sculptures.
The London pride will be auctioned on Nov. 9, while the American ride will be auctioned in conjunction with the African Community & Conservation Foundation (ACCF) at Wölffer Estate Vineyard in The Hamptons on Aug. 27.
The ACCF's mission is to contribute to the preservation of important African wilderness areas, as well as to empower the communities living alongside those spaces.
The similar 2018 Tusk Rhino Trail raised £750,000  (CAD $1.3 million) in London alone, and it's hoped that number will be surpassed this year through working with global auction house Bonhams.
African lions are facing greater threats to their survival than ever before. With the continent's entire population estimated to have declined by as much as 50 per cent in the last three decades, there are now fewer wild lions remaining than rhinos.
Only 10 areas have been identified as offering a secure future for lions, with the species facing pressure from habitat loss, declines in prey and human-lion conflict. Despite the challenges, efforts to protect lions persist across Africa, with strongholds in Tanzania and Zimbabwe supported by Tusk.