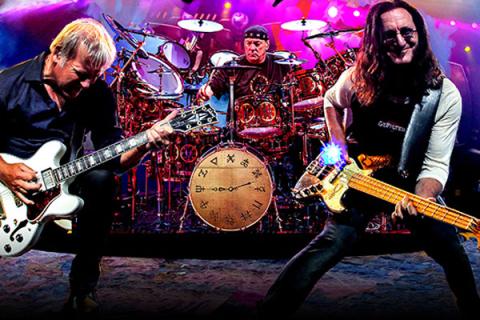 Rock band Rush are donating $40,000 to the cancer research cause of Tragically Hip singer Gord Downie. The famed Canadian trio recently announced they were donating the money to the Gord Downie Fund for Brain Cancer Research at Toronto's Sunnybrook hospital, the fund Downie set up after he discovered he had terminal gioblastoma brain cancer last December.
Rush are being honoured with the Allan Slaight Humanitarian Spirit Award at Canadian Music Week's Canadian Music & Broadcast Industry Awards gala dinner on April 20, 2017 at the Toronto Sheraton Centre hotel. As part of that honour, the band will receive $40,000 to donate to the charity of their choice. Rush members Geddy Lee, Alex Lifeson and Neil Peart were unanimous in the opinion they should give the money to Downie's fund, according to the CMW press release.
"We are pleased to direct this generous donation from the Allan Slaight Humanitarian award to the Gord Downie Fund for Brain Cancer Research at Sunnybrook. Many Canadian families have been affected either directly or indirectly by this terrible disease. Through Gord's courageous efforts this cause is now getting the attention it desperately deserves. As a fellow musician and friend it's our turn to help support his efforts to fight Brain Cancer now," said Rush in a joint band statement.
At Sunnybrook Health Sciences Centre they're using the funds collected to invest in cutting edge cancer research.
"We are thrilled to learn Rush has made such a donation," said Dr. James Perry, head of neurology at Sunnybrook Health Sciences Centre. "The Gord Downie Fund for Brain Cancer Research will help give us the tools we need to find ways to treat the untreatable. Right now we are investigating new drugs, surgical techniques and genetic therapies. We are using ultrasound to reach tumours that couldn't be reached before. The funds so generously donated by Rush will support us as we continue our pioneering work, to the benefit of brain cancer patients not only across Canada but around the world."
Rush are far from the only high-profile figures to throw their support behind Downie in recent weeks. Former Toronto Maple Leafs hockey player Doug Gilmour also launched a contest/memorabilia sale dedicated to Downie's cancer fund.
Since Downie's cancer diagnosis the Tragically Hip went on a cross-Canada tour that raised more than $1 million for cancer research.
Downie also released Secret Path, a solo album/animated movie/graphic novel project following the story of Chanie Wenjack, a 12-year-old boy who died while running away from the Cecilia Jeffrey Indian Residential School near Kenora, Ontario in 1966.

Money from that project is being dedicated to The Gord Downie Secret Path Fund for Truth and Reconciliation via The National Centre for Truth and Reconciliation (NCTR) at The University of Manitoba as well as the Gord Downie & Chanie Wenjack Fund.
Air Jordan