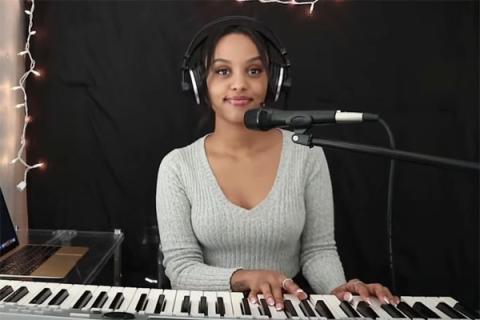 Canadian pop singer Ruth B.'s recent livestream concert performance has helped generate $157, 545 USD (CAD $201, 634) to support musicians and music industry personnel impacted by the global COVID-19 pandemic.
The Edmonton, Alberta-born singer's livestream performance on Dec. 3 was a fundraiser for the Musicares Foundation's COVID-19 Relief Fund and featured her perform the global hit "Lost Boy" in addition to more recent singles "Dirty Nikes" and "Slow Fade" in a 21-minute set. The singer also performed a grooving cover of the song "Fever," which was made famous by Peggy Lee and since been tackled by the likes of Elvis Presley, Madonna, Beyonce and Michael Buble.
MusiCares is the music industry charity started by the Recording Academy, the same people behind the Grammy Awards. The charity acts as a safety net for musicians and music-related workers in times of need, offering preventative, recovery and emergency programs to address financial, medical and personal health issues.
Musicares has been doing fundraisers and activations throughout 2020 to help music creators and professionals affected by the Coronavirus crisis which has financially devastated the music industry due to venue closures and the inability for musicians to tour and perform in front of audiences. Some of the areas the COVID Relief Fund aims to support music creators and professionals in-need include food and necessities resources, public health information, financial and general assistance, eviction resources, and mental health resources.
Ruth B. broke out in 2015 with her first single "Lost Boy" from the The Intro EP and earning accolades like the Juno Awards' 2017 breakthrough artist of the year in addition to nominations at the BET and Teen Choice Awards in 2016. Her first full-length album Safe Haven earned her three Juno Award nominations in 2018.
Watch Ruth B.'s livestream fundraiser performance
Air Jordan 1