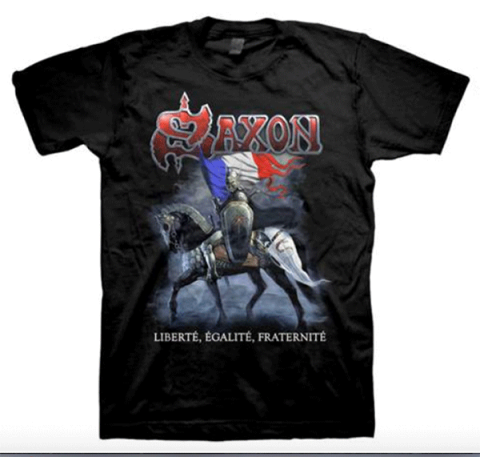 Nick Alexander, the much-loved merchandise manager for such acts as Billy Talent, Cat Stevens, The Black Keys and Sum 41 who was killed in the Nov. 13 terrorist attack at Paris venue The Bataclan while working for Eagles of Death Metal, is getting his own T-shirt in his honour.
English heavy metal legends Saxon are taking preorders for a black band T-shirt they had made in his memory that features a medieval horse and rider, carrying the French flag, and the words "liberté, égalité, fraternité," the motto of France. In English, it means "liberty, equality, fraternity."
Saxon formed in 1978 and still features original singer Biff Byford and guitarist Paul Quinn, and drummer Nigel Glocker, who joined the band in 1981.  
"Nick Alexander was a well respected merchandise manager who has worked with many bands worldwide, including Saxon, and will be sorely missed by many friends and colleagues on the road," it reads on Saxon's web site.
Named the Heavy Metal Thunder France T-shirt or HMT Nick Alexander T-shirt, it sells for £20 from the UK/Europe online store and $30 (US) from the North American store.
The shirt is available in small, medium, large, x-large, xx-large and xxx-large and will ship on or around Dec. 4. 
"All profits from the sale of this t-shirt will be donated to a charitable trust as instructed by Nick's family."
The British-born Alexander was among the 89 people murdered by ISIS at the venue; 130 people lost their lives in the multiple attacks that took place that night in multiple Paris locations. Another 368 were wounded, close to 100 of them critical.
トレンチコート コーデ メンズ特集!往年の名優たちも愛したアウターの粋な着こなし&アイテムを一挙紹介 , メンズファッションメディア Reus - ページ 2