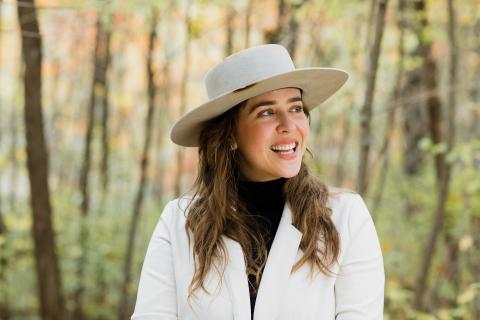 New York-based sustainable housing organization Breaking Ground has partnered with Canadian singer-songwriter Serena Ryder to help clothe the city's homeless this winter, in conjunction with the release of her latest single, "Kid Gloves," which came out in November.  In return, contributors will get a ticket for her online acoustic concert, Feb. 4.
Ryder's Winter Wear Drive ends Jan. 22.
"As it gets colder, we know there are so many people who will struggle keeping warm this winter," said the "Stompa" hitmaker in a press release:  I've partnered with Breaking Ground to help provide cozy clothes for those who need them."
Breaking Ground runs street homeless outreach throughout the boroughs of Brooklyn and Queens, as well as a portion of Midtown Manhattan, and had 25 transitional and permanent residences mainly in New York City. According to its website, its is New York's "largest nonprofit developer of supportive housing and a leader of targeted solutions to homelessness." They serve over 8,000 individuals annually through its programs and housing opportunities.
Ryder, who released her first album, Falling Out, in 1999, went on to have four Canadian gold and platinum albums, 2006's If Your Memory Serves You Well, 2008's Is It O.K., 2012's Harmony, and 2017's Utopia. Her next album, The Art of Falling Apart?, will cover her mental health journey to wellness.
There are two ways to get a ticket to the Feb. 4 virtual concert: a financial contribution to Breaking Ground, or by donating gloves, of course, or other winter wear to a local clothing drive.
Financial donations go towards helping Breaking Ground provide basic warm winter wear, such as  knit hats, gloves, scarves, boots, and jackets. $15 (USD) purchases a set of gloves, scarf and hat for one person; $40 (USD) a pair of sturdy winter shoes for one person; $75 (USD) a warm winter jacket for one person; and $100 (USD) a full winter ensemble for one person.  There is also an option to contribute an amount of your choosing.
Option two requires a donation of a new or gently used item (or items) to your local organization. "We recommend taking a selfie with your donated item, and tagging Serena and the nonprofit you donate the item to on Instagram – spread the word and show your support!" it states on her dedicated page on the charity's web site. "To confirm that you have donated an item locally, send an email to serenaryderdonations@gmail.com. You will receive a response with a link to the virtual concert."