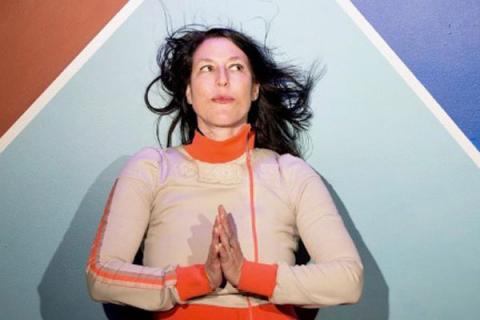 Brookyln, New York alternative musician Shana Falana is hoping to unleash an "army of love" with her new video for the song "Cool Kids," penned in support of marginalized people.
The immensely catchy song from Falana's 2016 Here Comes The Wave album is an anthem for the nerds, the weirdoes and the socially awkward, with Falana suggesting that people stay true to themselves. The dream-pop song would fit comfortably beside anything Alvvays or Cults might do and is a wonderful anthem for the outsiders.
The video for the song features a number of sequences of people blow-drying their hair before switching to a scene where a number of costumed people are riding exercise bicycles and waving rainbow pride flags.
In a statement, Falana says the song is about supporting marginalized people:
"This is about as political as I get. This year has forced so many of us to re-proclaim the basics of human rights and decency. It's been heartbreaking to see so many friends in my local community who have been under attack and marginalized further, and so how could that not be on my mind when making a video for 'Cool Kids'?

"This song, which I wrote last year, is about embracing yourself and letting go of judgements against others. At my shows recently I've been sewing felt hearts onto people's clothing and asking them to make a pledge to be more vulnerable, empathetic, and to actively take care of others in their communities.

"Like most of my work, it meditates on one tone, one note, attempting to create a space where people can relax, and dream. When Bon Jane, who brilliantly shot and directed this, and I got together, we both loved the idea of visually presenting that dreamy, meditative state through people blow drying their hair in slow motion.

"This video is about reaffirming my belief in the future. During the shoot we kept calling the group of people on bikes an 'Army of Love,' because that's what we're doing. Going to war for love."
Falana also recently contributed the track "There's A Way" to the pro-Bernie Sanders compilation The Future's So Bright It Berns!
Watch Shana Falana's "Army Of Love" video
【正規品】最新のナイキ メンズ レディース スニーカー通販