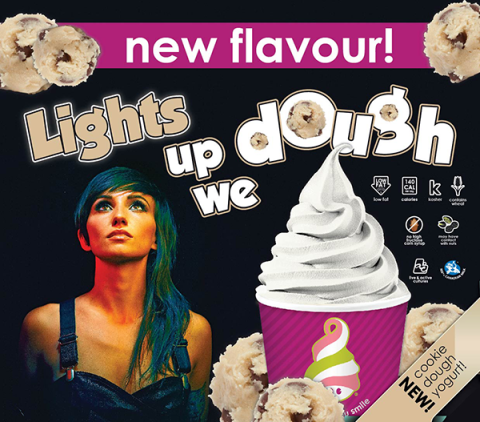 For the past month, Juno Award-winning synth-pop singer Lights has had her own Menchie's Frozen Yogurt, a cookie dough base called Up We Dough, a play on the title of her gold hit single, "Up We Go," from her latest album, Little Machines.
Tomorrow, March 11, 20 percent of sales from her flavour and all yogurt sold at Menchie's Canada's 105 stores will go to MusiCounts. The Juno Awards-affiliated music education charity provides instruments to schools and communities in need.
Lights ­ — in Toronto for the Juno Awards this weekend, an hour away in Hamilton, Ont., where she is nominated for Pop Album of the Year and will perform live — will be at Menchie's from 5 p.m. to 7 p.m. at 865 York Mills Road (Unit 7) tomorrow (March 11). She will meet customers, take photos, sign autographs and no doubt convince people to buy Up We Dough.
"The Lights promotion came first," Al Montag, director of marketing for Menchie's Canada, tells Samaritanmag. "Lights has visited a number of our stores across Canada, and if you've ever been in a Menchie, they've got 'Menchiewood,' which is kind of like Hollywood, the who's who of who.
"We contacted her agent [artist manager Ashley Poitevin of Last Gang Entertainment] wondering if she'd be interesting in partnering with us for a charity," he continues.
"We were thinking of donating money to schools to help with music and they said, 'Why not MusiCounts because they're tied in with the Junos and they're a perfect fit with Lights,' and they talked to Lights about it. We were originally thinking of another charity dealing with children and then MusiCounts came up and we all jumped on it at the same time."
Next…choosing the flavour. "We didn't have a cookie dough base flavour prior to this promotion," says Montag. "Lights said, 'Is there a flavour [you can use] that you can kind of make fun of my hit song, 'Up we Go?'
"We went through all our flavours. We've got mango but we thought 'Up We Man-go.' 'Nah, it wouldn't work.' Then we thought, well, we could actually create a cookie dough which rhymes [with 'go'] and came up with our new flavour."
Since Feb. 11, Menchie's has been promoting Up We Dough with a contest. Purchase Lights' yogurt flavour and upload a photo or video using #LIGHTSUPWEDOUGH for a chance to win an autographed acoustic guitar autographed, along with other prizes.  The draw is March 11.
This marks the first time Menchie's Canada has partnered with an artist of this level of popularity. They have done in-stores with local artists at some locations but there hasn't been a charity tie-in, Montag says. 
Up We Dough will be available for a couple more days after March 11, says Montag,  "and then it will be in rotation, in and out during the year." But tomorrow is the only chance to help raise money for MusiCounts through indulging in yogurt.
On Thursday, Lights, who now lives in BC, when she's not on tour, will announce the 2014-2015 recipients of MusiCounts Band Aid Program in a private presentation at Orchard Park Secondary School in Hamilton, Ont. There she will perform for the school in the auditorium. This year, nearly $600,000 in new instruments will be provided to 69 schools across Canada, according to MusiCounts. 
Air Jordan 1