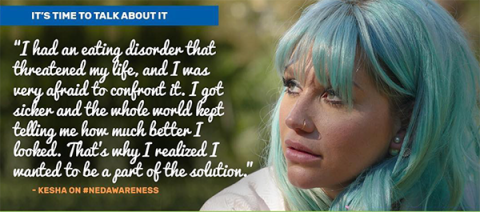 Fans of American singer/songwriter and rapper Kesha have yet another reason to celebrate the "Tik Tok" star: her advocacy.
Kesha has thrown her support behind National Eating Disorders Week (#NEDAwareness Week), a weeklong campaign organized by the National Eating Disorders Association to spotlight the sometimes-deadly issue of bulimia and anorexia through education and awareness.
In a heartfelt tweet dispatched midway through the campaign (the 30th annual NEDAwareness Week runs Stateside from Feb. 26 - Mar. 4), Kesha posted, "I had an eating disorder that threatened my life, and was very afraid to confront it. I got sicker and the whole world kept telling me how much better I looked. That's why I realized I wanted to be a part of the solution."
"It's time to talk about eating disorders This #NEDAwareness Week, Get screened at http://nationaleatingdisorders.org/screening."
The screening Kesha mentions in her tweet refers to an online quiz posted at the NEDA website which asks a series of questions about eating habits and body image before delivering what's termed as "screening results" with information about where to seek help.
In the previous tweet, she wrote: "I am honored to partner with NEDA to reduce the stigma of treating eating disorders. Confidential screening" and also linked to the screening tool page.
According to their website, NEDA "supports individuals and families affected by eating disorders, and serves as a catalyst for prevention, cures and access to quality care." More specifically, they "campaign for prevention, improved access to quality treatment, and increased research funding to better understand and treat eating disorders" and "work with partners and volunteers to develop programs and tools to help everyone who seeks assistance."
Kesha has been open about her struggle with eating disorders, telling Vogue in 2015 that her sudden success triggered a heightened concern with body image, eventually leading to an eating disorder for which she sought professional treatment in 2014.
In the United States, according to NEDA's website, some 20 million women and 10 million men suffer from a clinically significant eating disorder at some time in their life. The stats are similarly grim in Canada, says the National Eating Disorders Information Centre.
NEDIC states that according to a 2002 survey, 1.5 percent of Canadian women aged 15-24 years had an eating disorder.
The prevalence of anorexia and bulimia is estimated to be 0.3 percent and 1.0 percent among adolescent and young women, respectively with "rates of anorexia and bulimia appearing to increase during the transition from adolescence to young adulthood."
Air Jordan Release Dates 2020 , Sneaker News, Release Dates and Features