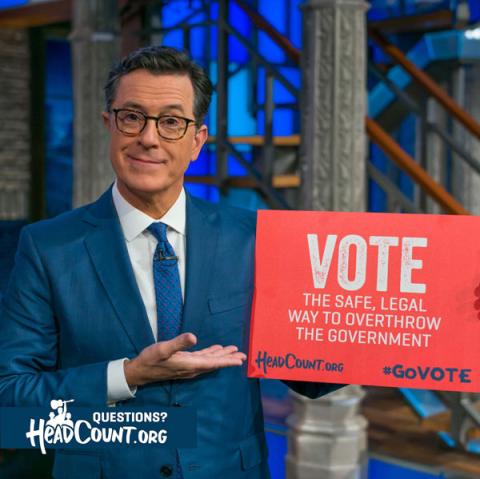 With voters in the U.S. presidential election campaign set to cast their ballots on Tuesday, Nov. 8, numerous actors, musicians and others in the public eye are encouraging people to get out and vote.
Many of these high-profile entertainers have been using the hashtag #GoVote on social media as part of an initiative by the Headcount organization. Founded in 2004 by a group of musicians and music industry people including Bob Weir of the Grateful Dead and Marc Brownstein of the Disco Biscuits, Headcount is a non-partisan organization with the goal of motivating millennials to getting involved in the democratic process by encouraging them to register to vote.
Headcount usually does this by sending street teams to concerts to operate voter registration booths, which have signed up more than 426,000 would-be voters over the years.
"We stage voter registration drives at concerts and run programs that translate the power of music into real action," says a message on the Headcount website. "By reaching young people and music fans where they already are – at concerts and online – we make civic participation easy and fun."
The Headcount site provides information for would-be voters on things like early voting, polling place locations and state ballot initiatives.
With the new #GoVote campaign Headcount has enlisted not just musicians, but actors, comedians and other celebrities, as well to help encourage voter registration. Satirist Stephen Colbert's #GoVote message was "Vote – the safe legal way to overthrow the government." Brandi Carlile said "I [heart] girls who vote." And Phil Lesh of the Grateful Dead's message was ""Bad Politicians are elected by good people who don't vote." Other contributors to the campaign include the likes of Rob Lowe, James Franco, Kings of Leon, Pearl Jam, Russell Simmons, Conan O'Brien and Zoe Kravitz. The likes of Jay Z, Pearl Jam and Dave Matthews have also participated in past Headcount campaigns.
Headcount will be looking to sign up new voters at upcoming shows by Animal Collective, Toots and the Maytals, Black Rebel Motorcycle Club, Bad Religion and Joan Jett, among others.
On election night Headcount is doing an event called Soundtrack To History at the Brooklyn Bowl in New York. It'll feature a "live jam" set to the election results which will be broadcast on the screens throughout the venue. Members of the bands moe., Disco Biscuits, Trey Anastasio Band and Snarky Puppy will be some of the participants.
adidas Yeezy Boost 350