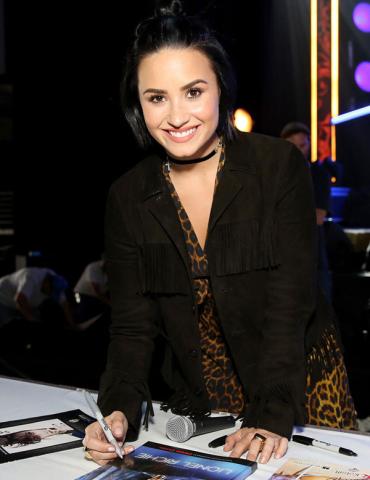 Tickets to attend the 60th Grammy Awards as well as autographed items from the likes of Stevie Nicks, The Weeknd and Selena Gomez are part of the MusiCares holiday season auction.
MusiCares is the music industry charity started by the Recording Academy, the same people behind the Grammy Awards. The charity acts as a safety net for musicians and music-related workers in times of need, offering preventative, recovery, and emergency programs to address financial, medical, and personal health issues.
The MusiCares holiday auction raises funds for the charity to provide its services.
The most furiously bid on item right now is a signed and framed copy of Stevie Nicks' "Talk To Me" 12" vinyl single. The record has currently attracted 44 bids for $570 USD ($726.47 CAD).
The marquee item of this year's auction is a pair of platinum tickets to the 60th Grammy Awards to sit right in the middle of the VIP/artist/celebrity section at the upcoming award show being held Jan. 28, 2018 at New York's Madison Square Gardens. Bidders will also have access to the official Grammy after-party and will be provided three nights hotel accommodation. Bidding for this package starts at $12,700 USD ($16,186.34 CAD).
There are a number of other intriguing items available in the auction as well.
A signed copy of Barbra Streisand's hardcover book My Passion For Design has a starting bid of $150 USD ($191.18 CAD). An autographed hockey stick signed by Jack Johnson, the professional hockey player for the NHL's Columbus Blue Jackets, not Jack Johnson, the soft rock singer behind such hits as "Upside Down" and "You And Your Heart," has a starting bid of $100 USD ($127.45 CAD). An Epiphone Les Paul guitar signed by the members of Weezer is at $1,000 USD ($1,274.50 CAD). And a signed and framed photo of Shawn Mendes is at $31 USD ($39.51 CAD).
There are also items from the likes of Demi Lovato, Michael Franti, Travis Barker, Keith Urban, The Weeknd and more.
Bidding for these items opened on Nov. 26 and run until Dec. 6.
NIKE(ナイキ)のアイテムを使ったコーディネート一覧