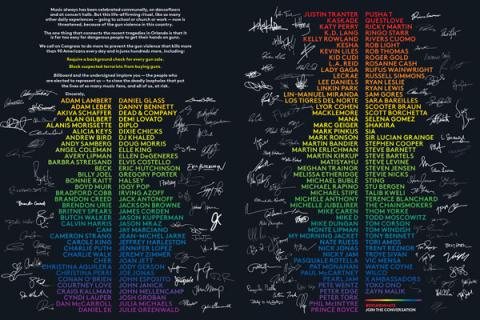 STOP GUN VIOLENCE NOW is the terse message of a new Open Letter to Congress, signed by Lady Gaga, Paul McCartney, members of Pearl Jam, and close to 200 other high profile musicians, entertainers and music execs to demand stricter gun control laws in the United States, in an initiative organized and published by music industry trade magazine Billboard with the help of non-profit advocacy group Everytown for Gun Safety.
"Like the rest of the country and the world, Billboard editors were horrified by the mass killing at Orlando's Pulse nightclub on June 12, and by the murder of singer Christina Grimmie the night before. Both tragedies occurred where musicians and music fans gathered. And so faced with another gun-related tragedy, the staff organized this special 'Open Letter to Congress' cover of Billboard," the publication writes on its web site.
"With the help of leading gun-violence prevention group Everytown for Gun Safety, editors reached out to those we cover in the music industry, and asked for their support and their signatures to help seek a sane and safe end to gun violence," it continues, explaining that Joan Jett signed on first, followed by Lady Gaga, and then close to 200 "pop stars (including Grimmie's friend Selena Gomez), rappers, rock gods, legends, Broadway heroes, even two Beatles and Yoko Ono."
The petitioners, who also included Zayn Malik, Sting, Christina Aguilera and Jennifer Lopez, all signed an open letter to Congress demanding all gun purchases in the U.S. require background checks and that anyone on a terrorist watch list be blocked from purchasing a gun.
Gun violence has had a heavy effect on the music world in recent days. On June 12, lone gunman Omar Mateen shot and killed 49 people and injured 53 at a gay nightclub Pulse in Orlando, Florida. It was the deadliest mass shooting in U.S. history. In a separate incident the night before singer Christina Grimmie was shot and killed while signing autographs after a performance in Orlando.
Here's Billboard's open letter to Congress:
Stop Gun Violence Now

As leading artists and executives in the music industry, we are adding our voices to the chorus of Americans demanding change.

Music always has been celebrated communally, on dancefloors and at concert halls. But this life-affirming ritual, like so many other daily experiences—going to school or church or work—now is threatened, because of gun violence in this country.

The one thing that connects the recent tragedies in Orlando is that it is far too easy for dangerous people to get their hands on guns.

We call on Congress to do more to prevent the gun violence that kills more than 90 Americans every day and injures hundreds more, including:

* Require a background check for every gun sale
* Block suspected terrorists from buying guns
Billboard and the undersigned implore you—the people who are elected to represent us—to close the deadly loopholes that put the lives of so many music fans, and all of us, at risk.
To see the full list of supporters behind this letter go here.
(full disclosure: Samaritanmag's founder Karen Bliss is the Canadian correspondent for Billboard).
adidas Yeezy Boost 350 V2 News, Colorways, Releases