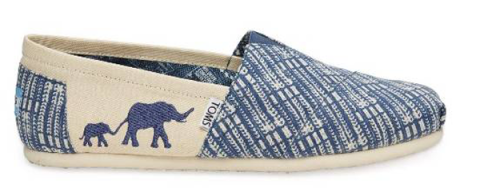 We know cat patterns are popular, but how about switching it up and wearing an elephant — on your shoes? Philanthropic shoe company TOMS has just released its newest limited edition collection from the TOMS Animal Initiative in support of animal protection worldwide and it's only available online at TOMS.ca and TOMS.com. 
The vegan Classic style shoes, which feature an embroidered elephant, come in men's, women's and children's sizes. The blue men's and red women's sell for $70, the blue and red youth sizes for $48 and tiny size for $38.
The partnerships are with the Wildlife Conservation Society and The Clinton Foundation.
Based at New York's Bronx Zoo, WCS's mission it is to "[save] wildlife and wild places worldwide through science, conservation action, education, and inspiring people to value nature." At the Clinton Foundation, Chelsea Clinton — daughter of Bill and Hillary — is heavily behind the campaign to save the African elephant.
According to the WWF, "The two main historical factors behind the decline of African elephants – demand for ivory and changes in land-use – still pose a serious threat to the species.
"Most range states do not have adequate capacity to protect and manage their herds. If conservation action is not forthcoming, elephants may become locally extinct in some parts of Africa within 50 years."

Headquartered in the U.S., TOMS — whose business mandate is to donate a pair of new shoes to a child in need for every pair sold — will also make an undisclosed monetary contribution to both non-profits.
"In addition to the collection to create awareness for the initiative, TOMS is making a financial donation to The Clinton Foundation and the Wildlife Conservation Society to support their efforts to protect African elephants that are being killed by poachers for their ivory tusks (96 elephants are killed every day)," it reads.
TOMS first Animal Initiative collection launched in May, in partnership with the Democratic Republic of the Congo's Virunga National Park to help save the mountain gorillas, which are threatened by poachers and the destruction of its habitat.
The Animal Initiative was created by TOMS founder Blake Mycoskie's wife Heather with "an overarching platform to drive awareness and monetary funding for global animal conservation," it says on TOMS web site.
Air Jordan