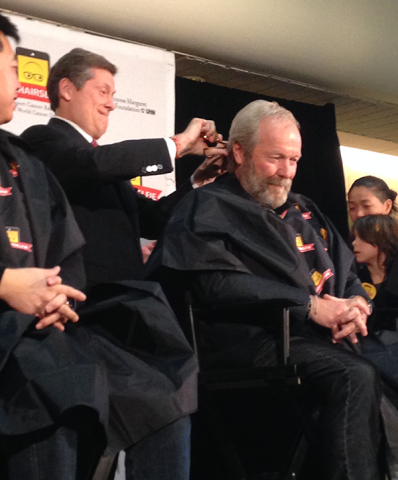 The inaugural #NoHairSelfie campaign that raised $1.8 million for The Princess Margaret Cancer Foundation in Toronto is going global, Paul Alofs, president and CEO of PMCF, tells Samaritanmag.
Donations can still be made until March 31.
On Feb. 4, also known as World Cancer Day, fundraisers agreed to shave their head (or virtually do so through a mobile app) to show solidarity for the thousands of people who undergo cancer treatment each year.  More than 15,000 selfies were posted to nohairselfie.com and the #NoHairSelfie app was downloaded more than 50,000 times, says Alofs.  And while there were participants globally, the campaign will officially launch in other countries next year.
"We have expressions of interest from global cancer organization the UICC [Union for International Cancer Control] based in Geneva," Alofs says. "We presented the #NoHairSelfie to UICC membership at a conference in Australia in December and we have expressions of interest from 10 countries to run the #NoHairSelfie in 2016. Importantly, we are meeting with UICC officials in Geneva in April and with the actual success of the event in 2015, we expect strong global interest as we expand this outside Canada in 2016.  Gary was a pioneer, lent us his hair, and was a fundraising maestro!"
Gary is Gary Slaight, the Toronto businessman, philanthropist and music industry benefactor whose family foundation supports many health care institutions, social services, culture and arts programs. When he offered to shave his head and match donations, many people contributed; his final tally was $640,000.  His friend Mayor John Tory did the honours, which brought even more attention to the campaign, as a makeshift barbershop was set up inside Prince Margaret Hospital for the press conference. Tory did the first couple of snips and a professional finished it off.
"There is no other family in the city that has done more [than the Slaight family] for many different causes and this is just another example of him showing leadership…," said Tory. "The best way we can work together to deal with the prevention and detection and treatment of cancer is for everybody to do something, whether it's looking after yourself by getting a test of some kind, whether it's helping somebody else, or just giving a bit of money to help with all of this."
Monies raised went directly to the #NoHairSelfie Personalized Cancer Medicine Fund, which invests in the future of cancer treatment with research into therapies such as epigenetics, precision genomics, immune therapy and others, it said on the tax receipt.
Kevin Shea, director, public relations, at PMCF, tells Samaritanmag, "We left the ability to donate open until the end of the month as some of the shavers had money coming in pending their actual shave, and a few who felt motivated that day to get involved. There wasn't much money that dribbled in after World Cancer Day, but we didn't want to leave any money on the table."
Nike sneakers