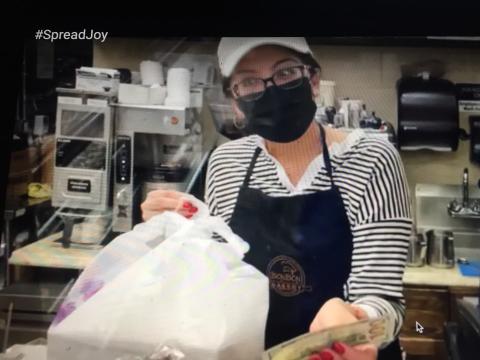 Marketing agency Klick Health gave 630 employees a $100 bill with the simple directive to use it to spread joy, and then shared the results in a YouTube video that also raised $10,000 for Make-A-Wish Canada, which grants wishes to children with critical illnesses.
Klick Health pledged to donate a dollar for each of the first 10,000 YouTube views of its three-minute #SpreadJoy video that shows the reactions of people who received the windfall. As of early morning on Dec. 20, the video had been viewed about 2.3 million times.
"We were blown away by how thoughtful, empathetic, and astoundingly creative Klicksters were in putting $100 bills to great use to spread joy," Klick Health chief creative officer Rich Levy said in a media release.
"Beyond coming up with really meaningful ways to pay it forward, they also serve as the cinematographers, location scouts, and stars of our 2021 holiday video. We couldn't be prouder of how everyone, including our in-house production team, collaborated and put so much heart and soul into it."
Thirty-one per cent of the campaign's participants in Canada and the United States, wearing "Klick blue" holiday scarves while self-filming their kind gestures, gave their $100 to local business and public service providers who've been there for them throughout the pandemic.
Others pooled their dollars together, including those who brought Christmas early to a family with toys for four young siblings who lost their parents during the pandemic and gave their grandmother $4,000 to help with their care.
Other moving moments from the #SpreadJoy video included:
bringing a stranger to tears by paying for a new transmission and tires for a car;
surprising a neighbourhood coffee shop barista with a $100 tip;
hiring a five-piece brass band to entertain residents of a retirement community;
leaving $20 bill-filled envelopes on random car windshields with a note saying "Just Because;"
and brightening a bad weather day for a school crossing guard with a $100 bill and a "thank you for being you and dancing even when it's raining" greeting.
There were 284 acts of kindness shot across 15 American states and six Canadian provinces," producing 1,704 video clips and 10 hours and 28 minutes of footage. Thirty-eight hours were spent reviewing it and the final #SpreadJoy video required 270 hours of post-production to complete.
"One single act of kindness can inspire many more, and we hope that our holiday video inspires other companies to #SpreadJoy," Klick Health chief people officer Glenn Zujew said in the release. "We can't thank our Klicksters enough for continuing to prioritize giving back, in keeping with our people-first culture and values."
The donation to Make-A-Wish Canada will also help spread joy to children with critical illnesses who'll receive their most heartfelt wish. Research shows children who have wishes granted can build the physical and emotional strength they need to fight a critical illness. Make-A-Wish Canada has granted more than 36,000 wishes across the country since 1983.
"Every child deserves a childhood full of joyful holiday experiences," Make-A-Wish Canada executive vice-president of development Sheila Rees said in the release. "We are incredibly inspired by Klick Health for this wonderful opportunity and strong belief in our mission.
"This generous gift will spark joy that will rejuvenate and help our wish kids cope with the stress of fighting a critical illness and create hope for brighter days ahead."
Klick Health is also adding Make-A-Wish to its internal Klick it Forward giving platform for December so employees can direct the corporate donation dollars they receive to the charity.
Klick Health is the world's largest independent commercialization partner for life sciences. It has been focused on developing, launching and supporting life sciences brands to maximize their full market potential for more than two decades.
Watch the video: