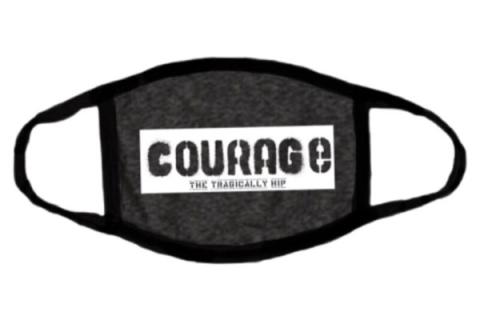 Revered Canadian rock band The Tragically Hip have released a "Courage"-themed face mask with proceeds going towards the Unison Benevolent Fund.
The reusable non-medical cloth masks are available for purchase for $15 from the band's web store. All proceeds from sales of the COVID-19 prevention measure will go towards Unison, an assistance program that provides relief to members of the Canadian music industry in times of crisis.
"Dear all, by popular demand and sad necessity we want to introduce the new Courage Mask," said the band on their website. "All proceeds from sales will go directly to the Unison Benevolent Fund. Formed over ten years ago, the Unison Fund provides emergency financial assistance to musicians and their crew members during their time of need. With venues shuttered and tours cancelled for the foreseeable future, the need has never been greater. Please spare a thought and prayer for all folks in the arts during these difficult times. Thanks for the support and thanks for wearing a mask! Stay safe."
The "Courage" masks are a nod to one of The Hip's most popular songs, "Courage (for Hugh MacLennan)" from the band's 1992 album Fully Completely. The song itself was inspired by author MacLennan's 1959 novel The Watch That Ends the Night.
The COVID-combating masks are far from the only good work the members of The Hip have done in recent years.
Before his death due to brain cancer in 2017, the band's lead singer Gord Downie had committed himself to a number of causes, including the Indigenous reconciliation effort The Gord Downie & Chanie Wenjack Fund and the Lake Ontario Waterkeeper, an organization working to create swimmable, drinkable, fishable provincial waterways to be enjoyed by future generations.

He and The Tragically Hip also donated to causes in their hometown of Kingston, Ontario, including Almost Home, which helps families get through hospital stays for children receiving hospital treatment; and Camp Trillium, a Hamilton, Ontario-based camp offering recreational fun for child cancer patients and their families.
Air Jordan 11 25th Anniversary Black Silver Eyelets CT8012-011 2020 Release Date