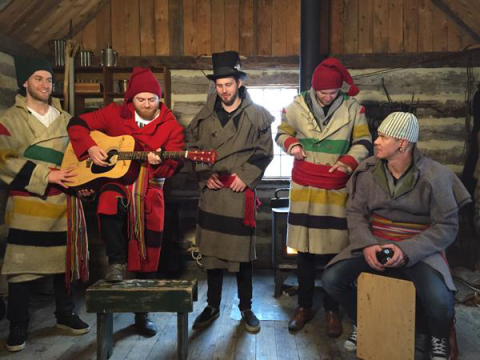 A tradition continued last week for Winnipeg pop-rock band The Treble, which played 24 shows in 24 hours for the fourth straight year to raise money for a worthy cause.This year's beneficiary was CancerCare Manitoba Foundation, a fundraising organization for CancerCare Manitoba, which is responsible for cancer research, prevention, detection, treatment, support and care for Manitobans.
"There are a million worthwhile causes and we always try to find one that the whole band can agree on," lead singer Mark Brusegard tells Samaritanmag, referring to bandmates Colin McTavish, Graeme Woods, Dana Jerlo and Patrick Hansen.
"We've had a rough year in terms of our relationships with cancer. I think everybody in the band has had someone who's been affected in some way, so this year it seemed like a no-brainer to us."
Inspired by a video highlighting British singer/songwriter Frank Turner playing 24 shows in 24 hours, The Treble decided to follow suit in 2011 to raise funds for the Canadian Red Cross and in 2012 to benefit the Winnipeg Harvest food bank. The band took their shows on the road last year to repeat the feat in Toronto, where it played to raise donations for Free the Children.
Things kicked off at 9 p.m. on Dec. 11 at Barley Brothers Stadium before The Treble and a small crew traversed Winnipeg in a minivan provided by Crown Honda to perform three-to-six-song acoustic and electric sets in locations around the city.
Twenty people turned out to gather around a picnic table to sing along with The Treble at Assiniboine Park's duck pond at 11 p.m., while no-one showed up to watch at the city hall Christmas tree at 5 a.m. Patients, doctors and other employees at CancerCare Manitoba were touched by a 3 p.m. set at their headquarters and media partner 103.1 Virgin Radio hosted the group. Four restaurants that donated sales proceeds from food items they created in honour of the musical marathon also acted as concert venues.
"We've always tried to focus on local businesses that are embedded in the community and have a passion for all things local because they're usually the most receptive," says Brusegard of how the show locations were chosen.
The biggest crowd of all, about 300 people, showed up for the hour 24 show at The Good Will. That inspired the band to play nine songs plus an encore before calling it a night.
"I think we were pretty much running on adrenalin at the end and, once it was all over, we were pretty delirious," says Brusegard. "But it was a really good event and we were really happy with everybody involved.
"There were a lot of great memories that will last forever for us. It was neat to see how many people got involved and how generous everybody was to rally around us for what we believe is a really good cause."
People could donate money to the effort in person or via the Internet and, while not all of the online funds had been tallied by earlier this week, Brusegard expected his band's efforts would put close to $5,000 in CancerCare Manitoba's coffers.
Everyone who donated $24 or more will get their name in the credits of a documentary being made for YouTube about the event, which will include interviews with band members, venue owners, CancerCare Manitoba representatives and others who contributed to organizing and helping out.
The Treble's good will goes beyond these marathon concerts, as the band has also performed at Count Me In events in Winnipeg and Toronto. Count Me In is an entirely youth-led charity movement and global brand dedicated to building a bridge between teens and their communities. Its core mission is to transform the way teens see themselves in connection to the world through volunteerism.
The Treble has released an EP and is working on its first full-length album with producer, songwriter and musician Rob Wells, who has previously produced material for Justin Bieber, Selena Gomez, Backstreet Boys and Maxi Priest, among others. The record will be released independently in the spring and the band will tour to support it.
Will some of those new songs be performed over 24 shows in 24 hours next year?
"We haven't started planning anything yet," says Brusegard. "But I have a feeling that we won't get away without doing it again."
Girls Air Jordan