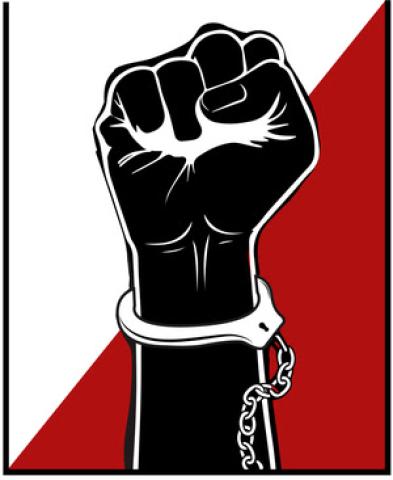 Music and faith communitites have the power to end mass criminalization, it states in all caps on the Calling All Crows web site. To that end, the fourth Unlocked Voices live stream fundraiser will take place on Facebook Live on Dec. 8 at 7:30 p.m. EST, benefitting Inspire The Fire and Exodus Foundation
This fall, the Boston-based Calling All Crows — founded in 2008 by musician Chadwick Stokes and former tour manager Sybil Gallagher —  teamed up with the Multifaith Initiative to End Mass Incarceration to host eight virtual concerts across the country as a part of its Unlocked Voices campaign.
"Each concert will take place in a different city, partnering with local community organizations that are working to provide hygiene supplies to prisoners and to help those who are being released early from prisons due to COVID in New York, Georgia, California, North Carolina, Massachusetts, Texas, and Tennessee," it states on the Calling All Crows web site. "These virtual concerts will also include local artists from each state."
The show on Tuesday will take place at The Creek Church in Charlotte, N.C. and feature local artists Mavi, Ahmir the King & Messiah, Luther S. Allison, Trice, Bluz and Dennis Reed lending their voices to help fight forces that imprison too many Americans and provide too little support to incarcerated people when they get out.
Represent Justice ambassador Fernando Bermudez, who spent 17 years in prison after being wrongly convicted, will speak.
Through producing entertainment media and impact campaigns featuring stories of hope, justice, and redemption, Represent Justice creates public demand for a fair legal system, dignity for system-impacted communities, and an end to extreme sentencing and mass incarceration.
Unlocked Voices will be hosted by author and motivational speaker Kendall Taylor along with Exodus Foundation founder and president Dr. Madeline McClenney.
"I am honored to co-host this barrier breaking and voice unlocking event for the good of our brothers and sisters in prison during a worldwide pandemic," said McClenney in a media release. "We cannot forget them and their need for health and wellness as we crush their hopes and dreams with cages. We must unlock their voices and amplify their cries for help."
Funds raised through previous Unlocked Voices events in Nashville, Boston and Dallas supported community organizations such as: Unheard Voices Outreach and Free Hearts in Tennessee; Black & Pink Boston in Massachusetts; and the Dallas Leadership Foundation and The Way Back House in Texas.
Inspire the Fire is a Charlotte-based non-profit organization that provides almost 400 students aged 10 to 19 with coaching in artistic development, life skills and community engagement annually. Each participant is required to choose an artistic major of concentration from dance, voice, theatre, spoken word, rap and visual arts. They're guided and supported by the Inspire the Fire team to learn and grow as individuals through weekly meetings and practices.
The Exodus Foundation's mission is to stop the flow of African-Americans going to prison through a self-help program that provides people with mentor who are available 24 hours a day. It provides consultation and training for denominational leaders, pastors and congregations, while making strategically timed contributions to the restorative and transformative justice movement that's seeking a complete overhaul or replacement of the current criminal justice system.
Calling All Crows is a national non-profit that partners with musicians and fans to create change for women through service and activism. Stokes and Gallagher build campaigns with issue-based local organizations to add capacity and momentum to their work through the platforms, community and creativity that the music industry provides.
Along with the live events, Unlocked Voices looks to amplify the stories of people, especially women, impacted by incarceration. It acts in partnership with existing movement leaders and community organizations.

With the spread of COVID-19 across the United States, one of Unlocked Voices' 2020 initiatives has been getting hygiene kits inside prisons and assisting incarcerated people who are being released early due to coronavirus.
The American prison population is at even greater risk than the general public. As of last month, nearly 160,000 incarcerated people and staff had been infected with COVID-19 and more than 1,000 had died, according to statistics provided in the media release.
The Multifaith Initiative to End Mass Incarceration is made up of Atlanta's Ebenezer Baptist Church and The Temple as well as Odyssey Impact and other interfaith partners collaborating on a national faith-rooted initiative to leverage spiritual power, people power and faith community resources to end mass incarceration in the U.S.
Fullress , スニーカー発売日 抽選情報 ニュースを掲載!ナイキ ジョーダン ダンク シュプリーム SUPREME 等のファッション情報を配信!