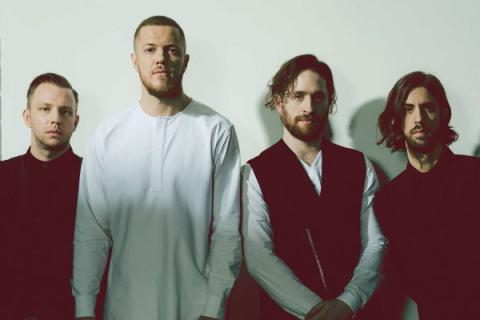 The Killers, Imagine Dragons, Boyz II Men, Cirque du Soleil, David Copperfield and Penn & Teller are coming together for the Vegas Strong Benefit Concert, an event to support those affected by the Las Vegas mass shooting which took place on October 1, leaving 58 dead and 546 injured.
The concert is taking place at the T-Mobile Arena in Las Vegas, Nevada on Dec. 1. Proceeds from the event will go towards the Las Vegas Victims Fund.
The Vegas shooting is one of the worst in American history. The shooter Stephen Paddock, 64, used a Madalay Bay hotel room overlooking the Route 91 Harvest country music festival to fire automatic weapons into the audience crowd below. Paddock shot himself after committing his crimes.
All of the acts performing at the benefit concert are either from Las Vegas or have long-standing residencies and close ties to the city.
Vegas rock band The Killers said they want to celebrate unity in the city.
"For us, Las Vegas is a vital part of who we are as a band and who we are as human beings," said The Killers in a statement. "We are humbled to be from a place where people rise in the face of tragedy to do what's right. Please join us as we do what we do best in honor of those who lost their lives and celebrate the heart and humanity that keeps us united."
Fellow hometowners Imagine Dragons shared similar sentiments.
"Las Vegas is our home, and it's an incredible, tight-knit community. The world has seen the resilience, unity, and heart of the city this last month," said Imagine Dragons in a collective statement. "This show is about raising money to help those impacted by the tragedy and about experiencing the healing that comes from gathering to celebrate the bonds we share."
Veteran R&B group Boyz II Men originally hail from Philadelphia, PA, but have an ongoing residency at The Mirage hotel.
"Las Vegas has embraced us since the moment we arrived. We are honored to be part of this event, and play a role in the healing process for the community and all those impacted by this tragedy," said Nathan Morris from Boyz II Men.
The Las Vegas Victims Fund was created by Steve Sisolak, the chairman of the Clark County Commission, to provide relief and financial support to the victims and families of the shooting. Since launching the fund on GoFundMe, $11,546,600 USD ($14,775,606 CAD) has been raised.
A number of other high-profile Vegas victim events have taken place recently. On Nov. 7 the Vegas Strong benefit concert at the OMNIA Nightclub inside Caesars Palace featured Tiësto, Zedd, Kaskade, Steve Aoki, Lil Jon and a guest appearance from Celine Dion. A country music-focused event with Big & Rich and Rascal Flatts also took place in October at the Orleans Arena.
【国内 12/17 発売】ナイキ エア マックス 95 OG "ネオン/イエローグラデーション" (NIKE AIR MAX 95 OG "NEON/YELLOW GRADATION") [CT1689-001] , Fullress , スニーカー発売日 抽選情報 ニュースを掲載!ナイキ ジョーダン ダンク シュプリーム SUPREME 等のファッション情報を配信!