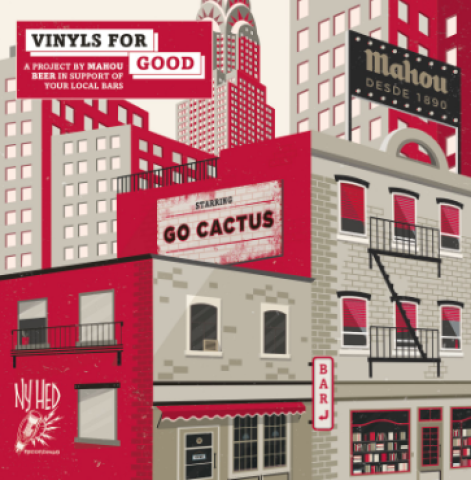 Vinyls for Good, a project by New York City recording studio NYHed and Spanish beer company Mahou, has been launched to support bars and restaurants adversely affected by the global pandemic.
All proceeds from a two-song vinyl record by Spanish rock trio Go Cactus that's on sale at more than 150 establishments in New York, Florida, Virginia, Pennsylvania, Maryland and Washington, D.C. will go to help local businesses in the hospitality industry.
NYHed co-owner Rocio Verta-Ray, who has a multi-generational connection to the brewery, produced the two Go Cactus tracks that were pressed to vinyl at Brooklyn Phono.
"Artists and musicians need an outlet and the bars, halls and clubs where they play are the essential proving grounds where their creative drive can flower," Verta-Ray said in a media release. "And bars are where we all congregate, to share a laugh, great music and perhaps a cool beer.
"For me, Vinyls For Good is the perfect project to respond to this crisis since it supports both the musicians as well as the live venues and bars that until recently were the lifeblood of in-person performances."
Go Cactus has drawn comparisons to Ty Segall and Strange Boys. The band has performed at the South by Southwest Music Festival and others and was featured by YouTube Music as one of 2019´s essential music groups of the moment.
NYHed's client list includes Heavy Trash, a band featuring Verta-Ray's husband Matt and Jon Spencer, as well as the likes of Bloodshot Bill, Lala Brooks, Daddy Long Legs, The Dirtbombs, Alejandro Escovedo, The Fleshtones, Sean Lennon, The Mooney Suzuki, The Oblivians, Ronnie Spector, Alan Vega, Mike Watt and Andre Williams.
Mahou has a history of organizing concerts and supporting artists, so Vinyls for Good fits well with its branding.
Air Jordan