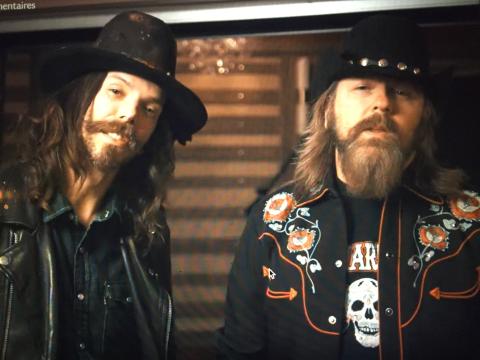 Canadian musicians Jason McCoy and Kyle McKearney have almost reached their goal of raising $10,000 for  Food Banks Canada with the video for their cover of Temple Of The Dog's "Hunger Strike," but are in need of a push to get it to the finish line.
The campaign ends on Feb. 20. The pair has raised about $7,000 as of Feb. 15.
"Jason and I wanted to get together and do something special for the families in need in Canada," McKearney says at the beginning of the video (watch below).
"Visits to the food bank have increased 20 per cent since 2019, so the need is great," follows McCoy.
Temple Of The Dog was comprised of Soundgarden and Pearl Jam members and released one album, a self-titled release that came out in 1991. With its title and repeated refrain of "I'm goin' hungry," the choice of "Hunger Strike" was an appropriate one for the cause.
People who want to watch the video and donate to Food Banks Canada, as McCoy and McKearney both have, can do it here.
Food Banks Canada provides national leadership to relieve hunger today and prevent hunger tomorrow in collaboration with the food bank network in Canada.
The national charitable organization dedicated to helping Canadians living with food insecurity supports a network of provincial associations, affiliate food banks and food agencies that work at the community level to relieve hunger. Its work is focused on maximizing collective impact, strengthening local capacity and reducing the need for food banks.
McCoy has released seven solo albums, including the Gold-certified Playin' For Keeps. He's been nominated for and won several Canadian Country Music Association (CCMA) Awards and has received six Juno Award nominations.
McCoy has also put out five albums with the country-rock trio The Road Hammers, which saw its self-titled debut certified Platinum and has won four CCMA Awards and one Juno.
McCoy and Jim Payetta wrote a song called "We Are One" earlier during the pandemic with the intention of having as many people record their own version of it to share with their friends on social media using the hashtag #weare1worldsong. You can find out more about the initiative here.
McKearney was previously in the alt-pop band The New Electric and the harder-edged KROWNS. He wrote a song with Queen drummer Roger Taylor and played guitar as part of the touring cast of Queen's musical theatre show We Will Rock You in 2019. The singer/songwriter and musician released his debut Americana/roots album, Down-Home, last year.
Watch the video: