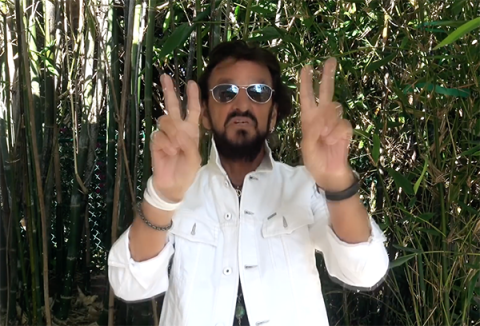 On July 7,  former Beatle Ringo Starr will celebrate his 81st birthday the same way he's been celebrating it since 2008:  by inviting fans and followers everywhere to wish the world "Peace and Love," whether by statement, thought or post.
Asking the public to synchronize their message at noon on his special day, the celebrated musician and actor was forced for the second year in a row to extend his message via video, rather than in-person, bypassing a tradition that began at Chicago's Hard Rock Café 13 years ago, meeting fans, passing out cupcakes and joining the crowd.
"Good afternoon. Good evening," Starr said in the video. "I'm inviting everyone who wants to join the peace and love celebration for my birthday at noon, your time, wherever you are, 7-7-21. And you can post it; you can say it; you can even think it, but it'd be cool if you go [makes peace sign with both hands] peace and love, at noon on my birthday, 7-7-21. So let's spread peace and love around the world on my birthday. Come on everybody." Of course he capped it with peace sign.
Starr's message has caught on: in 2019 alone there were more than 30 Peace & Love events around the world, stretching from Australia and Japan to Russia and the Czech Republic and everywhere in between.
In lieu of in-person 2020 celebrations, Starr hosted his online "Ringo's Big Birthday Show" featuring performances by his former bandmate Paul McCartney, Joe Walsh, Ben Harper, Dave Grohl, Sheryl Crow, Gary Clark Jr. and Sheila E. Broadcast globally by AXS, YouTube and Ceek, the show benefitted the Black Lives Matter Global Network, the David Lynch Foundation, MusiCares and WaterAid. The event was marked by an out-of-this-world moment – literally – when NASA astronauts aboard the International Space Station wished Ringo a happy 80th.
WATCH RINGO'S MESSAGE: