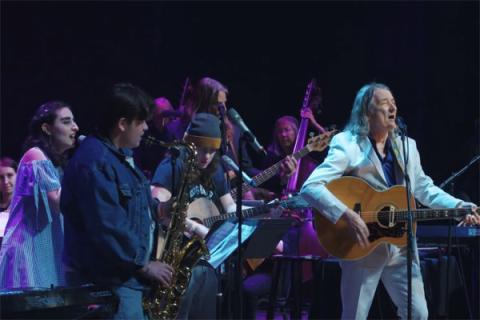 Jake's House has released a video of "Give A Little Bit" performed by former Supertramp's Roger Hodgson, a full orchestra, and four young musicians on the autism spectrum.
Directed by Andrew Simon with audio by Chris Tait, Spenser (guitar, drums), Rawan (vocals), Luc (saxophone) and Ron (piano) start off the video recording their parts in different rooms, before the shot of the outside of Toronto's Sony Centre, where the concert took place back on April 2, World Autism Day.
The video continues with various backstage footage, then shows the youth coming out onstage to join the rock legend on his 1977 hit.  "Give A Little Bit" is the title of Jake's House's new campaign launched in April and running for a full 20 months.
The song was just one of many during Hodgson's hour-plus concert on behalf of Jake's House. The Canadian charity is dedicated to "providing practical help and lasting hope to families living with autism."
Designed to promote understanding, encourage volunteerism, raise funds and deepen our community collaborations, this initiative will help us grow the resources needed to offer greater support," it reads on the web site, citing events such as its annual holiday parties, and community services, such as our Legends Mentoring Program.
Autism is a neurological variation that occurs in about one per cent of the population and is classified as a developmental disability. It manifests itself different sensory experience, non-standard problem solving, sometimes repetitive movement and difficulties in typical communication.
One of Jake's House's key initiatives is its mentoring program where autistic people interact with their mentors in areas like employment preparation and community building. The organization also operates a clothing donation program to support autistic children and their caregivers.
Hodgson quit Supertramp in 1984 to spend more time with his family when the multi-million selling band was arguably at the height of its career. He recorded and toured only sporadically until the late-1990s when he returned to regular performing.
Though responsible for many of Supertramp's signature hits including "Dreamer," "The Logical Song" and "It's Raining Again," "Give A Little Bit," in particular has proven extremely popular thematically for charities. The song has been used by the Red Cross, United Way and the Make a Wish Foundation in the past.
Watch Roger Hodgson's special performance of "Give A Little Bit"
Air Jordan Release Dates 2020, Sneaker News, Release Dates and Features