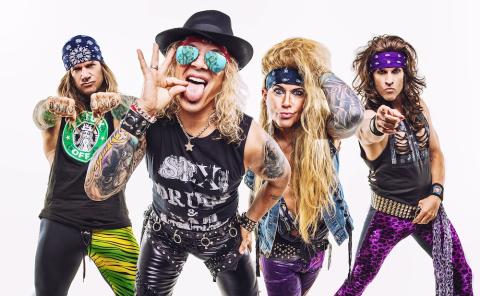 LA rockers Steel Panther raised money for cat rescue Heaven On Earth this past #GivingTuesdayNow by promoting an "all day kitty cam," focused on the adorable four-legged pussycats not doing much of anything in a room with some toys, under the watchful eyes of the band members on two big posters.
Streamed live from the local animal rescue, the kittens were also available for adoption.
"Thanks for watching. The stream is now over, but the replay lives on forever.  And you can still make a donation to Heaven on Earth," it states on the Steel Panther web site, which hosted the You Tube live cam.
#GivingTuesdayNow, set up by GivingTuesday (Dec. 1), was "a global day of giving and unity... as an emergency response to the unprecedented need caused by COVID-19."
The feline-loving Panthers selected Heaven on Earth Society for Animals, which was founded in 2000, coincidentally the same year as the band.
The mission of the charity, whose website is heavenlypets.org, is "to transform the lives of homeless cats through rescue, sanctuary, and new beginnings." They are a cage-free, no-kill shelter, hold mobile adoption events each weekend, started a foster program in 2018, and offers clinics and other outreach.
The purposely cliché glam-metal act Steel Panther — comprised of Michael Starr (lead singer), Satchel (guitarist), Lexxi Foxx (bass) and Stix Zadinia (drums) — play up the 80s' metal-era of spandex, bandanas, long teased hair and lyrics to upset Tipper Gore. They have released five albums, including the latest, Heavy Metal Rules.
"We heard GivingTuesdayNow was May 5th and our early plan was to give away free Mexican beer for Cinco De Mayo, but the stupid virus ruined our plan. Fuck you Coronavirus," they said in a joint statement.  "Then we heard about all the pussy being abandoned, we thought we had to do something because Steel Panther makes it no secret how much we love…. cats. We hope this stream can help our friends at Heavenly Pets and give people at home something cute to see."
The page encouraged donations to Heavenly Pets "to help the rescue with costs attained from the increase in abandoned pets due to the Covid-19 pandemic."
On their last tour, in late 2019, the band invited local animal rescues to collect donations outside their shows as part of their Gods Of Pussy Animal Rescue Activation. 
Their 2020 tour was, of course, postponed due to the covid-19 pandemic but the band has been providing a public service announcement of sorts on their socials by reminding the self-quarantined what day it is. Their friends are also helping out, such as comedian George Lopez, Corey Taylor of Slipknot/Stone Sour, Scott Ian of Anthrax, Jason Hook of Five Finger Death Punch, and Joey Fatone of 'N Sync with more to come.
Articles de sport pour homme