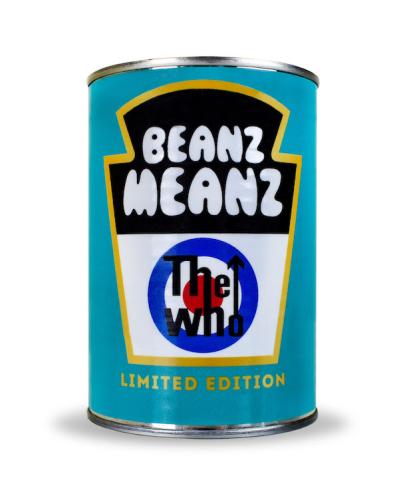 An expanded version of The Who Sell Out will be issued by Universal Music Enterprises on April 23. In conjunction, Heinz Beanz and The Who launched a limited-edition run of "Beanz Means The Who" cans to raise funds for Teen Cancer America in the United States and Teenage Cancer Trust and child hunger charity Magic Breakfast in the United Kingdom.
A hand-signed, empty 57.5-centimetre by 42-centimetre version of the can is being auctioned off for the charities here from April 15 to 25.
The Who released its The Who Sell Out concept album in 1967, the same year Heinz Beanz launched a new advertising slogan. These two seemingly disparate events became linked when the album cover featured lead singer Roger Daltrey holding a can of Heinz Beanz while sitting in a bathtub full of them, and "Heinz Baked Beans" was the second song on the LP.
Teen Cancer America was founded in 2012 by Daltrey and The Who bandmate Pete Townshend (read our interview with him here from the vault), who had already worked with Teenage Cancer Trust in their native Britain for years.
Teen Cancer America seeks to bridge the gap between pediatric and adult oncology care by helping health providers and systems develop specialized programs and facilities for teens and young adults.
Teenage Cancer Trust strives to put young people aged 13 to 24 in the best possible place — physically, mentally and emotionally — for their cancer treatment and beyond. It's the only U.K. charity dedicated to providing this specialized support through expert nurses, support teams and hospital units.
Magic Breakfast began in 2003. It provides daily healthy breakfasts to approximately 170,000 students in more than 1,000 schools in disadvantaged areas in England and Scotland. It's researching the need for its services in Wales and Northern Ireland.
Just 500 of the limited-edition bean cans were made available to purchase from The Official Artist Store in the U.S. for eight dollars, and they sold out almost instantly.
Daltrey ended up in bed for a week with the flu or a bad cold after the iconic photo shoot 54 years ago because the beans he sat in for 20 minutes had just come out of the fridge. Despite that experience, and the fact he's earned millions of dollars over the years and can afford to eat any fancy breakfast he wants, he claims to still be very fond of Heinz Beanz.
"They're so simple; you put your eggs on, you put your toast on, you click your toaster, you time your eggs, and you put the beans in a pan, and it all comes together all in one lump," Daltrey said in a media release.
"It's great. For someone who can't cook like me, it's the most magical breakfast you can have: poached eggs and beans on toast."
"We've had lots of fun working on this collaboration, and to be able to raise funds for our brilliant charity partners with our limited-edition Beanz Meanz The Who cans is just wonderful," Heinz Beanz brand manager Lucy Cooke said in the release.
"We're thrilled that The Who and Heinz have teamed up to fundraise for teenagers and young people with cancer," Teenage Cancer Trust head of entertainment Jane Ashton said in the release.
"The money raised for Teenage Cancer Trust will fund our specialist nurses and support teams who work tirelessly to get young people with cancer through the hardest times of their lives."
"The Who are not only groundbreaking musicians, but they were the first to establish specialized Teen Cancer centers in the U.S. and U.K.," Universal Music Enterprises president and chief executive officer Bruce Resnikoff said in the release.
"We are proud to help them raise funds for their charities in a way, only The Who can do."