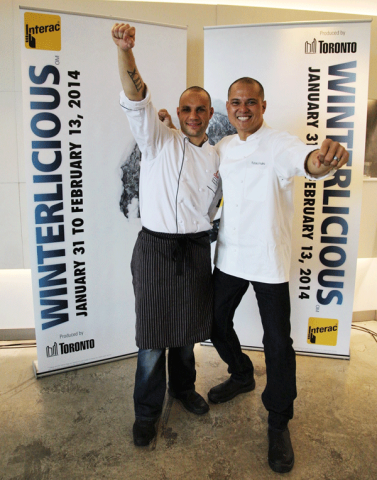 Toronto chefs battled it out under time constraints with a secret ingredient to raise money for the charity of their choice, as part of the Chefs of Winterlicious Challenge. The fun food fundraiser was to promote Winterlicious 2014, the annual prix fixe city-wide event in Toronto allowing people to experience 200 participating restaurants.
Richard Andino, executive chef and owner of Dyne restaurant, asked his $750 prize to go to the Canadian Diabetes Association and Saverio Macri, executive chef from Cibo Wine Bar, chose his $750 for the Heart and Stroke Foundation of Canada.
Andino and Macri's winning dish was risotto with rutabaga.
"This cause is very personal for me as I am a Type 2 diabetic and wish that I had better knowledge of this disease earlier on," Andino told Samaritanmag of his reason for choosing the Canadian Diabetes Association. "I'm therefore always thankful for opportunities to help bring awareness to diabetes, especially within the younger chef community."
Said Macri: "The charity I chose was the Heart and Stroke Foundation of Canada because I recently lost my father and my father-in-law to heart disease. I believe awareness of a potential heart condition is crucial to a long and healthy life."
New Winterlicious sponsor Interac Association donated the $1500 to be split between the two winning chefs.
The teams of chefs convened at Mildred's Temple Kitchen and were told the secret ingredient — rutabaga — at the last minute. Among the judges who sampled the results and chose the winning team was John Higgins, director of the Chef School at George Brown College.
Produced by the City of Toronto, Winterlicious 2014 runs from Jan. 31 to Feb. 13. This year, two programs are offered, the prix fixe promotion and the culinary event series.  Three-course prix fixe lunch menus are priced at $15, $20 and $25, and dinner is priced at $25, $35 and $45.  Restaurants start taking reservations for the prix fixe promotion starting on Jan.16.
Reservations are strongly recommended and are to be made directly with the participating dining establishment. The list of restaurants is available here.
nike air zoom all court fragment in hand of life CD0463-401 – Buy Best Price Adidas&Nike Sport Sneakers