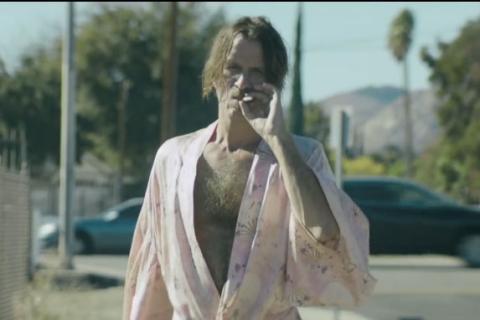 Coleman Sweeney was a bad person. He'd steal women's undergarments from laundromats. He'd shoot paintball guns at dogs. He'd take Halloween candy from children. And he'd give children cigarettes. He was, until he died, was quite possibly the world's biggest asshole.
That is, until his sudden death from a brain aneurysm, at which point Sweeney became a hero thanks to his status as a registered organ donor, allowing his body parts — his liver, heart, tendons and corneas — to improve the lives of four other people.
Sweeney's transition from zero to hero is captured in a sly new video that debuted Aug. 3 on YouTube and since then has gone viral to the tune of 965,000 views. The video follows Sweeney as he gets up to his unsavory antics, the moment he has his aneurysm, and its subsequent aftermath. The one catch in all this? Colman Sweeney isn't real.
The world's biggest asshole is really a cleverly constructed character being used by the Donate Life organization to promote their Register Me campaign to increase organ donor numbers.
Donate Life, a not-for-profit organization "committed to increasing the number of donated organs, eyes and tissue available for transplant to save and heal lives," commissioned The Martin Agency advertising agency to bring Coleman Sweeney, played by actor Thomas Jane, to life. One of the organization's goals with the Sweeney campaign was to encourage millennial-aged males to sign up to be organ donors. The belief was that the campaign's crude humour would appeal to the Donate Life's target market.
While it's still too early to tell whether or not millennial males are taking the Sweeney message to heart by signing up to become organ donors, with 7,538 thumbs ups on YouTube and counting, it's clear that people are appreciating the one good thing the Sweeney character did with his life.
Watch "The World's Biggest Asshole" video:
Air Jordan 1 Mid "What The Multi-Color" For Sale