Chilliwack's Pardon My Striptease put its song "Pray (For L.J)" for sale on iTunes to raise money on behalf of its singer's daughter, Lilee-Jean Putt. The song rose up the iTunes rock chart, at one point reaching No. 1. Today, it sits at No. 2 behind Nickelback's "When We Stand Together."
Through the local media, Pardon My Striptease issued a challenge to Nickelback to match funds raised from the single. Nickelback accepted and surpassed expectations by donating $50,000 to the BC Children's Hospital, according to the Universal Music Canada press release.
"We're moved by the efforts of Pardon My Striptease to raise money for B.C. Children's Hospital and are happy and excited to take part," said Nickelback frontman Chad Kroeger on behalf of the band.  "As such, Nickelback will be donating $50,000 to the BC Children's Hospital and we invite both the Vancouver Province and the Vancouver Sun to each join with us and match our pledge.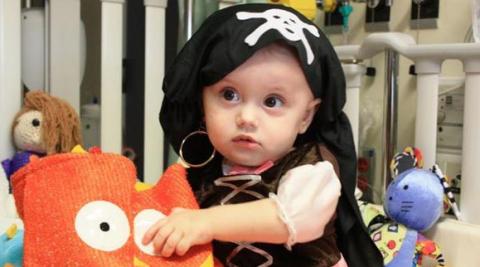 "Being in our own backyard, the story of Lilee-Jean Putt's fight really hit home," Kroeger added. "We applaud the The Sun and The Province [newspapers], which have been invaluable in spreading the word and bringing the challenge to our attention and hope they'll demonstrate the same enthusiasm by each matching our donation in this urgently needed and great local cause."
Both local newspapers covered the challenge but are involved with their own charitable drives for Christmas time.
There is a web site, loveforlilee.com, detailing the story and progress of this little girl.
"Lilee-Jean Putt is the daughter of Andrew Putt and Chelsey Whittle," it reads on the main page in a post from October. "In the past week, their lives have changed drastically. They went from being a loving family at home cherishing Lilee's milestones and growing with her, to being in Children's hospital for surgeries, recovery, and soon chemotherapy.
"At just 10 months old, Lilee-Jean is fighting for her life. She has been diagnosed with Glioblastoma, a very aggressive brain cancer. She is going to need extensive and aggressive treatment for a long time to come. We are hoping to raise some money to support her family through this difficult time. They are currently at Children's hospital, and will need lots of support."
The site now has a thank you post for Nickelback, the media and the community.
"On behalf of Pardon My Striptease, Love For Lilee, Andrew, Chelsey and Lilee-Jean we would like to say thank you to Nickelback for accepting our challenge and helping make a difference at BC Children's Hospital. Their willingness to not only accept the challenge but go above and beyond to issue a challenge to the media is a testament to the character and generousity of everyone in their group.
"The media played such a big part in this challenge as well and it is humbling to know that when a message needed to get out there was no hesitation in picking up this story. We cannot thank you enough."
As Kroeger reiterates in his press statement: "We don't want anyone to lose sight of what this is really about.  This is about helping Lilee-Jean Putt and so many other children receiving world class care at our own BC Children's Hospital.  We are hopeful others will join us."
Click here to purchase the song on iTunes: http://itunes.apple.com/ca/album/pray-for-lj-single/id483258496
Air Max 270 Men