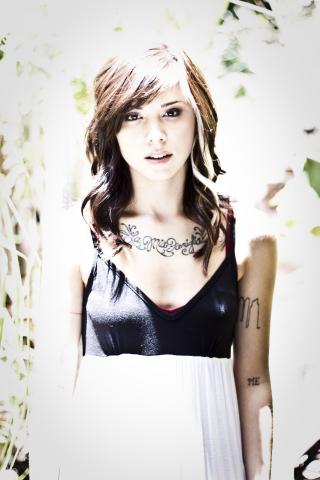 "Nobody's perfect" is a campaign or charity Philadelphia singer-songwriter Christina Perri is seriously thinking of starting since the success of "Jar of Hearts," which sold a million downloads after she performed the heart-wrencher on the FOX TV show So You Think You Can Dance.
The video for the song has been seen more than 15.2 million times on YouTube and there are over 34,000 comments, 84,000 "likes" and only 1000 "dislikes." From behind the keyboard, some anonymously make nasty remarks about Perri's tattoos or teeth, but many praise her appearance and commiserate with the song's message about heartbreak, betrayal and personal strength.
In this post that has been cleaned up and edited, frogyhofbauer wrote: "Even if this is real, I know how she feels. It hurts when someone does that to you… it hurts like hell and you just cry for hours and you think that it's all your fault. Well, it isn't. Just don't let your guard down so they have that power to do it to you…"
And from Sapphiretears, "So amazing! She's so beautiful! If you're so obsessed with perfection, go listen to that brain-melting drivel. She's not here to flaunt her beauty. She's here to sing her heart out and if you don't appreciate that, keep your stupid comments to yourself."
"Her teeth are fine," writes Obelisk. "They aren't perfectly straight or 'normal,' but they don't have to be. Everyone has imperfections. That is what makes them an individual and stand out from the rest. I actually like her 'flawed' teeth."
Perri doesn't mention if she has seen the comments, but when asked about causes she supports, the 24-year-old Los Angeles resident told Samaritanmag in an interview in Toronto yesterday that she's considering starting her own "Nobody's Perfect" campaign or movement based on her own experiences.
"On June 30th at 8p.m., my song ['Jar of Hearts'] aired on So You Think You Can Dance and since then I've been non-stop getting emails, mainly women and little girls, who tell me the story of their hearts feeling better from listening to 'Jar of Hearts' or any of my other songs," Perri says.
"So I've got this thing going in me — I don't use auto-tune; I don't use airbrushing; I'm so real, and I'm so bummed out that little girls think that that is real. There's no way to achieve that unless you have a team of computer people.  For me, I've had the wheel turning in my head. That's something that really stands out to me."
Her debut album, Lovestrong, due May 10, is about the pain and hope of love, and she has been receiving hundreds of touching letters at a designated email address, lovechristina@christinaperri.com, which she answers.
"I feel like I'll eventually get into it [setting up a more formal charity or initiative] with my agency, but for me it's just promoting self-esteem; definitely standing up for yourself and your heart and not being treated badly. It all ties into just confidence and being okay with the way you are because nobody's perfect," says Perri.
"So I have this idea for this nobody's perfect thing. I guarantee you, if any of your favourite celebrities sat down with you, you'd realize they're not perfect. There's no way. Like, I've got zits; I've got a crooked tooth; there's no perfection here."
Perri — who will be on tour in North American with James Blunt from April 20 to May 10 — says she is "a couple of hundred" emails behind, but she does read each one and writes back to the ones that aren't creepy or spam.
"It's something I do while I'm away and while I'm on the road and before I go to bed. I sit and I answer like 10, 20, 30," she says.
The number is sure to increase now.
Ανδρικά Nike