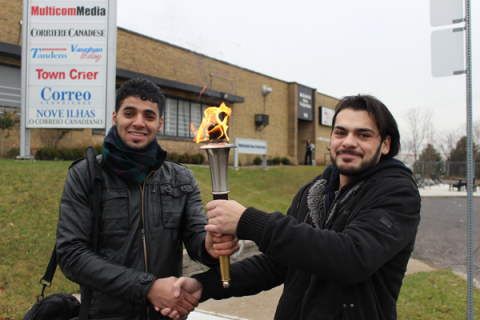 How far would you go for a virtual stranger? Palestinian visitor Khaled Khatib is willing to walk 500 kilometres in the blistering cold to help Toronto's Anthony Socci find a matching kidney donor. From Feb. 5-22, the 21-year-old will walk from Ottawa's Parliament Hill to Toronto's Queen's Park.
The walk is the main component of Anthony's Hero, a campaign to find a donor for 28-year-old Socci and many others currently waiting for a life-saving transplant.
"I am praying that Anthony finds his hero when I finish and I pray for the other 4,000 Canadians waiting," Khatib tells Samaritanmag. "It will be hard to walk, but I have to do it — I have to save Anthony's life.
"I will talk to lots of people about the lots of people who need organs and donations," adds Khatib, who is still working on improving his English language skills.
Socci was born with Fabry's disease, a rare condition that attacks major organs in the body. He has an enlarged heart and two non-functioning kidneys and must undergo four hours of dialysis every day.
Anthony's Hero is an initiative of Step by Step – a Toronto-based organ and tissue donation awareness association. Founder and liver-transplant recipient George Marcello says he's hoping the campaign will raise $20,000 to help cover the cost of Khatib's walk and of arranging 18 press conferences, as well as to spread further awareness about the need for live organ donations
"All these people [awaiting transplants] are almost like in a burning building and there's a way to get them out of that burning building," Marcello tells Samaritanmag. "People don't know how to register to be an organ donor and that shouldn't be."
For Socci, finding a donor quickly could mean the difference between life and death. His deteriorating health has left him unable to do even simple things many take for granted – such as keeping food down.
"I was already having trouble living before the kidney failure. I fear that I would actually die if I had to wait on the regular waiting list for a kidney," Socci tells Samaritanmag. "I wouldn't survive.
"I'm destroyed; I have no energy — I couldn't even get out of my house today, barely, because I couldn't stand up for five minutes. My body is so exhausted at this point. I'm not sleeping well; I only get a couple of hours a day for the last year and a half."
Khatib, who is from Jenin, Palestine, and came to Canada two years ago with his father (who has since returned), became passionate about organ donation after his family endured a tragedy in 2005. His 12-year old brother, Ahmed, was shot by an Israeli soldier.  At the time, several major news outlets, such as the Washington Post, BBC and Guardian UK, reported that the boy was playing outside with his friends and waving around a toy gun that an Israeli soldier mistook for a real weapon. The Khatibs decided to donate Ahmed's organs, which gave a fighting chance to seven Israelis, six children and one 58-year-old woman.
Marcello arranged for the family to visit Canada in 2011, since the Khatibs' story resonated with him and Step By Step's mission of promoting organ donation. After meeting Khaled, Marcello sponsored his extended stay so that he could carry the Torch of Life, an Olympic-style torch that's been a symbol of Step By Step's cause since the 1990s. The torch has been carried on eight other walks and was even blessed by the Pope.
"I came here to Canada with my father, Ismail Khatib, to spread his message: to help people that need organ and tissue transplants, by sharing my story," says Khatib.
Last March, he joined Marcello on walk through 72 cities and towns in Ontario to help find a lung donor for Hélène Campbell, the young woman who  received public support from Justin Bieber and Ellen DeGeneres. She received her double lung transplant in April, long before the Step By Step walk ended in late June.  Khatib only walked a couple of kilometres a day, since he had not trained for such a strenuous mission.
As Marcello and Khatib were brainstorming their next endeavour, a call from a distraught father came through.
"I asked Khaled if he wanted to walk across Canada and we started preparing for it," says Marcello. "[But then] we got a call from Robert Socci and he told me the tale about his 28-year old son – he needed a kidney transplant. During these last number of years, I got hundreds, if not thousands, of calls from families like this and it's impossible to help everyone, but where we can, we help. When I told Khaled the story [of Robert], he said, 'I'll give him one of my kidneys.'  I go, 'But you can't Khaled; you're a visitor here.' So he said, 'Then I walk." I said, 'Walk?' He said, 'Yeah, in the winter; I'll walk for him.' And I go, 'You're crazy.'"
Marcello and Khatib spent two months training.
"Training is very difficult," says Khatib.
"It was like minus 20. It was cold," recalls Marcello. "I took him out, and I said: 'This is what you're going to feel when you're in Ottawa.'"
"I'm excited, though, to be on the road. Every day, I walk 28 kilometres or 30," Khatib adds.
Khatib will be carrying the Torch of Life lit all throughout his journey and wear a helmet camera to webcast his progress live.
Socci couldn't be more grateful to Khatib for taking up the cause — him.
"He's definitely my friend, but I haven't known him for very long. George just literally introduced me and said, 'This kid is going to save your life.' There are not a lot of people who would do what he's doing for someone they don't know, so he's very kind. I'm very appreciative."
While the primary focus of Anthony's Hero is to help Socci find a kidney donor, Marcello is hoping to raise awareness of a bigger issue – a shortage of live organ donations in Canada. While most are familiar with cadaveric – or post-mortem – organ donations, live donations are still a subject of some controversy.
"Canadians don't know they can donate a piece of their liver and live a happy, healthy life," says Marcello.
For Khatib, the walk is a chance to do something meaningful in honour of his late sibling:
"Anthony is like a brother to me. I would this walk for him like my brother. My father said, when my brother was killed [and his organs were donated], 'That's what we do — tell everybody my message.'"
A complete schedule of the walk activities, route map, more information about Anthony's Hero, and live webcast of Khatib's walk can be found at http://www.torchoflife.com.
Nike KD 11