In his autobiography, Who I Am, The Who guitarist Pete Townshend addresses a multitude of issues he has struggled with throughout his 67 years from bullying to alcohol abuse to manic depressive anxiety attacks.  He has also sought therapy to reach some clarity on his long-held suspicion he was sexually abused as a very young child. Townshend is the main songwriter for The Who, which formed in London in 1964 and has sold more than 100 million albums worldwide.
He writes "all of the disturbing experiences from my childhood went into my composing."
In the book, there are periodic mentions of charities and fundraisers that The Who participated in or Townshend by himself. Children's causes and injustice of varying kinds — from the falsely imprisoned to the battered and abused — are a common thread.  In 1974, Townshend — who has released recordings outside of The Who — played his first-ever solo show at The Roundhouse in Camden to raise funds to buy a bus for children in need.  In '79, he performed a solo acoustic set for Amnesty International's Secret Policeman's Ball and helped organize Rock Against Racism. "I was becoming an artist of conscience, which was important to me," he writes on page 314. 
In the 80s, Townshend became involved in what he calls "radical causes and street-oriented charity work," he says. "I wanted to be more useful to society. I wanted to write books, essays and — if necessary — polemics." Those projects included everything from Brent Black Music, a music studio co-op, to Ken McDonald's The Fred magazine, a pocket illustrated poetry book.
But it was getting pro-active — hence more public in his philanthropy and activism — that gave him satisfaction and purpose throughout that decade. He writes in Who I Am: "Even in early 1981, I had no idea how crucial the action of reclaiming my childhood self would prove to be in future years. Yet in the next two years my life would change in quite unexpected ways and I would find real redemption in helping others. That would prove to be the most important way I could find affirmation: no longer just in song lyrics, but in direct action."
His wife at the time, Karen Astley, was dedicated to raising money for Chiswick Family Rescue, a shelter for battered wives (Townshend was born in Chiswick, a suburb of West London). He even made a collage called "I Didn't Hear You" about domestic violence using Polaroid images from the television screen. Karen also asked The Who's manager if the band would perform a fundraising concert for the refuge at The Rainbow.
In 1984, Townshend told white South African journalist and anti-apartheid activist Donald Woods he would help raise funds towards getting Nelson Mandela out of prison.  He later wrote "All Shall Be Well" — found on 1989's The Iron Man: The Musical by Pete Townshend — about the end of South Africa apartheid.
At that time, he also took over The Who's charity Double O "to help in its mission with fundraising and within a month was visiting drug rehab units and sharing my story," he writes in the book.  The organization is still active today.
The Who — which broke up for a spell in 1982 — did reform for a one-off appearance at 1985's Live-Aid, a dual-venue, global simulcast for Ethiopian famine relief organized by Bob Geldof and Midge Ure. Townshend writes in the book that Geldof told him:  "If The Who appear we know we will get an additional million pounds of revenue. Every pound we make will save a life. Do The fucking maths. And do the fucking show." The Who later participated in 2005's London Live8 concert, part of 11 worldwide concerts in one day to put pressure on the G8 (eight wealthiest countries) to Make Poverty History.
Townshend continued to lend his talents to fundraising events — far too many to include in Who I Am — from a 1986 event at the Royal Albert Hall for the victims of the Colombian volcano that killed 25,000 people to a benefit at the invitation of Paul Simon for children's ambulance and paramedical service in New York.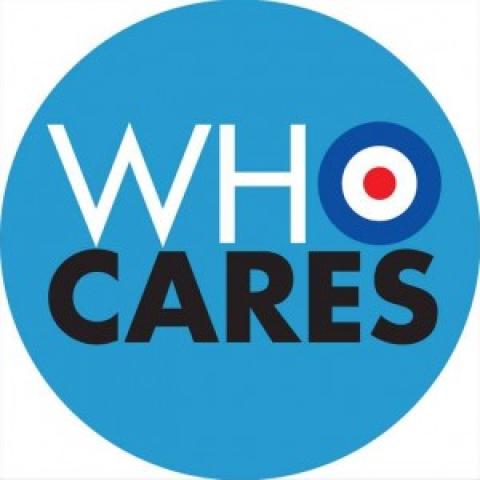 But it was The Who's own charity event — a preview of the Tommy theatre production in London — for the UK's Teenage Cancer Trust that made a lasting impression to this day on Townshend and The Who's frontman Roger Daltrey.
Townshend recounts how he had personally topped up the money from ticket sales and was set on presenting the cheque to the Teenage Cancer Trust himself. His doctor had started it and the money was going to provide scanners for the clinics. But an actor in the show, Alistair Robins, asked if he could present the cheque, revealing he had once been "within inches of death" and the cancer team at St. Thomas' hospital (nicknamed Tommy) saved his life. "That moment tied me to the work of TCT until the present day,"  wrote Townshend.
"When you get to my age, charity work becomes a necessary fact of life," he writes on page 501, "but  through it we old rock stars get to stay in contact with the rigours of the real world and also get to meet many new people. It is service of the most humbling kind and one of the most levelling aspects is being ticked off by press diarists who seem to believe we only do it for some selfish, self-serving motive, to which I can only say: if you don't like my trumpet go try blowing one of your own."
Unable to reach any clarity about his abuse in his own childhood, Townshend has made donations to National Society For The Prevention Of Cruelty To Children (NSPCC) and the National Association for People Abused in Childhood (NAPAC). He also helped set up a  research programme for a new support system for survivors of childhood abuse with therapists at the Prioryand Broadreach. Townshend made a giant mistake when, in his research in 1999 which he gathered and posted as essays on on his personal web site, he foolishly used his credit card — and quickly cancelled the transaction — to gain access to a child pornography site. A four-month forensic examination of his computer did not turn up a single illicit image and he was cleared in 2003.
"It would be disingenuous to say that I haven't been affected by the perception of me shown by people who do not know me or anything about me apart from what they may have read in the tabloid newspapers around the time of my arrest in 2003," he writes in Who I Am. "I have long since abandoned my White Knights efforts in that department but I am still painfully aware of the repercussions this might have had on the charities in which I had played an active part, and in which I am now obliged to maintain a low profile. Just one click of my mouse to prove a point has caused a mountain of misunderstanding. I have moved on…"
In light of this, Pete Townshend talked with Samaritanmag about the causes that are presently important to him. The Who recently performed a benefit concert Feb. 28 at The Theater inside  New York's Madison Square Garden for Who Cares Teen Cancer America and Memorial Sloan-Kettering Cancer Center to help establish a teen and young adult unit. On July 8, the band will perform at London's Wembley Arena in aid of the Double O Charity. While it was originally created in 1976 to aid the world's first women's refuge founded in Chiswick in 1971, this service is now known as Refuge. Townshend operates Double O as a private dispersal charity, focusing on relief of drug and alcohol addiction, domestic violence and sexual abuse, in addition to music education, emergency relief for International disasters and young people's prison reform. 
Samaritanmag: When you look at the book as a whole, you cover some really important topics relevant today. You've got bullying, sexual abuse, child abuse, drunk driving, gender identity, on and on. What are the causes today that are important to you?
Pete Townshend: "Maybe because of what I learned at my mother's feet, and also because of fortuitous things that happened around me when I was growing up, I'm very dedicated to my neighbourhood, to the idea of neighbourhood. I'm not saying family is something that has lost value or importance or religion; I just think that the neighbourhood is important to me. I'm lucky I still live in West London. I can see the building I was born in from the window of my house. I live on a hill; I look down at the River Thames; I look down at the place I grew up and where I spent time near the river as a child.  But I'm also aware that if I just take a short bicycle ride, I end up where the kind of kids that I grew up with are still struggling. I look at issues like, particularly to begin with, the syndrome of unmarried moms, with children growing up without active fathers, those fathers being the ones that I think I can help best. So I'm interested in prison reform, particularly for young offenders.
"But right now, the main campaign I'm involved in —  that The Who are doing a concert right at the end of this tour [July 8 at Wembley Arena in aid of Double O] for Refuge, which is a series of refuges. There are about 70 in the UK, which are suffering from cutbacks for women, for families, who've been caught up in domestic violence. This is what I grew up with. I grew up with a family that was colourful and fun and crazy. But the kind of craziness that I saw in the families of the kids that I grew up with was of a completely different order — underprivileged children with not enough to eat, with violent fathers, with ineffective mothers, with no state support, despite the fact that we have social security.
"So, that's where I focus my energies. And the sexual stuff, stuff that I became really, really concerned about as the Internet began to explode in 1996-97-98, is kind of a distraction really from — no, it is a distraction. It's also a distraction that I think no longer really deserves any attention at all because I think a huge amount has been done to police the Internet. The fear in 1996-97-98 was that the Internet would become a terrifying wild west, particularly sexually speaking.  But that's been proved not to be exactly true. It's tricky to police and it can be policed, which is something that I felt all along."
Teen Cancer America has "Who Cares" before it and your and Roger's names underneath.  After a decade working with Teenage Cancer Trust in the UK, this is a new charity for The Who in America?
"This is driven mainly by Roger. I started a charity in the UK around the time the theatre show Tommy opened in London — which I think was 1996 — with the doctor who was the general practitioner for both Roger's and I, a guy called Adrian Whiteson.  He was working at St. Thomas' Hospital in London and they didn't have enough MRI scanners and St. Thomas' had a teenage ward there, that dealt expressly with teenagers, and I was to do a concert to buy a scanner. For the last 15 years or so, Roger and I have done annual events at the Royal Albert Hall. Roger took it over about 10 years ago, completely runs it, almost on his own. I perform when I can, make donations. And we bought about 10, 15, 20 scanners, something like that.  That's in the UK.
"In America, I was present at the Washington Press Club [luncheon, Nov. 12, 2012] when Roger did his first pitch for this new charity, which I'm a patron of. I'm Roger's sidekick [laughs]. He's really driving it. It's called The Who Cares. It's Teenage Cancer America. What this is about, it's a bit impudent of us to come over here and start lecturing Americans about the standard of their cancer care because, of course, their success rate is much, much higher than ours in the UK. However, what they don't have is a way of treating teenagers, people between the age of 13 and 19, treating them separately from children or other young adults.
"What they are missing the way that those teenagers can support each other if they have special wards. And that's pretty much it in a nutshell. Roger did the most incredible pitch at the Washington Press Club, which is worth going back and researching [see video below]. It was moving. When it came time for me to speak, my eyes were full of tears. I couldn't believe he was so eloquent on the subject, but he's also passionate.
"He gets down and dirty. He goes to hospitals; he visits people; he talks to young cancer patients [see video below]. And while I was in Washington, I met three kids who had treatment for brain tumors. They all very much supported what Roger said. They said that when they were in treatment, they felt lonely; they felt isolated; they felt either mixed up by the grieving moms who were worried about their babies or old people who smelt of pee. It's a great cause.  There's [a teenage cancer ward] in UCLA;  there's [going to be one at Memorial Sloan-Kettering Cancer Center] in  New York and [Roger] wants to try to persuade them to open one in Philadelphia."
Are you still involved with the Cheswick Family Rescue (now a national network of safehouses known as Refuge) that you were chairing?
"Yes. We're doing a show for them, as a part of this tour — It's a very, very last show we do at Wembley arena in London —  because they are just suffering cutbacks. I don't know whether you even know that Sandra Horley — who took over from the founder Erin Pizzey — is a great  Canadian. She brought the Canadian system to Britain — Canada was the first country in the world to make it the duty of the police to decide whether the perpetrator of domestic violence should be prosecuted. It wasn't up to the partner, the victim, to bring the prosecution. She brought that to London. I was still on the management committee of Rescue in London at the time and she arranged the meeting at the House of Lords with [Baroness] Helena Kennedy, QC, who was one of the founders of Amnesty International; our lawyer Baroness Sally Hamwee; the writer Ruth Rendell;  DG James; the writer, and Cherie Booth who became the Prime Minister's wife a little later [Tony Blair]. And they managed to persuade the government to change the law [2004's Domestic Violence, Crime and Victims Act]."
So the woman can't be intimidated and drop the charges?
"That's right. She's just great. We started off with four refuges in Chiswick and now there's 75 all over Britain. However, Britain is struggling with recession and local councils are being forced to make cutbacks. And Chiswick has been the first place to come under the spotlight. The Independent newspaper did a Christmas appeal and I made a donation to that, but they need a lot of money in order to save the four founding refuges in Chiswick, which we helped found. The very first concert that The Who ever did for charity was for Chiswick Family Rescue."
How much do they need to stay open?
"To save Chiswick, it's about a 100,000 pounds sterling a year, which should be able to cover that for a while."
You wrote when you were 24, you were becoming an artist of conscience and it was important to you, which I find is a fairly young age to care about issues.
"I think we have it forced on us. I'd much prefer to have lived at the time that I did, than now to be honest to be young because I think there's such a sense of impotence, but also such a sense of shame being inculcated in our young people, and resentment. My parents — let me speak as a 15-year-old — have fucked up the planet. There is nothing one can do to save it. That's what they are left with. In a sense, now any artist worth their salt has to attend — if their audience is young people — to the rage, and impotence, and frustration that must accompany that feeling of futility and also to move away from it and try to get to a sense of empowerment.
"The example that I give is a friend of mine used to go sailing in the west county in Cornwall, an American friend of mine named Ian Dunlop. He'd been a musician but he was then a fisherman. And in Penzance Bay, a bunch of rogue fishermen had come in and started to scrape the bottom of the bay to harvest scallops, we call them. And the food chain had been disrupted and all the fish had just gone. There were no fish; there was no lobsters; no crabs, nothing. There was nothing.  And all the small fishermen started getting into trouble. And I was sailing with him one day and he said, 'Pete, this is the fucking end. It's going to take 20 years for this place to recover.' The following year, after a ban on scallop dragging, the bay started to recover.
"I think the most important thing is to listen to the alarm bells but not be so pessimistic and for young people not to necessarily misread what they read. Some of us older ones are ringing these incredibly loud alarm bells because we feel that we need to. But I don't think that we should. One of the things I write about in my book is that terror of growing up, waking up in the middle of the night thinking that ever plane overhead was going to carrying a fucking atom bomb. I never slept."
From scallop dragging to domestic violence, there are so many causes people are drawn to and make their own. On Samaritanmag, we're covered stories about a fashion designer who a line of clothing for people in wheelchairs called IZ Adaptive to a couple who has a pig sanctuary called Snooters.
"My partner Rachel [Fuller] supports a Border Collie sanctuary [UK's Wiccaweys]. They're crazy. They're going to start saving chickens."
There is actually a fantastic story on the site about a company called K9 that makes mobility carts for animals and someone bought one for a disabled chicken. We actually use that photo.
"[Laughs] You know why it's important? I think it's a measure of our ability, in very, very tough times, just to be soft and just be a little bit more open, a little bit kinder, a little bit more able to accept that some small things that we do can be really helpful."
Shop: Nike