Pop culture website Popdose has released a compilation album to help a friend in the music business and fight multiple myeloma, a type of blood cancer that affects the plasma cells in the bone marrow. It's the same cancer Tom Brokaw was diagnosed with and is now in remission.
The 19-track compilation You Can't Live on Love Alone: Songs for the Fight Against Multiple Myeloma was curated by Popdose to help former music publicist and radio promoter Pigeon O'Brien, who was diagnosed with multiple myeloma in March 2014.  She was in the news a few years ago as the tipster who exposed presidential candidate John Edwards' affair and wrote about her reasons on her Huffington Post blog.
Money raised from sales of the compilation will go towards O'Brien's medical expenses, and the Multiple Myeloma Research Foundation, which has raised more than $275 million since forming in 1998 and directed nearly 90 percent of its total budget to research and related programming, it states on the web site.
You Can't Live on Love Alone  — for sale via iTunes, Amazon and Bandcamp — is built around acoustic performances from Popdose's Matt 'N' Jeff Radio Hour along with covers, demos and previously released material from supporting artists such as Don Dixon, who helped produce R.E.M.'s ground breaking albums Murmur and Reckoning, "You Were Mean't For Me" Jewel collaborator Steve Poltz, founding Del Amitri member Justin Currie, frequent soap opera villain (One Life To Live, The Young And The Restless, Ryan's Hope) Roscoe Born, and Brandon Schott, who recovered from cancer in 2009.
"This was a true labor of love for a wonderful friend in need," said Matt Wardlaw from the Matt 'N' Jeff Radio Hour in a press release. "We both knew that we were sitting on a nice archive of live performances from our podcast that we could easily get permission to use. Beyond that, Popdose reached out to some of those longtime favorite artists that had become friends and connections over the years."
O'Brien pointed out that it was good to know her friends have done this for her.
"When the chips are down," said O'Brien, "you can't live on love alone… but this album is a reminder after a tough personal journey that none of us is really alone."
On the MMRF web site, it says, "Multiple myeloma is the second most common blood cancer, and although it is considered incurable, it is very much a treatable disease thanks to recent advancements in cancer research."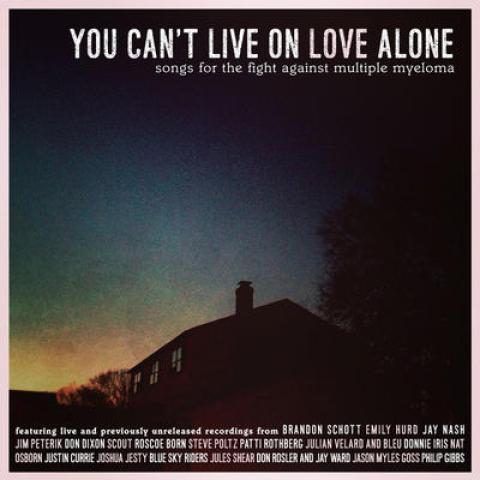 You Can't Live on Love Alone: Songs for the Fight Against Multiple Myeloma track listing:
1. Brandon Schott "Let Me Be Your Witness"
2. Don Dixon "Swallowing Pride"
3. Nat Osborn "Little to the Left"
4. Donnie Iris & the Cruisers "No Rest for the Wicked"
5. Jason Myles Goss "Home"
6. Philip Gibbs "Honky Tonking Tonight"
7. Jay Nash "Blame It All on the Wind"
8. Roscoe Born "I Take It on Faith"
9. Don Rosler & Jay Ward "Do What You Gotta Do"
10. Jim Peterik "Vehicle"
11. Blue Sky Riders "Dream"
12. Scout "Any Way You Want It" (Journey cover)
13. Patti Rothberg "Cut and Dry"
14. Emily Hurd "Good Will"
15. Justin Currie "You Can't Live on Love Alone" [Demo]
16. Julian Velard & Bleu "Rock Paper Scissors"
17. Jules Shear "Do You Wrong"
18. Steve Poltz "Conversations with the Moon"
19. Joshua Jesty "We Built This City" (Starship cover)
Zapatillas de baloncesto Nik