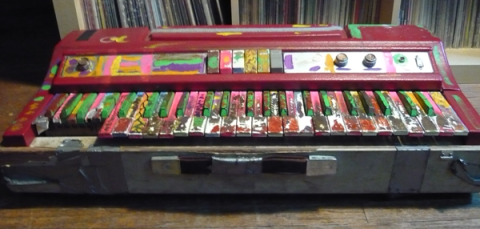 For the first five years of Blue Rodeo's 25-year recording career, original keyboardist Bob Wiseman's mesmerizing madcap performing style was a focal point of the band onstage. Now, the Acetone organ he used during those years with the band — and on such classics as "Try," "Diamond Mine" and "Lost Together" — is up for auction starting Nov. 24 (until Dec. 3) to benefit Kids Help Phone. 
The generous donation of this prized possession is just one of many items music journalist Jason Schneider is auctioning off on eBay, in conjunction with raising money via the release of the music compilation Have Not Been The Same: the CanRock Renaissance 1985-95.
The newly released 21-track album — available on CD and digital download through Pheromone Recordings, Zunior.com, and iTunes, with double vinyl LPs coming soon — features some rare or previously unreleased tracks by Wiseman, Hunger Project (pre-Cowboy Junkies), Sloan, Grapes of Wrath, Doughboys, Jane Siberry, Change of Heart and the Pursuit of Happiness.
"I was completely shocked when Bob offered his Ace Tone," Schneider tells Samaritanmag. "My original idea was just to do a simple promotional giveaway, but when Bob said he'd donate the organ, I realized that this was a huge opportunity to raise more money for Kids Help Phone through an auction.
"Bob, however, seemed to think that no one would pay anything for the organ, and he is unbelievably unsentimental about it. I told him that this is a one-in-a-million piece of Canadian rock history, and I'm hopeful that at least a few die-hard Blue Rodeo fans will want to bid on it."
Other items up for bid include rare Cowboy Junkies vinyl donated by the band's guitarist and songrwriter Michael Timmins, and rare releases and t-shirts donated by Ian Blurton, frontman of Change of Heart.
"I was thrilled to get some rare Cowboy Junkies vinyl from Michael," says Schneider. "Two of the LPs are the band's first two albums, released through their own Latent Recordings label before they signed with RCA. The Trinity Session is one of my favourite recordings, and the making of it is one of the best parts of the book. It's great to be able to offer it to someone in its original form. The same goes for the records Ian of Change of Heart offered, along with some pretty cool t-shirts."
Kids Help Phone offers toll-free, 24-hour, bilingual and anonymous phone counselling, web counselling and referral service for children and youth. "I have no idea how much the auction could raise," says Schneider, "but I'm hoping at least $1,000. My goal for the compilation as a whole is to raise at least $10,000."
The Have Not Been The Same: the CanRock Renaissance 1985-95 album is a companion to the top-selling book of the same name, co-authored by Schneider, Ian Jack and Michael Barclay. The book, highlighting a decade of Canada's post-punk indie rock scene, was originally released in 2001 and revised for the 10th anniversary edition by ECW Press in June of 2011.
nike air zoom all court fragment in hand of life CD0463-401 – Buy Best Price Adidas&Nike Sport Sneakers