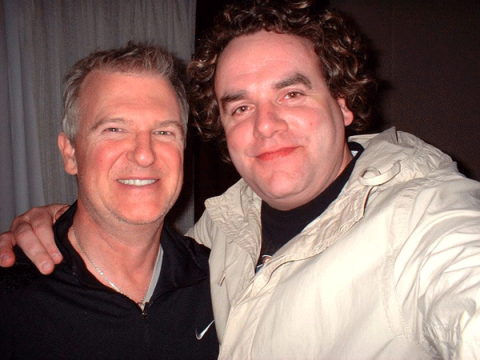 A limited edition compilation CD featuring tracks from Alan Frew of Glass Tiger fame, new wave legends The Spoons, Tarmac Adam featuring onetime Crowded House members Nick Seymour and the late Paul Hester, Toronto's Bill Wood and the Woodies (formerly of Eye Eye), Carla Olsen (see collaborations with Gene Clark of the Byrds and onetime Rolling Stone Mick Taylor) and others is cornerstone to a multi-pronged East Coast fundraising effort supporting mental illness care.
Only 100 copies of Music is Freedom: Songs for MindCare Volume One will be sold at $20 a pop to benefit MindCare, "New Brunswick's only Foundation for mental health" which promotes mental wellness through research and education funding, assisting "those living with all types of mental illness," according to its website.
The CD dovetails with a fundraiser concert and silent auction happening in Saint John, New Brunswick May 10 (details here) and organized by Canadian music industry veteran Jeff Liberty who, when not freelancing for the CBC, operates JL Artists artist and events management.
One hundred percent of the proceeds from sale of the CD, plus admission to the gig and items sold at auction — including the original artwork gracing the CD cover by New Brunswick artist Andrea Steele — benefit MindCare.
"This is a local event but it's a universal problem and the message is as important as the funding. Mental illness touches all of us," Liberty — himself afflicted with depression and anxiety — tells Samaritanmag. His goal is to raise between $5,000 and $6,000.
As Liberty explains, the tracks on the CD are like a musical goody bag. "Some people gave me songs that were very rare. Tarmac Adam gave me their new single. Alan Frew gave me a song from his last solo record. The opening track is by The Spoons from their most recent album.
"And then the last track, which is Bill Wood and the Woodies, was written specifically for this record. Plus Busted Flat Records handled the pressing of the CDs which was great. Ken Tobias, who had all kinds of hits throughout the 70s and worked with the Everly Brothers also came on board."
As Liberty notes, onetime Crowded House and Tarmac Adam member Paul Hester committed suicide in 2005 after suffering from depression for a number of years. "So often when someone commits suicide, it is reported as 'accidental death' in the obituary," Liberty notes. "Mental illness doesn't have a stigma about who it affects, that's for sure.  So we shouldn't hold a stigma against mental health.
"Before moving out to New Brunswick, I was living in Ottawa and running a record label called Sour Music, which was distributed by Sony. I had a nervous breakdown and in 2000 I lost everything — my label, my house, my kids were in foster care and I ended up at the Royal Ottawa Mental Health Centre.
"I had to fight to get everything back but at least being in a big government town like Ottawa there was a hospital to help me. I am still on medication today dealing with depression and anxiety. This is all about being there, showing up and maybe helping that one person. So few people talk about mental illness."
Anyone interested in purchasing a CD can email Jeff Liberty at jlibertyartists@aol.com.
cheap lebron xi 11 size 13