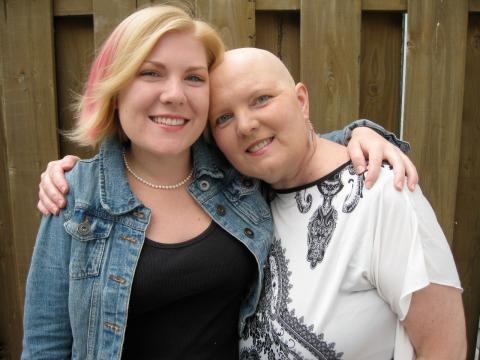 There are so many large not-for-profit cancer organizations, but starting your own charity makes a personal mark, not only by impacting the beneficiaries but by giving friends and family a purpose, a legacy to honour, champion and continue.  One also has control over where to designate the money.
New Glasgow, Nova Scotia resident Emma Lee Stewart decided to start The Reason For Hope Not-For-Profit Society after receiving a diagnosis of breast cancer in 2006. The disease returned in 2010, seeded in her liver and has since spread to her bones and brain.
"Everybody thinks that breast cancer is this little pink thing that is just gonna go away; everybody's gonna beat it; everybody's gonna be cured. Well, it's not the case," Emma Lee, 54, tells samaritanmag.com. "We need to do more research on why this metastasizes and we need to help people so that it stops happening."
Metastasis is the transference of disease-producing organisms or of malignant or cancerous cells to other parts of the body by way of the blood or lymphatic vessels or membranous surfaces.
The Reason For Hope Not-For-Profit Society has raised more than $20,000, mostly for the care facilities at which Emma Lee has been a patient.
Her whole family — husband Jim; and two grown children, daughter Mary and son Lee — help with the events, along with dozens of friends and acquaintances.
The most recent project is The Reason For Hope compilation CD, spearhead by Emma Lee's daughter, a singer-songwriter now based in Toronto. Emma Lee and Mary both have songs on it, in addition to other eastern Canadian artists such as Lennie Gallant, Matt Minglewood, In-Flight Safety, Crush Luther, Amos The Transparent, The Danger Bees and Jenn Grant.
The CD can be purchased for $20 (inc. shipping) by email money transfer, as well as old-fashioned mail order, through Emma Lee's blog,http://raisinghopeforemmalee.blogspot.com or by emailing TheReasonForHopeCD@gmail.com.
"The CD [sales] have been crazy," Mary told Samaritanmag, while she was home spending time with her mother. "It's really cute that we're doing mail order; people don't do it anymore. Everybody who's sending their cheques have these adorable handwritten letters so we sit down and we write the notes [back] and put them in the envelope [with the CD] and we walk over to the post office."
Jim, who teaches event and talent management at an arts college in Halifax, is now on compassionate leave and Mary has asked him to take over the mail orders, while she's in Toronto.
Prior to Emma Lee's diagnosis, she had been actively involved in the Nova Scotia music community as founding chair of The New Glasgow Riverfront Jubilee, a 2003 East Coast Music Award nominee for Volunteer of the Year and Music Nova Scotia Award 2007 nominee for her album, The Reason, in both the Inspirational and Country music categories.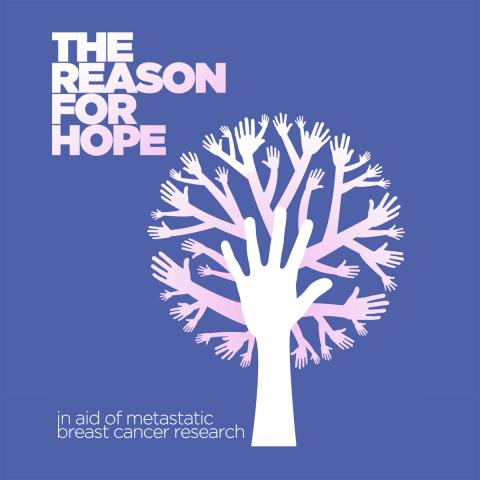 The Reason was the fulfillment of lifelong dream to release an album. It was recorded between 2005 and 2006 as she struggled to find out what was wrong with her health.  She received her diagnosis two months after the CD release and immediately rebranded the project.
"When I was initially diagnosed, I went through the predictable breast cancer treatment — ie. a mastectomy; chemo, radiation," Emma Lee says. "Traveling back and forth between Halifax and New Glasgow where I was getting radiation, one day when I was coming back from Halifax, I thought 'The reason — the reason for hope.'
"That's why I decided that I would take my little passion, my little CD, and turn it into The Reason For Hope and I would not use that [CD] as a vehicle. As a matter of fact, I have boxes of them with dust all over them," she laughs, "but, on the other hand, it turned into what I wanted it to do.
"I wanted it to raise the profile of breast cancer and raise funds to help The Lodge That Gives [in Halifax] where I was staying and had my radiation treatment."
The first event in November 2007 raised $11,000.
A year later, a concert by Murray McLauchlan and Cindy Church at Trinity United Church in New Glasgow raised $2000 for the local oncology department at Aberdeen Hospital.   "They used it towards [the purchase of] a diagnostic breast imaging machine, which was sorely needed," says Emma Lee. "It was a little pittance of money, but it was enough to put it over the top."
That might be a pittance in terms of what's needed to find a cure for the potentially fatal disease, but Emma Lee's efforts have made a difference on a small scale.
The Reason For Hope event in November 2009 raised $3000 for Breast Cancer Action Nova Scotia, bringing the tally over the three years to $16,000 for various breast cancer causes.  But the following year, Emma Lee decided to forgo the fundraiser and make it a free event centred around education and prevention.
"It was my final one after I had received this final diagnosis — no cure — and I brought in this fantastic oncologist [Dr. Rob Rutledge] from Halifax and had [PEI's] Lennie Gallant come in and play a few tunes. He played a song for my husband and I and it was fabulous. So that was my last fundraiser."
By then, Emma Lee had been involved in another awareness campaign, chairing The Adolescent Breast Health Initiative for Nova Scotia,  a committee of Breast Cancer Action Nova Scotia, which she says will be rolled out province-wide this year.
"I'm very proud of that. It's a beautiful educational tool. We will be going into high schools and reaching out to young women between [the ages of] nine and 12 just [about] breast health.
"We'll go in — I won't get to do it — but it will be during like a 'lunch and learn.'  It's a really cool video. It's not long, but then they'll get together afterwards and maybe have some sandwiches and talk about breast health and healthy living and if they learned anything from this.
"It's all about awareness, awareness, awareness," she says. "Caught early stage normally you're gonna do well, but there are 25 to 35 percent of women who go on to develop metastatic breast cancer and that's the killer. That's what we're talking about right now."
Checking for lumps via breast self-exams is something most females know to do, but Mary has learned even more about the disease since her mother's diagnosis.
"Well, it is genetic, which I didn't know," she says. "My mom wants me to have the genetic testing, but I'm not going to because even if you have the gene it doesn't mean you're going to have [breast cancer]. But it means that you're always gonna be wondering, 'Am I going to go to the doctor tomorrow and they're gonna tell me I have this?' It's going to be this constant loom.
"There have been women who have gone as far to remove their breasts when they find out they have the gene before they even know if they're gonna have any problem. Now there are super advances to genetic testing, which is awesome. I also didn't know that it could metastasize in other parts of your body."
This year, while the Stewart family doesn't know what direction the annual Reason For Hope benefit will take in November, Emma Lee is hoping the CD will meanwhile raise $15,000 for metastatic breast cancer research, care of the Canadian Breast Cancer Network.
"When we knew this was gonna be bad news, that's when my little darling daughter stepped in and stepped up to the plate," says Emma Lee. "She came up with all these wonderful ideas and The Reason For Hope CD compilation."
Mary didn't have a problem rounding up fellow artists who wanted to be on it.
"Instead of me going out and trying to talk to people about the issue, to be able to use my music background — it's what I do and both my parents have been involved in the music industry my entire life — it just made sense," says Mary.
"Music has always been the focal point of my mom's life. All of the charities that she's worked for, she's always arranged concerts and had musicians come in and always had benefits. When we found out [about my mom's prognosis], I had all of these ideas and this [CD] was the biggest endeavour. Everybody was more than willing. Everybody was like, 'Whatever I can do. I'll play the shows. You can take a song, whatever you need.'"
The album was launched July 25 with a concert at The Carleton in Halifax featuring Mary, David Myles, Lennie Gallant, and more. It raised $4000 via donations and cover charge to be donated to The Breast Cancer Network for Metastatic Breast Cancer Research.  The Toronto event at the Horseshoe Tavern on August 22 — featuring performances by Mary, Crush Luther, The Danger Bees, The Morning Thieves, and Robyn Dell'Unto — raised $2600 via a silent auction and cover charge.
CD sales alone are approaching $3000, according to Mary.
"I've been approached by so many artists who didn't make it on the first one that I have enough to do a second disc," Mary says. "So I'm going to probably do it annually or at least do another one so there will be two compilation CDs to raise money for the Canadian Breast Cancer Network because they have found a lab to give the money to. 
"It's not just gonna go towards putting pink ribbons on anymore."
* Emma Lee Stewart lost her battle with cancer on Sept. 7, 2011 (RIP)
NIKE AIR HUARACHE