You could call Dr. Patrick Smith a Renascent man. An acknowledged authority in the field of addiction treatment, he took over the reins of Renascent as CEO a year ago.  Renascent describes itself as "Canada's leading alcohol and drug treatment centre." It operates four treatment centres in the Greater Toronto Area: The Lillian and Don Wright Family Health Centre (also Renascent's head office), the Graham Munro Centre (for woman) and the Punanai Centre and Paul J. Sullivan Centre (both for men). 
According to its literature, Renascent "facilitates recovery, education and prevention relating to alcohol and drug addictions through a continuum of programs and services for individuals, families and organizations." Since 1970, more than 40,000 people have participated in its residential treatment program.
A crucial facet of Renascent's treatment programs is that noone is turned away for lack of financial resources. "That is where the rubber hits the road," Dr. Smith tells Samaritanmag. "We do get partial government funding just for the component of our 21-day program. Even with that, every single person who comes through our program has a guardian angel somewhere paying the $1,400 to help them access that service."
As such, Renascent is heavily dependent on revenue from fundraising events, in order for patients to access the full program.  One of the key initiatives Dr. Smith has formulated there is the new Friends of Renascent concert series. "The series is designed to reach out to communities as well as to raise funds," he says.
Called Walk You To The Water; An Evening To Inspire, the inaugural concert Dec. 4 at Toronto's intimate Glenn Gould Studio features Canadian music icon Gordon Lightfoot.  Some 340 patrons paid $250 a ticket and all proceeds go to Renascent. Lightfoot made his first visit to Renascent's men's treatment centre in 1991 when he was invited to cut the ribbon at the opening of the facility on Madison Ave.
Lightfoot wasn't available to talk about his commitment to Renascent for more than two decades or why. In an email through his manager to Samaritanmag, he simply said, "I was invited to attend their opening ceremonies and I was impressed with the new facility."
In 2001, Lightfoot was the surprise celebrity guest at what was then one of Renascent's major fundraising events, the Guess Who's Coming To Dinner Gala. His continued support since then has been so strong that this year Renascent awarded Lightfoot one of its inaugural Peter Armstrong Community Awards for Excellence.
"The award honours one of our longstanding board members for his leadership," Dr. Smith explains.  "But it also recognizes community supporters of the enhancement of understanding of or response to addictions in Canada. Gordon Lightfoot was an award recipient for his longstanding philanthropic support."
Also on the bill on Dec. 4 is Toronto singer Oliver Piggott, half of the duo The Piggott Brothers. Both Oliver and Sebastian Piggott received an Armstrong Award for their contributions to Renascent's recent anti-stigma campaign. "We have a 'Don't Let Addiction Define You' campaign, and it incorporates a TV commercial," says Dr. Smith. "Oliver Piggott donated a song he had written, 'Walk Me To The Water,' for the commercial, and it fit perfectly. He and his brother Sebastian also did a public service announcement for us."
Dr. Smith notes that members of the music and arts community have been very encouraging of Renascent's work. "Many of them have gone through treatment and are in recovery. Some of them did not access those treatments in Canada, but at places like the Betty Ford Clinic and Hazelden in the U.S.. They had the financial means, and now they see Renascent as a place that can provide that for all Canadians.
"Our belief, and the evidence agrees, is that if someone only accesses that component and not our complete care program and the other services provided, then it is not a proper therapeutic dose. If I was a physician, I wouldn't give a prescription for a full course of antibiotics then expect someone to only take it for three days, cross their fingers and hope it works. We believe very strongly in the complete care program."
Another defining characteristic of Renascent's work is providing abstinence-based treatment. Explains Dr. Smith, "In the whole movement into expanding services, including harm reduction services, we feel the pendulum has swung a little far. While there is a need for a full range of services, the commitment to abstinence-based treatment programs has really suffered in Canada over the last number of years."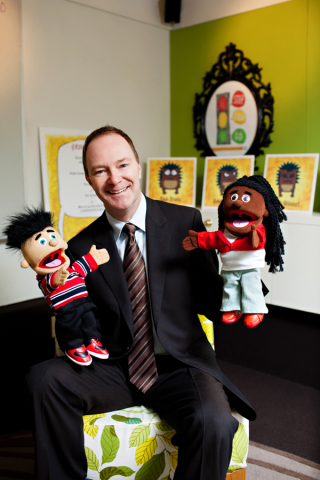 As co-chair of Canada's National Addictions Treatment Strategy, Dr. Smith has studied the subject rigorously. "Renascent has a long-standing history of being very much a clinical treatment program, while also emphasizing the importance of the ongoing support that the individuals can get out in the community in the 12 step programs," he says. "The clinical treatment and health services that we can provide are only part of the big picture approach to helping someone maintain and thrive in recovery."
At Renascent, all frontline counsellors are themselves in recovery, as well as being trained and certified addiction counsellors. Another key part of the Renascent strategy is to involve families and workplaces where appropriate.
"We have an intensive four-day children's program," says Dr. Smith. "Some kids have a parent who is in longer-term or early recovery, some have parents still at home drinking. Our focus is to teach them about the disease of addiction their parent is struggling with. I call it a psycho-social support. I was a co-therapist on a program in July, and it was one of the most intensive programs I've ever been part of."
Across Canada, Renascent offers what they term a Workplace Solutions program. "That is specialized treatment that supports employees," says Dr. Smith. "A corporation or firm can support that individual with an alcohol or drug problem. They pay for them to come to us, and in addition to the clinical treatment we provide support for the individual in their return to work. We do training in the workplace, helping the HR staff and others to be able to make that transition."
The success rate of that program and the complete care treatment is impressive. 71.4 per cent of clients who completed at least the primary and continuing care components of Renascent Complete Care are clean and sober 24 months post-treatment. That figure is considered very high within this field. "That is better than most medical treatments for chronic disease," observes Dr. Smith.
In recent years, the biggest Renascent fundraising event has been an annual golf tournament entitled Recovery Shot, with Ford and Canadian Auto Workers as the founding sponsors. "Looking ahead, we'd like to see the Friends of Renascent concert series right up there with it," says Dr. Smith.
It is certainly off to a great start with the Gordon Lightfoot concert, one that will have a second mission. Helping Dr. Smith plan and organize the benefit was Renascent senior director of development Rena Scheffer. She was tragically killed in a car accident on Nov. 5, and Dr. Smith notes that "the evening has taken on a new meaning, to honour her life, spirit and work."
Nike WMNS Air Force 1 Shadow White/Hydrogen Blue-Purple