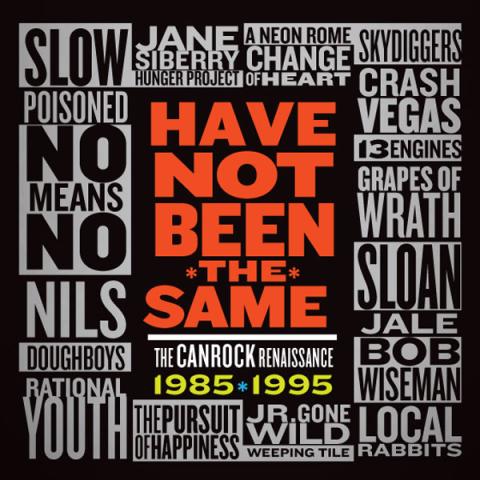 Sloan, Grapes of Wrath, Doughboys, Jane Siberry, Change of Heart and the Pursuit of Happiness are just some of the acts whose rare or previously unreleased songs have been licensed for free to Have Not Been The Same: the CanRock Renaissance 1985-95, an album benefitting Kids Help Phone.
All proceeds from sales of the 21-track double LP, single CD and  digital release (on iTunes and Zunior) will go to Canada's only toll-free, 24-hour, bilingual and anonymous phone counselling, web counselling and referral service for children and youth.
The album — available Nov. 13, via Pheromone Recordings with the financial assistance of Slaight Music —  is a companion to the top-selling book of the same name, co-authored by Jason Schneider, Ian Jack and Michael Barclay. The book, highlighting a decade of Canada's post-punk indie rock scene,  was originally released in 2001 and revised for the 10th anniversary edition by ECW Press in June of 2011.
"I chose to donate all sales from this project to Kids Help Phone because I feel there's no other organization out there with the kind of reach that they have," Schneider tells Samaritanmag. "Most kids are lucky to have music as a guide to help them through tough times, but more and more young people need that one-on-one communication that only Kids Help Phone can provide. My goal is to raise $10,000 by next summer, and I'm hopeful that with the support of Canadian music fans I can raise more."
Have Not Been The Same: the CanRock Renaissance 1985-95  kicks off with the title-track by Vancouver grunge pioneers Slow — available for the first time since 1991 — and continues with more long out-of-print and previously unreleased material, that coincides with mentions in each chapter:
TRACK LISTING:
Slow – Have Not Been The Same
Poisoned (Art Bergmann) – Final Cliché
NoMeansNo – Dad
The Nils – In Betweens
Doughboys – Long Hall (previously unreleased)
Rational Youth – To The Goddess Electricity (2011 mix)
Jane Siberry – Symmetry (previously unreleased version)
Hunger Project (pre-Cowboy Junkies) – The Same Inside
The Pursuit of Happiness – Wake Up And Smell Cathy (previously unreleased)
A Neon Rome – Shatter The Illusions (previously unreleased)
Change of Heart – Smile
Jr. Gone Wild – God Is Not My Father
Skydiggers – When You're Down (previously unreleased)
Crash Vegas – Moving Too Fast (previously unreleased version)
13 Engines – Beached
Weeping Tile – Pushover
The Grapes Of Wrath – Misunderstanding (2000 acoustic version)
Sloan – Lucky For Me (previously unreleased version)
Jale – Jesus Loves Me
Bob Wiseman – Gabriel Dumont Blues
newest nike shoes for girl CD0463-401 – Buy Best Price Adidas&Nike Sport Sneakers