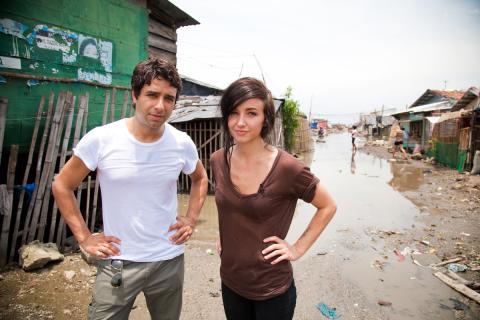 Lights, the Juno Award-winning electro pop artist whose 2009 debut album, The Listening, went gold in Canada, is an ideal voice to get behind a charity. The 24-year-old has 600,000 Facebook followers and 277,000 on Twitter. That's a lot of people interested in what she has to say.
With her new album, Siberia, out October 4, and a U.S. tour to follow, she will only expand her reach, and when she can she will speak about the two charities in which she is invested: World Vision Canada, particularly their work in the Philippines where Lights spent part of her childhood; and Skate4Cancer, a Toronto-based foundation led by her good friend, Rob Dyer.
"Probably the most primary is World Vision," Lights Poxleitner tells www.samaritanmag.com (she only goes by her first name). "Aside from the basics of sponsoring a kid, I've done videos with them for 30-Hour Famine encouraging high school kids across North America to take part in that and actually last August, myself, and World Vision, and Jian [Ghomeshi, her manager and CBC Radio host] went over to Philippines and looked at some of the camps."
While many artists who travel to developing countries with World Vision or other humanitarian aid organization usually find the experience life changing, Lights' upbringing, the daughter of missionary parents, made her more aware of what was in store.
"It wasn't mind-blowing for me," says Lights of the week-long trip. "It was obviously a reminder, but I was raised on a mission field. My family and I lived in the Philippines for a few years — I was there from 5, 6 to 9 [years of age] — so I was raised watching that happen so it's in my heart. It's embedded in there. I have a really big heart for the Philippines especially."
Her mother actually joined her, Ghomeshi and the World Vision artist rep on the trip. They visited three child-focused area development projects, Morning Star, Golden Valley and Baseco, in areas of Metro Manila where World Vision is working with the community, and also went to Puerto Princesa in Palawan. Lights was prepared for the poverty she would see, but also found the people's spirits heartwarming. She says she found the short trip "intense" and "amazing."
"One of my focuses is poverty and nutrition, so going into communities and looking at that and establishing schools and sponsoring children [was great]," she says.
"They're such a generous culture and whether or not they have anything, they will give you food and they'll feed you. This is a culture that is deserving of prosperity, and it seems really impossible. So it's nice to go over and see things changing, like going into some communities and seeing a school that World Vision has put up and teachers in the schools that were previously sponsored children, who previously were very poor. So seeing the changes is really encouraging and if anything that's what I took away from that trip."
One of the main point of her trip, she says, is that she can see first-hand what World Vision accomplishes in the community and come back and talk about whenever she can — in interviews, on social media, onstage, whenever it might be appropriate. In Canada, World Vision sets up a booth at her shows in order to solicit child sponsors.
"If it's a big corporation like World Vision, people are always wondering if their money is actually going to the place they want it to go so this was our opportunity to see that that was actually happening," Lights says.
The second charity that Lights supports is Skate4Cancer, which raises awareness and prevention for cancer among young people (click here to read full story).
"It's fronted by this guy Rob Dyer who lost his mother to cancer so he basically has made it his life to skate across countries raising awareness and motivating young kids," says Lights. "Kids love to get involved in this and it's hard to see kids being involved in something in their teen years, wanting to get involved in a charity, so it makes it kind of cool. I love that."
Air Jordan 1 Mid "What The Multi-Color" For Sale