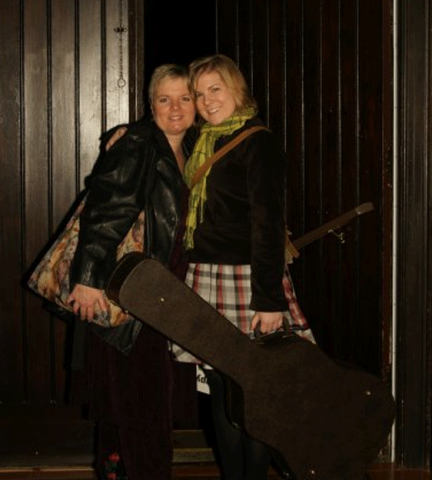 Toronto-based singer-songwriter Mary Stewart is hoping tomorrow's (Nov. 1) Reason For Hope 2013 fundraising concert in memory of her mother will bring in another $5000 for the organization.  To date, the annual event back in her home of New Glasgow, Nova Scotia, has raised $25,000.
It will be the second year without its founder, Emma Lee Stewart, who passed away of metastatic breast cancer at age 54.
"I'm really happy that my family and an amazing board of directors has decided to continue my mothers legacy," Mary tells Samaritanmag. "It's great having outsider perspectives as my brother, father and I can be a little sensitive when trying to organize these events.
"The money raised will be going towards a research study taking place in New Brunswick to try to find an end to this disease," she adds. "The event stands true to my mother's original vision for The Reason For Hope, which was musicians coming together to support women during their battle with cancer."
Held at Glasgow Square Theatre, the 6th annual Reason for Hope concert will feature performances by international blues artist Alan Gerber, who has performed with Lou Reed, Bob Dylan, Janis Joplin and Leon Russell; Pictou County native Wayne Nicholson and his band The Eastenders, comprised of Doug MacKay, Brian Bourne and James Logan; New Glasgow's Doris Mason, co-founder of the Mason Chapman Band and Cape Breton Summertime Revue; and Maple Blues, CCMA & ECMA award winner Matt Minglewood who will be joined by his full band.  There will also be a silent auction to raise additional money.
It was Emma Lee's wish that the event continue with its mandate to increase public awareness, raise funds and educate in all areas of cancer prevention, awareness and care.
"It's all about awareness, awareness, awareness," Emma Lee told Samaritanmag back in August 2011 shortly before she died. "Caught early stage normally you're gonna do well, but there are 25 to 35 percent of women who go on to develop metastatic breast cancer and that's the killer. That's what we're talking about right now.
"Everybody thinks that breast cancer is this little pink thing that is just gonna go away; everybody's gonna beat it; everybody's gonna be cured. Well, it's not the case. We need to do more research on why this metastasizes and we need to help people so that it stops happening."
Says Mary: "Prior to my mother's passing, she was very clear with her wishes for the Reason For Hope to continue. She did, however, manage to leave massive shoes for us to fill. She was a doer with big ideas, but was able to shrink them down to an achievable size while keeping the big picture in mind. She was and is a huge inspiration to me with all that I do. "
Monies raised from past Reason for Hope fundraisers have gone to the Lodge that Gives, Aberdeen Hospital's Oncology Department, Breast Cancer Action Nova Scotia and the Atlantic Cancer Research Institute. Funds raised at this year's concert will be directed to Metastatic Breast Cancer Research, via the Canadian Breast Cancer Foundation (Atlantic).
Tickets are $25 in advance $30 at the door and are on sale in New Glasgow at H&R Music, Glasgow Square Theatre and Yours Trudy and Ticketpro locations or online at ticketpro.ca. For more information, contact Jim Stewart at 902-396-6570. reasonforhope@eastlink.ca
girls youth nike high tops shoes Light Smoke Grey