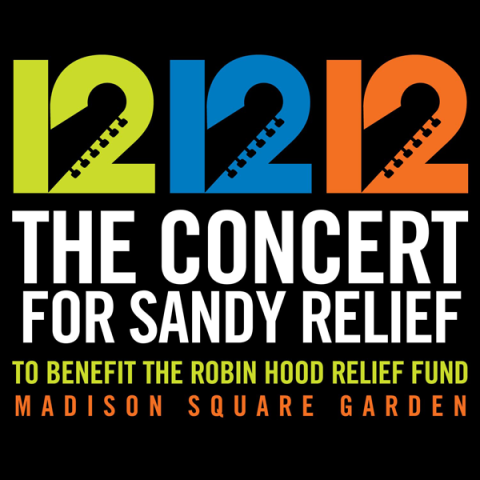 A 24-track album of last night's marathon 12-12-12 Concert For Sandy Relief  — broadcast live around the world from New York's Madison Square Garden and featuring The Rolling Stones, Bruce Springsteen, The Who, Bon Jovi, Paul McCartney, Eric Clapton, Billy Joel and many more — can now be pre-ordered on iTunes for $12.99.
According to information on the iTunes page, $11.70 from the sale of the album will be donated to the Robin Hood Foundation. The relief organization has provided more than $14.7 million in grants to more than 140 different groups affected Hurricane Sandy, which devastated many homes, businesses, landmarks — and lives — in the tri-state area in late October.
The 12-12-12 album — released on Columbia/Sony — is expected to be available on Dec. 18, but the delivery date, track listing and track order may change.
A physical album will be made available as soon as possible, according to Sony. No word on a DVD of the concert, which started at 7:30 p.m. (ET) and ran past 1 a.m.
The concert — for which the filming and audio was fantastic, even streaming online — included some cool performances: Springsteen and Bon Jovi on "Born To Run" and "Who Said You Can't Go Home;" Chris Martin and Michael Stipe singing "Losing My Religion;" Roger Waters and Eddie Vedder on "Comfortably Numb;" Paul McCartney, Dave Grohl, Krist Novoselic and Pat Smear on "Cut Me Some Slack," and Adam Sandler with Paul Shaffer for a comedic reworking of "Hallelujah."
The total amount raised from the benefit is not expected to be known until early next week.
On Robin Hood's web site, it states, "We are now moving into phase two of our recovery effort, providing for the long-term needs created by the storm including: housing, job-training, legal counseling and more. The need is great. Please contribute generously, and know that every cent of every dollar you donate will go the best community organizations that are working to help those whose lives have been torn apart."
Below is the 12-12-12 concert set list; the 24 album selections is still TBA:
Bruce Springsteen and the E Street Band
"Land of Hope and Dreams"
"Wrecking Ball"
"My City in Ruins,"  "Working on a Building,"  "Jersey Girl"
"Born to Run" with Jon Bon Jovi
Roger Waters
"Another Brick in the Wall"
"Money"
"Us and Them"
"Comfortably Numb" with Eddie Vedder
Adam Sandler with Paul Schaffer
Parody of "Hallelujah"
Bon Jovi
"It's My Life"
"Wanted Dead or Alive"
"Who Says You Can't Go Home" with Bruce Springsteen
"Living on a Prayer"
Eric Clapton
"Nobody Loves You When You're Down and Out"
"Got to get Better in a Little While"
"Crossroads"
The Rolling Stones
"You Got Me Rocking"
"Jumpin' Jack Flash"
Alicia Keys
"Brand New Me"
"No One"
The Who
"Who are You"
"Bellboy"
"Pinball Wizard,"  "See Me, Feel Me"
"Baba O'Riley"
"Tea & Theatre"
Kanye West
Shorter versions of:
"Clique"
"Mercy"
"Power"
"Jesus Walks"
"Run This Town"
"Diamonds From Sierra Leone"
"Touch the Sky"
"Gold Digger"
"Good Life"
"Runaway"
"Stronger"
Billy Joel
"Miami 2017 (Seen the Lights Go Out on Broadway)"
"Movin' Out (Anthony's Song)"
"Have Yourself a Merry Little Christmas"
"New York State of Mind"
"River of Dreams"
"You May Be Right"
"Only the Good Die Young"
Chris Martin
"Viva la Vida"
"Losing My Religion" with Michael Stipe
"Us Against The World"
Paul McCartney
"Helter Skelter"
"Let Me Roll It"
"Nineteen Hundred and Eighty Five"
"My Valentine" with Diana Krall
"Blackbird"
"Cut Me Some Slack" with Dave Grohl, Krist Novoselic and Pat Smear
"I Got a Feeling"
"Live and Let Die"
Alicia Keys
"Empire State of Mind"
2020 Nike Air Max 97 "Valentine's Day" To Buy CU9990-001