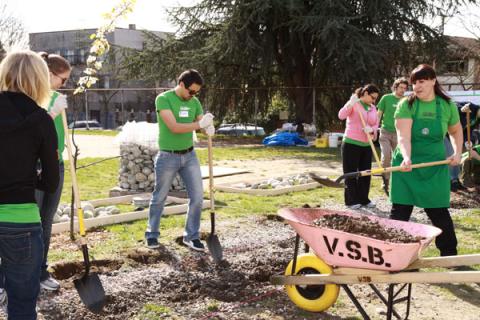 When it comes to corporate social responsibility, Starbucks Canada is clearly using the old saw of "think globally, act locally" as a guiding principle.
The ubiquitous American-owned coffee-shop chain, which operates some 1,000 locations here, could easily donate cash to various charitable organizations and consider itself done.
Instead, it uses its tremendous resources to foster community activism through volunteering, netting results that reflect positively both on its customer base and the corporation while making tangible, immediate enhancements to the localities it serves across the country and around the world.
Starbucks' environmentally forward Thriving Neighbourhoods program, which encourages people to get involved in efforts great and small — swapping disposable coffee cups for reusable ones, signing up for community improvement projects, supporting its partner agency Volunteer Canada — has many points of entry and countless moving parts.
But the overarching takeaway is this: "Whether you do a little bit or a lot, giving back helps neighbourhoods thrive." And thriving neighbourhoods are excellent places to hang out and sip fancy coffee, ergo the logic of the initiative.
The company's global goal of reaching "one million community service hours per year by 2015" may seem lofty until you consider the achievements so far. In 2011 in Canada alone, some 12,000 volunteers nationally racked up an impressive 23,000 hours of community service (planting trees, maintaining green spaces, building playgrounds etc), bringing Starbucks Canada's ultimate goal of logging 50,000 annual hours by 2015 well within reach.
Since April 1 of this year, in-store donations to Volunteer Canada via re-directed customer savings – ie: you bring your own cup, save 10 cents off the purchase price and donate that coin to the organization – are $1,200 (or 12,000 cups of coffee), building on a $30,000 kick-off donation from Starbucks.
That's a lot of grassroots activism and it's in place for the foreseeable. Perhaps more importantly, Starbucks and Volunteer Canada are making the basic concept of volunteering less scary to punters (oh…too much time commitment!) while making the gargantuan issue of environmental activism (where to begin?) seem do-able.
The Thriving Neighbourhoods program also draws its eight-member 2012 advisory council from across the social change spectrum (environmental, social, youth, educational) ensuring balanced oversight grounded in reality.
As Colette Bennett, national marketing manager for Starbucks Canada, tells Samaritanmag from her Vancouver office, a little really does go a long way. And the Thriving Neighbouroods tagline of "one small action, unlimited possibilities" is a whole lot more than rhetoric.
"We do have lots of programs," Bennett offers, admitting that it's hard to sum up the various aspects of the multi-pronged Thriving Neighbourhoods program in a single sound bite. "But the one common thread is taking some type of action to create positive change in [people's] own local communities."
Samaritanmag: Corporate social responsibility appears to be a pretty big deal with Starbucks. Even a cursory glance at your website speaks to the ethical and environmental sourcing of product, various community programs, etc.
Colette Bennett: Absolutely. We recognize that the global programs are very important, things like developing a fully recyclable cup, which hasn't happened yet but we're working on it.  And yet what we really needed was a program that gave our customers and our partners an opportunity to participate on a local level.
Samaritanmag: Enter Thriving Neighbourhoods?
Colette Bennett: Yes. It's a new program for us – it launched in May – and it really serves as a kind of springboard for the community programs we already had in place.  We really hope to inspire and engage our partners [read: employees], our customers and our neighbours to take action to create positive change in their neighbourhoods. And we really do believe that small actions equal unlimited possibilities.
One thing we learned quickly working with Volunteer Canada is that they struggle with community engagement. People have a hard time with the notion of volunteering; they are afraid it'll require too much time. We help to make it manageable. Just bringing your own tumbler to Starbucks and donating 10 cents can makes a difference. Or go to our website and participate in one of the community dialogs that are on there and discuss what's important in your neighbourhood. It can be that simple.  Or best case: participate in your neighbourhood, and we have a search engine on our website that allows our customer to find events in their area. If you give people the opportunity to volunteer and see the results, it usually hits a nerve. Ironically, once people get involved they often end up spending more time volunteering than they would have imagined. 
Samaritanmag: Tell me about an initiative that really illustrated the concept and put a lump in your throat.
Colette Bennett: Something we did at the Strathcona Community Centre here in Vancouver last April. It's in the Downtown East Side, has been there for many years and serves families that are struggling financially. We decided to do a huge community service event for them. We had about 250 customers and partners participating and it was a full-day event.  We transformed the outside of the centre: we painted, built garden sheds, did a lot of cleaning up and beautifying. We basically accomplished something in a day that otherwise would have taken the Centre a year. It was an incredible day.
When we were setting up the day before, this older gentleman came up to me and asked what we were doing. When I told him, he welled up and said, 'Who are you people?' I said we were Starbucks working with Volunteer Canada. And he said 'I have been a member of this community for 45 years, and this is one of the most well-used, well-loved centres and it's in desperate need of help. And this is amazing. I will always be a fan of Starbucks coffee… even though I don't drink coffee' (laughs). That really brought it home for me, how much impact a bunch of people coming together can actually have.
Air Jordan 1 Mid Pine Green/White-Black-University Red For Sale