Imagine if you could make the world a better place simply by taking off your clothes. The Swap Team's Take Off Your Clothes, North America's biggest clothing swap, is a movement that encourages people to trade in their clothing for a good cause. The next event takes place July 28-29 at Place des Arts in Montreal, where the idea originated.
What began as one-off in a living room back in 2005 has now grown to a can't-miss event for fashionistas, vintage-lovers, bargain-hunters, and others looking for ways to contribute to the environment and their communities in such major cities as Montreal, Boston, New York City, Ottawa, Toronto, Calgary, Halifax, Winnipeg and Quebec City.
Since The Swap Team launched its inaugural event in 2007, an estimated 30,264 garments have been swapped; 37,312 garments given to charities; 67,576 garments kept out of landfills and $605,280 saved by swapping, according to statistics released by Swap Team.
"At the end of the day, what's important to us is how many items we donate to charity and how many items get redistributed back into people's homes," The Swap Team president and founder Aleece Germano tells Samaritanmag.
The Swap Team's mission statement is to:
1. Provide good quality clothing to charities, who then use the clothes for their local community programs
2. Provide communities with an alternative to new clothing consumption (eg. collaborative consumption)
3. Promote eco-friendly and socially conscious clothing consumption
4. Develop upcycled items from used clothing, textiles and waste materials from the garment industry
"When we started, it was a bit of a social experiment," recalls Germano, then an e-commerce consultant for various Fortune 500 clients for whom she organized luxury products rollouts around the globe. "My friend [Danielle Robichaud] and I decided over a cup of coffee we wanted to do something to conserve natural resources. We wanted to help conserve the environment.
"You could say it was something that was missing in my job as a corporate consultant. You work hard; you get paid well, but at the end of the day, you go home, and you're like, 'I wish I could do something more.' I wanted to give something back, and that was missing for me.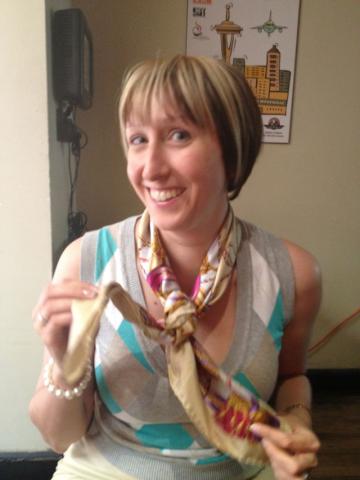 "I was really influenced by the Story of Stuff, a little video that went viral on the internet around 2004," she explains. "It was made by an activist in California named Annie Leonard. It was all about over-consumption and it really made an impression on me. That was one the things that sparked me to come up with an idea to reuse stuff."
Noting how many of her friends, both male and female, love fashion and take care of their clothes, she decided to invite a dozen of them over to her place to swap clothes and give the items no one wanted to the Salvation Army. She put on music, served drinks and food, and made "a little party out of it."
"Everybody had a good time," she recalls. "I was the person who called the Salvation Army up afterwards with five bags of clothes to give them and I didn't think of it again until two years later."
That's when she and Robichaud were wracking their brains for a way to help the environment and remembered "that thing" they did in Germano's living room and wondered if they could make it a public event.
But this time, Germano wanted to do it on a bigger scale. She approached the folks at Piknic Électronik, an outdoor electronic music festival held weekly during the summer on Montreal's Ile St Helene, about setting up a public clothing swap as part of their event to make it a little more green.
"They gave us a tent; the Salvation Army came through with rolling racks and hangers and we were ready to go," Germano recounts.
Thus, the first official Take Off Your Clothes was born in 2007. It was billed as an anti-consumerist event, with a widely distributed press release that read: "cashless clothing boutique promotes sharing not consumption."
At the time, Germano says no journalists were interested in the promoting or covering the swap, but she took to Myspace and got her friends to come down. The swap was a major success, she says, and everyone involved was onboard to continue.
The following year, Germano was on a flight home from a business meeting in New York when some turbulence prompted her to ask herself an important question:   "If the plane were to go down right now, would you be happy with what you have done with your life? The answer, for me, was a resounding 'No,'" she explains. "I'll never forget the feeling I had after answering that question. I just felt this sinking feeling in the pit of my stomach, like I was on the wrong track. I felt like I was meant to be doing something else".
That something else was swapping for a cause. "You could say I'm a professional swapper.  I quit my consulting job to become a full-time volunteer," Germano says.
Since that time, the idea has really taken off. The Swap Team events are popping up all over North America.
The events are well organized with a certain protocol that wasn't part of that original swam in her living room seven years ago.  Bring the clothes you don't wear or want anymore down to one of The Swap Team drop-off points (all of which are listed on their website), and then their team of volunteers will go through every item to determine if it's worthy of being swapped.
The No.1 criteria, of course, is cleanliness and quality.  The clothes must be laundered before being dropped off.   Underwear, bathrobes, pajamas, t-shirts, underwear, lingerie, swimwear, tank tops, socks, leggings or stockings are not swappable. The items must be undamaged and in very good condition.
For every item accepted into the event, participants will receive an exchange coupon, valid for any other item available at the event, like The Swap Team's currency. Then, when the Take Off Your Clothes date arrives — a ticketed event for a nominal entry fee usually of $10 to $12 — all the participants assemble at the event location for the actual swap. Afterwards, all the unclaimed items are collected by the team and donated to various charities, including The Salvation Army and Renaissance, to make sure nothing goes to waste.
At the Montreal swap this weekend, those who were unable to get to a Swap Team drop-off point by the July 22 deadline can bring up to 10 items which can be exchangeable on the spot.  Also, swappers in need of some feedback while shopping can consult on-site professional fashion stylists from Ludique to help mix and match outfits (Germano says every Take Off Your Clothes event has stylists there).  The Swap Team will also have professionals on hand to do alterations. So it's a one-stop swap shop.
One of the Montreal Swap Team events a few years back produced more than 8000 unclaimed garments that were given to the Salvation Army (and that's just from the racks alone, not counting the items that were deemed not suitable for public swapping). At that time, the Salvation Army donated the clothing to families affected directly by the devastating earthquake in Haiti in 2010, Germano says.
"That's the philanthropic aspect to what we do — a great reason and incentive to clean out your closet, because, somehow, someone will end up with a garment that you aren't wearing. Why keep it in the back of your closet, if you can put it to good use?"
Germano never went back to her consulting job — she does however teach a Communities of Practice course at McGill's School of Information Studies. She estimates she has donated about 5000 unpaid hours to Swap Team.
"For me, this was just something that was fun from the beginning. I'm addicted to swapping now," she says, wearing an Hermès scarf she picked up at a recent swap, and mentions a Dries Van Noten jacket that she found at another.
"Even doing the smallest thing does add up and it does make a difference. Look at how many clothes we've swapped. Look at how many clothes we've donated to charity. That one shirt that's sitting in the back of your closet can make a social and environmental change."
nike dunk low white gray blue color chart Light Smoke Grey