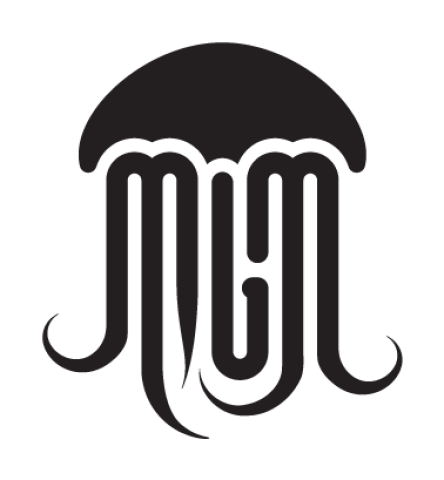 Rock 'n' roll band by night; eco-warriors by day. These dual roles are being played across North America by Victoria, BC reggae-infused rockers Mindil Beach Markets, whose members became profoundly affected by the jellyfish when searching for a logo for their band.
"We learned that jellyfish are a powerful symbol for the fragility and declining health of the world's oceans," guitarist/vocalist Daniel Kingsbury tells Samaritanmag. "Around the world today, jellyfish are showing up in record numbers. This is happening due to a global increase in ocean temperature and acidity, and the overfishing of jellyfish predators."
Shocked at the ocean's predicament, MBM chose the jellyfish as their logo and pledged to become part of the solution to this problem.
Now, the band's tour itinerary includes morning and early afternoon gigs at middle and high schools across Canada to talk about The Jellyfish Project, which is described on their web site as "an educational initiative focused on generating awareness among youth about the declining health of our world's oceans and our environment at large."
The Jellyfish Project has officially been going for 18 months, but "has really started to pick up speed in the last few months," says Kingsbury.  He explains that requests for their presentations at schools has increased.
"We have also partnered with the Vancouver Aquarium's Oceanwise program, have earned a spot on the David Suzuki Report — a public service announcement in which David reads about our initiative on over 29 radio stations — and we are appearing on Canada AM this week."
The band — Kingsbury, Rod Campbell, Patrick Codere (guitar, vocals), Matt Posnikoff (bass), and Cam Ainslie (drums) — is promoting its second album, It Might Take Long.  They use music to engage students in the environmental conversation and provide information through their visits on how they can become active participants in the sustainability movement.
"We started doing presentations wherever we could at any high school we were playing at, just cold-calling out of the blue," recounts Kingsbury.
"We plant the seeds of being a sustainably-minded person as early as we can. These are the developmental years, elementary, middle school and high school, though our material is a little too advanced for the audience at elementary school. It is important to get to the kids at the formative stage.
"Generally, all the students have been very receptive to the information and very enthusiastic afterwards. They ask a lot of very good questions, and that is very encouraging."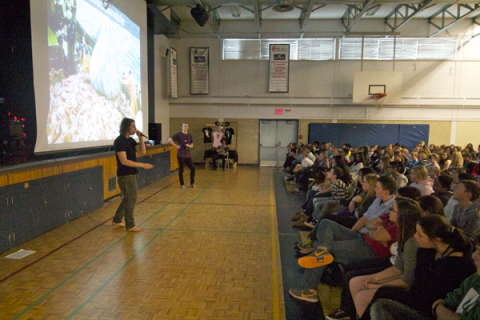 The Jellyfish Project's website has multiple testimonials from educators vouching for the value of the presentations. John Brisebois, principal of Chatelech Secondary in Sechelt, B.C., for example, wrote that "The students were very engaged. It was an exciting project to watch ... very valuable, educational and entertaining all at the same time."
Kingsbury and his bandmates are careful not to foster a mood of doom and gloom in their presentations. "A lot of the information is pretty heavy and grim," he says. "The stats are scary, but we don't want to paralyze our audiences. A large part of the presentation is focused on tangible solutions and things they can actually do in their daily lives to make a difference.
"We encourage responsible consumerism. Being aware of what you buy makes a huge difference. If you stop supporting products that aren't sustainable, then you'll stop them being produced. We talk a lot about sustainable fishing and supporting the OceanWise program."
Other themes covered include the importance of reducing the consumption of plastics, the importance of renewable energy, and the need to engage in the political system when the students reach voting age. "We don't tell them what party to vote for, but just to check out which parties are in line with their personal values and then give them their support," explains Kingsbury.
The presentations also stress the power of the internet as a tool for spreading the word. "The use of web video for getting the message out is especially exciting," says Kingsbury. "I like to say that web video, as it is today, is as much of a revolution in the way that humans communicate information and innovate and excel and create change as the printing press first was. We tell the students we are truly living in exciting times right now. There's a lot at stake and a lot of forward momentum as well. We feel we leave the kids with a very positive feeling and hopefully with a desire to become a part of the sustainability movement."
The music of Mindil Beach Markets is used to initially grab the attention of the students. "It is definitely very useful to begin the presentation with a show," says Kingsbury. "That gains their attention and earns their respect. They are more receptive to our message after we have done something that interests them and that they think is cool. It is essential."
The band members then keep the interest of the student audience by integrating visuals into The Jellyfish Project presentation. These include slides and animated videos provided by Climate Reality, the environmental organization headed by Al Gore. Kingsbury and Campbell received the organization's approval after the pair took training course in San Francisco last August headed by Gore.
The opportunity came via Judy Fainstein, head of Yes BC (Youth For Environmental Stewardship) and a lead presenter for Climate Reality in the province.  She recommended Kingsbury and Campbell for the CR course. Receiving the certification just gave The Jellyfish Project extra credibility, says Kingsbury. "We realized that the potential of what we could do had grown by leaps and bounds to have them behind us."
Environmental issues, especially regarding the world's oceans, is a natural alignment for members of Mindil Beach Markets. "We all grew up next to the ocean so we had a deep appreciation for nature and the natural world," says Kingsbury. "A couple of us are certified scuba divers and some of us have surfed too. We just have a general love of the ocean. We didn't know the full extent of the damage that is happening right now and we then saw a great opportunity to make a real difference with our band. This is the first time we have engaged in anything of this nature."
For their conventional rock gigs, they stress environmental issues much less. "We play a lot of rowdy bars and clubs, so often it's not really the environment for that. We have pamphlets about sustainable seafood and where possible we slip in a comment or two about the environmental work we do."
Similarly, their songs only touch on eco subjects in a subtle way only. "When those themes do occur in our music, they are often more metaphorical as opposed to being preachy," says Kingsbury. "They definitely do appear, but we don't limit ourselves to just writing about those themes."
Kingbury aims to spread The Jellyfish Project across Canada and beyond. "It is my hope that The Jellyfish Project will in the not too distant future have several bands under its umbrella, perhaps two or three bands operating in every province. There are tons of schools, and MBM certainly can't play and present at all of them. I'm looking at recruiting other bands and that excites me a lot. Then, who knows?  Expand to the States, Australia and so on."
The Jellyfish Project has already attracted the attention of The Monterey Bay Aquarium in California, and they've expressed an interest in helping The Jellyfish Project expand into the American school system. "We'll be filming a bunch of presentations in the next few months and putting something together for them," says Kingsbury. "The team working behind us is building it right now. People are volunteering to help with things like networking and grant writing. This is an exciting time."
adidas Yeezy Boost 350 V2 News, Colorways, Releases