If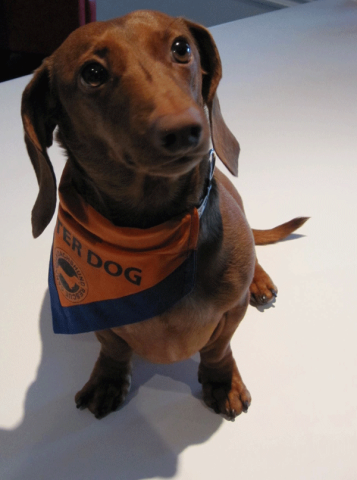 they could talk, the wiener dogs in the care of Canadian Dachshund Rescue would tell you that being ridiculously cute has its drawbacks. For one thing, it tends to obscure some of the unique characteristics specific to the breed that require firm and knowledgeable training in puppies to produce well-heeled adults.
"Every breed has its challenges," Meaghan Middleton-Firman, vice president with Canadian Dachshund Rescue's board of directors, tells Samaritanmag. "But dachshunds are cute, tiny dogs and people get them because everybody loves wieners. Kids stop us on the street to look at them.
"What people don't realize is that dachshunds are hunting dogs; they are the only breed meant to hunt above and below ground. So they'll go face-first into a badger hole, and then bark loud enough that their owner can find them while they're underground. They are tenacious and loud.
"They can be very aggressive and destructive if they aren't socialized properly and given the right physical and mental stimulation. So people think they are getting this cute little dog their kids can play with when in fact it's a totally different type of dog."
Which is why Canadian Dachshund Rescue (CDR) came into being in 2001. As Middleton-Firman explains, "A group of volunteers were working with several dachshund rescues in the States doing transports, helping bring some of the dogs up here to all-breed rescues.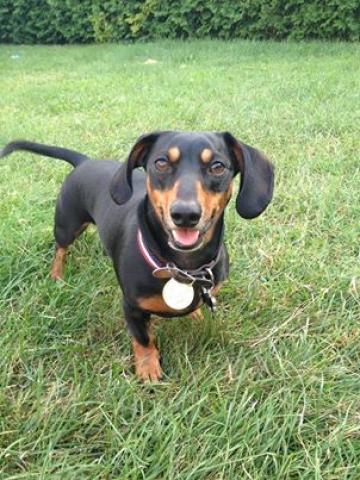 "Finally they realized how many dogs there were, especially in Canada. And with the growing difficulty of getting dogs across the border post-9/11, we decided to open a Canadian rescue specifically for dachshund and dachshund mix breeds."
Today, CDR — which is non-profit and solely reliant on donations, adoption fees and events for funding —  has successfully "saved and rehomed" roughly 1,000 "abandoned, neglected, and unwanted dachshund and dachshund mixes," from across Canada, the U.S. and even as far away as Taiwan.
Yet not all the dogs who pass through CDR are surrendered by clueless or otherwise overwhelmed owners. Middleton-Firman reckons about half come through puppy mills.
"Last year we had over 40 dogs that were either breeder releases or from puppy mill busts in Quebec. And when we have the space, we have a lot of dogs that come up either from puppy mills or shelters in the States."
To ensure that 100 percent of its funding goes to the dogs, CDR exists as "a virtual group, in that we do not have a shelter or physical office location. We have foster homes all over Ontario and have organized transports to move the dogs all over Ontario," according to its website.
It also employs a sliding-scale adoption fee based on age to help cover costs while encouraging potential adopters to consider older dogs. Adopting a puppy under one year old costs $500 while adopting a wiener 10 years or older costs $250. The group also offers a "senior-to-senior" program where senior citizens adopting senior dogs (10-plus years) pay just $150.
"Wiener dogs can live 18, 19 years. I met one the other day that was 20. So getting a dog aged 10 doesn't necessarily mean you're only going to get a few years with them," Middleton-Firman says.
"Our adoption fees rarely cover the cost of the veterinary care (spay/neuter, vaccinations etc) these dogs require. So we rely heavily on events and donations. And we partner with a charity organization called K9 Rescue Me that acts as an umbrella organization, so you can donate to us through them and receive a tax receipt."(CDR is currently in the process of applying for charitable designation with Canada Revenue Agency).
When asked how most people find out about the organization, Middleton-Firman says, "Our volunteers — about 60 in Ontario,  a small group of about 10 or 15 just getting started on the East Coast and another two launching a chapter in Quebec — are so passionate.
"Plus the dogs in foster care wear little bandanas saying 'adopt me' or 'I am looking for a home' when they are out walking. We do a fair number of events across Ontario to try and get the word out, and our adopters are also pretty passionate about the work we do.
"And for the first time ever this year, we have created bandanas for CDR alumni, so we are hoping to see those out there as well. Again, wiener dogs are cute so people look twice and it doesn't take much to start a conversation about what those bandanas mean."
On Saturday (Sept. 21), CDR hosts WienerPawLooza, its twice-yearly fundraiser held for the past 11 years each September in Mississauga, Ont. and the past two Julys in Ottawa.
"Last year, we raised just over $4,000 in Mississauga and this year in Ottawa we raised over $5,000 so for us that's huge. And they're really fun events. There are wiener races and those dogs are competitive, let me tell you. We had 50 dogs register in Ottawa. We also have a costume parade and people love to dress up their wieners."
Middleton-Firman continues: "With wiener dogs, it all comes down to misconceptions. Many people have known them as kids and they think of them as loving, loyal, great family pets. And they are. But they need training and socialization."
The rewards of due diligence sound well worth it, however. "When we first got our dogs, my husband and I were reading this book that talked about the wieners' sense of humour. I thought, 'How can this possibly be true?' But it is true. They are very in-tune with people's emotions and go out of their way to cheer you up.
"Another book I read called them 'heat-seeking missiles' and that's also true. I get in bed at night and my two wieners Oscar and Rolo are under the blankets faster than you can say 'boo.' When they are brought up in a home with the right level of leadership and routine, they are very loving, super-loyal and they bond very quickly with their families."
2020 Air Jordan 1 Retro High OG "UNC Obsidian" For Girls 575441-140