Creatures don't come more iconic than the polar bear. Resilient, strong, free — and possessing the cutest babies ever — polar bears are at once powerful symbols of the rugged far north and striking reminders of what could be lost should environmental destruction go unchecked.
So when global green organization World Wildlife Fund wanted to partner with a corporation to help protect the polar bears' rapidly dwindling sea-ice home turf, it looked to Coca-Cola, itself something of an icon, but with the resources and marketing savvy to help advance WWF's ambitious objectives.
That Coke had used the polar bear as a mascot since 1922 made the fit a natural. Plus, the company's reliance on abundant fresh water for its products created an obvious circle back to the environment and its protection. In 2011 the Arctic Home campaign was born.
Arctic Home sees Coke pledging $2 million over five years in $400,000 annual installments, while offering a dollar-for-dollar match to private donations up to U.S. $1 million to bolster multiple conservation initiatives helmed by WWF under the aegis of its Last Ice Area project. 
The campaign clearly hit a nerve with consumers. From October 2011 to April 2012, some $1.8 million was raised (including the $400K Coke donation), making serious progress towards the WWF's goal of generating $10 million to create a safer haven for polar bears in the high Arctic. Coke's streamlined marketing machine has also been running full-throttle.
An interactive travelling installation also called Arctic Home — which simulates the polar bears' natural environment inside a tank containing sculpted polar bear models — asks onlookers to pledge to make greener choices in their lives.
Some 8,000 Canadians have done just that since Feb. 14 where the exhibit was on display at Toronto's Eaton Centre (it's now in Montreal, then Vancouver). And the Arctic Home campaign is only in its second year.
"We truly care about the cause. It's not just throwing money at it. It's a partnership and WWF brings great expertise," Hayley Shay, senior IMC manager for Coca-Cola Canada, tells Samaritanmag. "And we certainly bring marketing and awareness power.  "We have been working with WWF for quite some time."
A previous four-year partnership supporting polar bear conservation began in 2007 and raised $1 million globally.
"The two areas we focused on were water conservation and energy and climate change," says Shay. "Together within those two areas of focus, polar bears and Arctic Home was a common point of interest. Of course, the Coke brand has great heritage of using polar bears in our advertising, so it made the most sense for us to go after that."
If you want to get an idea of how vital the Arctic Home project and others of its ilk are to the planet, chat with WWF's Geoff York.
While his business card reads senior program officer, Arctic species,  he tells Samaritanmag, "I'm the lead polar bear biologist for WWF globally and coordinate our larger Arctic species portfolio as well.  In this respect I am one of the technical advisors and WWF spokespeople for the Arctic Home campaign and manage our polar bear conservation efforts across the Arctic."
York began working with polar bears around 1997, visiting the Arctic annually for some 14 consecutive years. He estimates the total global polar bear population between 20,000 and 25,000 with two-thirds living in Canada's far north.
And while the changes he has seen have been dramatic, York stresses it's impossible to address polar bear conservation without also addressing habitat conservation, and vice versa.
"Through Arctic Home we really are trying to capture the complexity and connectedness of the Arctic ecosystem," he says from his Ottawa office. "That habitat loss isn't just the loss of a platform where polar bears hang out. It's the loss of, in the Arctic, what's analogous to soil.
"So all of that ice melting is like coming into an area, cutting down trees then rolling up the top soil. Because underneath that sea ice is where algae grows that is the base of the Arctic food system. That algae feeds plankton, which feeds Arctic cod that feeds the seals that feed the bears."
York continues: "This climate change isn't just serious for polar bears, but for all of us.  In the years I was doing field research, I saw dramatic changes. For example, when I first started working in the Arctic in 1992, the sea ice was never more than 10 miles off shore anywhere and in some parts off the coast of Alaska the sea ice never left the shore. It was touching shore all summer.
"In recent years in that same area, the ice is more than 400 miles off shore — huge changes and huge loss of habitat. When I first started working with polar bears we had two seasons; one in the spring and one in the fall. By the mid-2000s we had largely abandoned fall research because we just didn't have good enough ice to work on."
An environmental NGO like WWF and a corporate behemoth like Coke may seem like strange bedfellows and indeed, there were some growing pains. While the cuddly, anthropomorphized versions of polar bears Coke was using in its advertising might have softened hearts and loosened consumer wallets in support of the program, they didn't accurately depict the world's largest land carnivore facing habitat destruction.
As York explains, "That was something we addressed last year with Coca-Cola at the launch of Arctic Home in North America. We requested lifelike polar bears or real imagery of polar bears and not the animated bears.
"So with Arctic Home-specific communications, you'll see pictures of real bears. And," he laughs, "you won't see any penguins. If we make these animals into teddy bears we're doing a disservice to their conservation."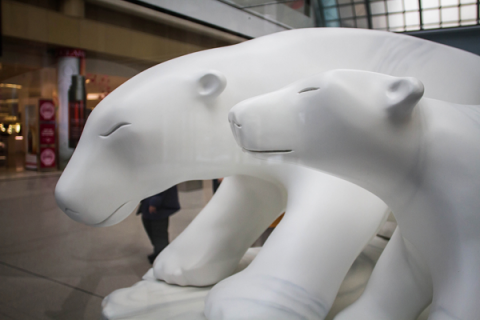 Further, York insists the WWF/Coca-Cola partnership is a model both of corporate social responsibility and savvy NGO strategy.
"The thing is government is not moving fast enough so the WWF asked, 'Where can we find leadership?' And one area was the corporate sector which controls significant amounts of global commodities. In the case of Coke, that's water, sugar, aluminum," York says.
"If we can partner with a company of that size and scale and reduce their carbon footprint and their fresh water usage and increase efficiencies and at the same time engage them on meaningful conservation, we're having significant impact that will hopefully ripple out from that partnership.
"And Coke are marketing experts. Our ability to tie in with them to send a conservation message and raise awareness on Arctic climate issues globally is tremendous."
Nike Air Jordan Retro 1 Red Black White - Buy Air Jordan 1 Retro (white / black / varsity red), Price: $60.85 - Air Jordan Shoes