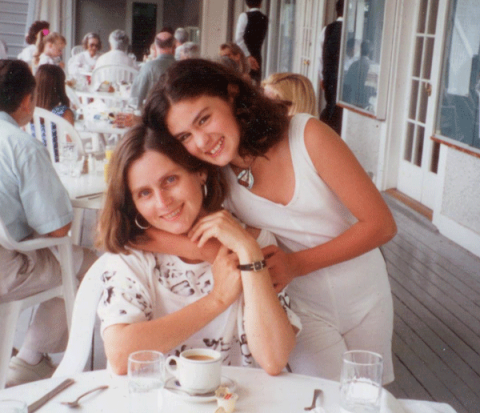 Actress Angelina Jolie may have gone public with her decision to have a double mastectomy, but it's a decision countless others have made for similar reasons. For Toronto brand marketer Theresa Quick, an envelope sealed by her mother before her passing instigated a series of events that would ultimately prompt her to make one of the most important and difficult decisions in her young life.
At age 28, Quick chose to have both of her breasts removed, a procedure known as a prophylactic or risk-reducing mastectomy.
"I knew that I didn't want to have to look back in five years, have breast cancer, and think that I could have done something about it and now I can't," Quick tells Samaritanmag.
The test is the same one Jolie had for the BRCA mutation, which has been linked to hereditary breast and ovarian cancer. Men with these mutations also have an increased risk of breast cancer. To be clear, BRCA1 and BRCA2 mutations account for a small percentage of all breast cancer cases in women but their appearance greatly increases their risk.
According to America's National Cancer Institute, "about 12 percent of women (120 out of 1,000) in the general population will develop breast cancer sometime during their lives compared with about 60 percent of women (600 out of 1,000) who have inherited a harmful mutation in BRCA1 or BRCA2. In other words, a woman who has inherited a harmful mutation in BRCA1 or BRCA2 is about five times more likely to develop breast cancer than a woman who does not have such a mutation.
"Lifetime risk estimates for ovarian cancer among women in the general population indicate that 1.4 percent (14 out of 1,000) will be diagnosed with ovarian cancer compared with 15 to 40 percent of women (150–400 out of 1,000) who have a harmful BRCA1 or BRCA2 mutation."
Quick is now involved with Willow Breast Cancer Support Canada's In Our Genes program, which pairs women who are BRCA gene mutation carriers or breast cancer survivors who are trained in providing peer support with women who are struggling to come to terms with their genetic profile. Since its launch in 2009, more than 300 women have received help through its support groups, according to In Our Genes director Natalie Witkin.
Cancer has been a part of Quick's life for as long as she can remember. Her mother, Mary, was first diagnosed with breast cancer when Quick was six years old.  After a lumpectomy and many rounds of treatment, her mother went into remission, but her relationship with breast cancer didn't end there. Quick's mother stayed involved in the fight against cancer by hosting support groups, information sessions, and even funeral wakes in her family home.
Little did her mother know that just over a decade after her first diagnosis, her family would be mourning her.
Quick's eyes fill with tears while she recounts years of bargaining with fate for just one more day, or one more hour, with her beloved mother. When Quick was just 17 her mom was diagnosed with stage IV ovarian cancer. Although at the time her life expectancy was quoted at just five months, Quick's mother held on for an astonishing six years. During that time, Quick and her younger sister took on the tremendous responsibility of caring for her mother in her home as her health declined.
"It was so hard managing my mother's illness, and school, and trying to relate to my peers. I remember looking outside and wondering how the world hadn't stopped outside my window," says Quick. "Life was very, very hard. I knew that I never wanted to have that experience again."
It was this desire not to re-live her family's past that prompted Quick and her sister to reveal the results of a blood test that her mother had taken — and sealed — years before her passing. Her mother had been tested for the BRCA gene mutation and had not wanted to open the results, fearing the impact that it might have on her daughters' employability and insurability. But when she died Quick and her sister decided: they had to know.
To everyone's surprise, that envelope that everyone had thought would reveal the cause for generations' worth of illness and death indicated that Quick's mother tested negative for the BRCA gene. Shocked, Theresa, her sister, and their genetic counselor requested that another sample of her mother's blood, which had been reserved at the hospital, be re-tested. Ultimately, Quick's mother tested positive for the gene.
"I had always thought it was genetic," says Quick. "Both of my grandmothers had died of breast cancer before they were 50, and many of my aunts, uncles, and second cousins had cancer too. Finding out that my mom had the gene was great because it allowed my sister and I the opportunity to get tested."
On the day that Quick opened her own test results, sitting across from her genetic counselor, her deepest suspicions were confirmed: she herself carries the BRCA-1 gene. A first test, like her mother's, had returned with a negative result, but her family history told her otherwise and she decided to get the test again.
It didn't take her long to determine her course of action: a prophylactic double-mastectomy, which would reduce her risk of developing breast cancer by 90 percent, according to the National Cancer Institute.
"I didn't want to live my life with this expectation that I need to rush everything to get it in before I got breast cancer," admits Quick. "Having both breasts removed was scary, but I also felt so fortunate to have the opportunity to choose. I know that if my mom had this option, I think she would have taken it. It's so unfortunate that this information wasn't available for her."
Women who have the BRCA-1 or BRCA-2 gene mutation have a number of options available to them in order to monitor and help prevent and diagnose breast and ovarian cancer. In Our Genes' Witkin stresses that women find the option that is right for them.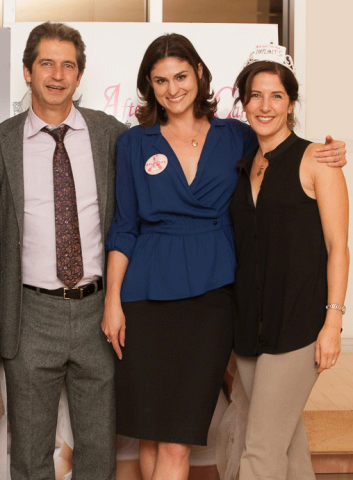 "Knowing your risk of developing cancer can help you make informed decisions about your health management," Witkin tells Samaritanmag.  "There are a number of options available to manage or decrease a woman's risk of developing breast cancer. Women with a BRCA gene mutation may consider surveillance using breast MRI, taking certain medications, such as tamoxifen, or raloxifene, or having prophylactic (preventative) surgery such as a mastectomy or oophorectomy."
Beyond making herself available to In Our Genes, Quick is actively involved in Breast Reconstruction Awareness (BRA) day – held annually around the world in October with the mission to promote awareness and access to post-cancer reconstructive breast surgery.
BRA day played a major role in Quick's decision. She went to her first BRA day, alone, two weeks before her surgery, listened to the presenters and received as much information as possible.  But the biggest impact on Quick was in the show and tell room, where women who have undergone reconstructive surgery offer women facing surgery the opportunity to look at, touch, and ask questions about reconstruction.
"When I went in there I could actually see what reconstructed breasts look like, which was huge. I had only seen pictures before that so I didn't really know what they were going to look or feel like. It was amazing to be able to touch them," recalls Quick.
"Right after BRA day, I went home and cried worrying about the scars I would have. But then I realized — I wasn't doing this for cosmetic reasons. I was doing this for something bigger. That was the moment that I truly accepted my decision."
Quick decided that she would begin the reconstruction process with nipple sparing at the time of her mastectomies. In the same operation that removed her breasts, she began the process of expanding the space between the rib cage and the pectoral muscle using a device that is progressively filled with saline.  Once the space is adequately expanded, the saline expander is replaced with a silicone implant. For Quick, a single 28-year-old woman, knowing that reconstruction was available was the key factor in her decision to have her breasts removed.
"If I didn't know that I could have breast reconstruction surgery, and that it would be covered by health care [in Canada], my decision would have been much more difficult. I think it is so important that women are aware that reconstruction is an option for them," says Quick.
Plastic surgeon Dr. Mitch Brown, developer of BRA day, agrees that reconstructive surgery can have a significant impact on a woman who has undergone mastectomy. "Reconstructive surgery means something very different for each woman," Brown tells Samaritanmag. "In general, however, it means an improvement in quality of life, an attempt to restore normalcy, femininity, self-confidence and an improved feeling of wellbeing. Breast reconstruction is not for every woman, however for those women who choose to undergo reconstruction, the benefits are significant."
This message of choosing the option that is right for you is pervasive among the community of women with the BRCA gene and the healthcare professionals who help them. For Quick, the answer was double mastectomy, but for her sister  — who also tested positive for the BRCA-1 gene mutation – it was choosing to manage her health in other ways.
"I really don't think that one answer is better than the other," states Quick. "What's important is that women make a decision to take control of their health. Any decision, whether it be mastectomy or increased screening or anything, is better than no decision at all. You need to pick what's right for you."
Nike