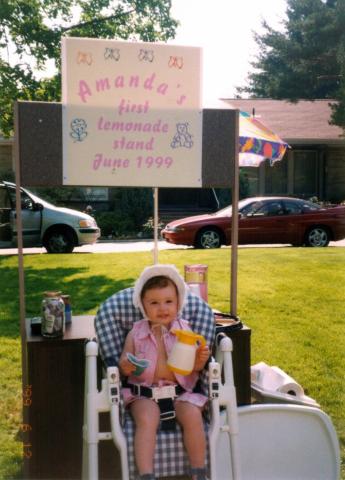 Amanda Belzowski is a 13-year-old with a big assignment to finish. It's not an English essay or science fair project. The Toronto teen is trying to spread the word about her 13th annual lemonade stand fundraiser, which has raised over $150,000 for the Heart & Stroke Foundation since its launch in 1999 and is now raising money for Save A Child's Heart and SickKids Hospital.
This year, the charity event will be held at 33 Post Road, on May 15 from 11 a.m. until 3 p.m. It used to be called Amanda's Lemonade Stand, but she has now relinquished the title to her five-year-old brother, who ran Joshua's Cookie Counter for two years alongside his sister's stand. But, it is still up to Amanda to campaign, speak to the volunteers, make sure the 25 gallons of lemonade (and other snacks, amenities and auction prizes) are prepared and, of course, help her brother pour the lemonade.
Belzowski is a rare breed of kid: she is a passionate volunteer, philanthropist and inspirational speaker who sincerely believes in the "follow your dreams" sentiments that her peers might find corny. She is on a mission to give back and inspire other youths to do the same because that's what she's been accomplishing for nearly her entire young life.
Her journey began on a bike ride around Toronto at the Heart and Stroke Ride for Heart in 1998, alongside her parents, Lisa and Dan. The family passed by a lemonade stand after the Ride, and Amanda asked her father for a drink. It was her first appearance at a fundraiser, but with her parents' guidance, she took on the role of a local volunteer.
"I didn't really know what money was yet so I just put out my sponsor sheet and that year I raised $500," Belzowski tells Samaritanmag.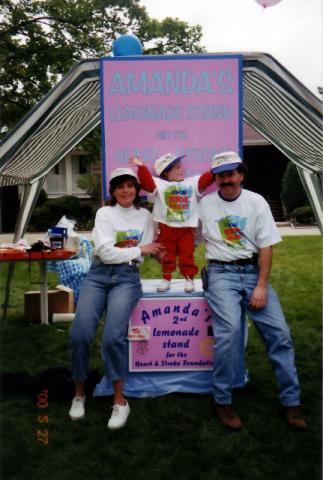 The next spring, just one month shy of her second birthday, her first lemonade stand came to fruition. She served had lemonade in Dixie Cups from a Fisher Price pitcher and gave customers cookies. On May 15, the 13th lemonade stand will have lemonade, cookies, popcorn, cake, pizza, Dippin Dots ice cream, pony rides, a costumed Dora the Explorer and a live auction. Around 50 customers came to the first lemonade stand, while over 400 are expected to show up this month.
According to her mom, "Amanda has always just told people, 'a donation for charity please to fix hearts.' Lemonade and cookies are actually free to all who come. Donations are appreciated."
To build a roster of helpful contributors, Amanda had to put together dozens of business proposals. She began pitching to companies to sponsor her cause at the age of six, while her classmates were learning how to put a sentence together. Some turned her down. The CEO of one conglomerate refused to be involved with the Heart and Stroke Foundation because one of its subsidiary companies produced cigarettes. She was even denied by a family member, who works for a large company that Belzowski wouldn't name.
"I had raised $50,000 and we were asking for him to donate a certain amount of money, as my goal was to reach $100,000," she says. "He basically turned me down, saying there's no way you can ever do that."
Her efforts have raised $151,000 and counting.
Even though one relative was doubtful, Belzowski says she believes that her efforts wouldn't have gone as far without the support of her parents.
"My parents are amazing people," she says. "They started me off on this fundraising journey and have guided me along the way and helped me with every single aspect."
But gathering sponsors and getting media attention for her cause has often been a struggle for Belzowski and her family. This year, the Heart & Stroke Foundation, the key recipient of her charity efforts in past years, dropped her, Amanda says.
"[CEO David Sculthorpe] actually turned to me and said, 'Amanda, what you do is of no value to us.' [My family and I] were just in shock."
Samaritanmag reached out to Sculthorpe for comment. "I feel badly and I'm actually quite shocked that this is what Amanda and her family took away from our meeting," he wrote in an email. "Their volunteer work has been of tremendous value to us and I would not tell them otherwise. The misunderstanding might have happened becauseI talked to the Belzowski family about the need for us to be mindful about offering all our great key volunteers a similar level of  PR and staff support. I'm sorry if they heard that by not being able to do more with them, they felt they were not valued. I want to reiterate that we're very thankful for their support over the years."
Belzowski and her parents went looking for a new recipient of their fundraising efforts. They found two: Save a Child's Heart, an Israel-based humanitarian foundation dedicated to giving open-heart surgery and recovery treatment to children from around the world, and SickKids Hospital in Toronto. The donations will be divided 50/50 between the two initiatives.
But, even after the lemonade has been poured, the assignment isn't quite done. Belzowski is also scrambling to put together a fundraiser concert – likely to be held in downtown Toronto this June – entitled Amanda's Lemon-Stock.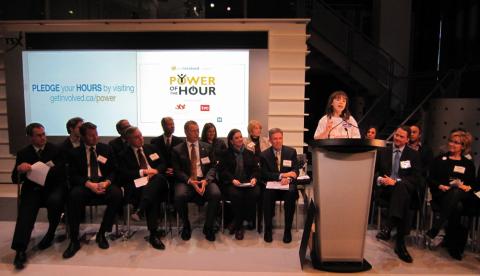 As a teen, Belzowski wants this event to cater toward young adults, and plans on having a battle-of-the-bands and talent competition. She has been trying to contact Canadian pop artists, such as Drake and Nelly Furtado, to headline the event, but she hasn't found a star attraction yet.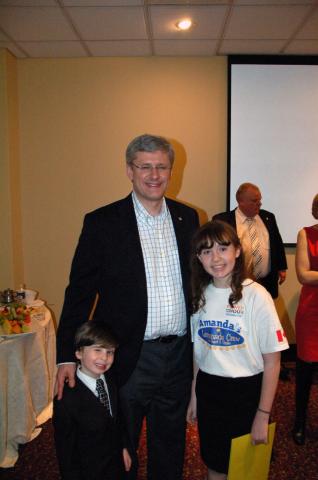 "The hardest aspect of [fundraising] is getting the word out. Sometimes it's hard to advertise and market," she says. "You have to get it out to the schools, to the restaurants, to the businesses. Whatever obstacles this thing throws at me, you just have to overcome it."
Regardless, Belzowski has garnered several high-profile sponsors, including David Copperfield, who supplies a prestigious auction item for the lemonade stand: four tickets to his Las Vegas show and a tour of his private warehouse nearby. This item has fetched close to $2,000 at past fundraisers and is also up for grabs on May 15.
One contributor was Donald Trump, who gave her $200 from the stage following a Learning Annex event. Belzowski approached him after watching the pilot episode of The Apprentice when she was six. The episode coincidentally featured a challenge involving a lemonade stand.
"I wrote him and we have been corresponding ever since," she says.
Belzowski still manages to make time for other passions and hobbies. She loves to perform in school plays, write short stories, and play house league soccer — although she would love the game more if she wasn't so afraid of the ball, she explains. She has no fear of the ski slopes, though, and is an instructor for young kids at Snow Valley in Barrie, Ontario, during the winter.
Belzowski says the kids that she has inspired are the biggest inspiration to her. In March, she created and hosted her own conference for youths interested in making a powerful social change.
"I get up there and speak from the heart, on how we are the leaders of tomorrow, But really, we're the leaders of today," she says. "You're never too little to make a big difference in the world."
On April 30, she visited a lemonade stand made by one of the conference's guests, nine-year-old Kayln Kwan, who emulated Belzowski's model to raise money and stand up for cancer.
Recently, Belzowski participated in the Legislative Page Program at Queen's Park, and this has strengthened her contacts with MPPs, many of whom are now her Facebook friends. Whether or not this leads to a life in politics, Belzowski says she will always remain determined about volunteering, raising awareness, and helping her community.
"Giving back is something I'm always gonna want to do in my life. It's a part of who I am. I know that giving back to anything is only gonna be something that I am very passionate about."
Kopačky na fotbal