Diamonds aren't everyone's best friend
Red-1 remembers wearing his chain with the diamond-encrusted Figure IV Records medallion to the 2000 Ghana Music Awards in West Africa, but when he and fellow Rascalz rapper Misfit boarded a plane to Sierra Leone the next day, he put the bling away.
The Vancouver rapper had just been debriefed on conflict or blood diamonds—illicit diamonds mined in a war zone to fund the conflict and that are often mined by kidnapped children under the threat of death or torture and other unimaginable atrocities, from killing and maiming others to suffering their own amputations.
"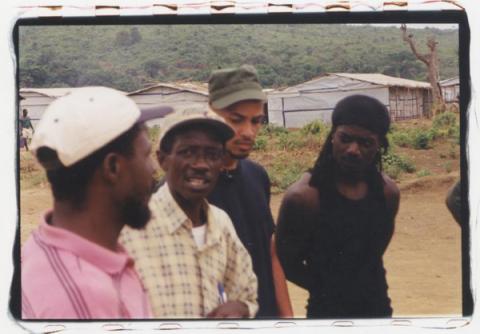 I never wore a diamond ever since," says red-1, who knew nothing of blood diamonds before the trip with War Child Canada and MuchMusic, which was filmed for inclusion in a documentary called Musicians In The War Zone.
"I was like, 'This is what's going on and hip-hop is one of the biggest promoters of the diamond industry? Everybody's talking about bling-this and bling-that, and we don't know if they're killing our brothers and sisters for all the bling that we're promoting?' It just brought me back to reality."
His chain was custom-made with Canadian stones, but he still didn't feel right wearing it. "I was there in the camps. I held the six-month-old babies that had been amputated, and I sat there and talked to people who had their ears or arms or limbs chopped off, so for me to not take that to heart, to come back and start wearing diamonds, that's just not me," says red-1, who often speaks at schools about non-violence and personal responsibility.
"After I went to Sierra Leone, all these schools across Canada had contests and projects to see what they could do to help. I was kind of proud that we helped spark that knowledge of what was going on because, just like me, a lot of people were ignorant about conflict diamonds."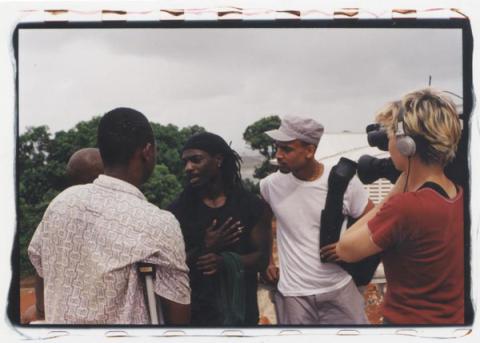 In 2002, the United Nations-backed Kimberly Process Certification System was implemented as a means of tracing the origins of diamonds. According to diamondfacts.org, which is sponsored by the World Diamond Council, in the late-90s "conflict diamonds represented approximately four percent of the world's diamond production." Today, the industry maintains "the flow of conflict diamonds has been reduced to considerably less than one percent."
Although that number is low, bloodshed and kidnapping of any kind for a glittery rock is too high. While there is a tenuous peace in Sierra Leone, Angola and the Congo, it would not take much to tip the scales. In many instances, non-governmental factions still control the mines. It is important to make an informed decision, whether one simply chooses not to contribute to the demand by buying diamonds or wants to ensure they're conflict free.
When American newcomer Lupe Fiasco wrote the poignant song "Conflict Diamonds," he inspired rap star Kanye West to remix and write new lyrics for his 2005 "Diamonds From Sierra Leone" (which originally had nothing to do with blood diamonds) and make a music video about the affect of the illegal diamond trade on African children.
"This is the same guy who is dripped from head to toe in diamonds," red-1 laughs, referring to West's bejeweled Jesus-head necklace and diamond earring. The remix contains the line: "I thought my Jesus piece was so harmless / 'til I seen a picture of a shorty, armless."
Dr. Samantha Nutt, executive director of War Child Canada headquartered in Toronto, says it's a good thing for artists to shed light on the issue. "They have a huge responsibility to make sure that their diamonds are ethical diamonds and that they are putting that message out there.
"It's not good enough to have all of this bling and pretend that there aren't people in other parts of the world paying an enormous price for that. Ten thousand people lost their hands and their ears and their feet in Sierra Leone. That's absolutely atrocious.
"We need to recognize that it's like throwing a stone in the water," she says. "We may be focusing on the stone, but the ripples are huge. We need to know how our stone connects to those ripples very far away. That's what it means to be responsible and that's what it means to be a good global citizen."
The 2006 Leonardo DiCaprio-led film, Blood Diamond, set in Sierra Leone during the 1990s civil war, has brought the situation to the public's consciousness. Rapper Nas wrote "Shine On 'Em" for the soundtrack and released a dramatic, eye-opening video, but what can a consumer do when diamonds are a so-called "girl's best friend" and many rappers are walking advertisements for the ice?
"At the end of the day, if people do only one thing, they should demand a certificate of origin for any diamond that they purchase," says Dr. Nutt. "If you buy Canadian, and particularly if it's a Polar Bear diamond, then you know that it's fine," she says of the government-certified 100 percent Canadian diamonds that are mined in the Northwest Territories.
"But if you're buying a diamond that isn't a Canadian diamond, then you must demand a certificate of origin. Diamond retailers have a responsibility to issue you that certificate of origin and anybody who tells you that they don't have a certificate of origin, you shouldn't buy the diamond."
The question, of course, is how can you be certain that conflict diamonds won't be smuggled into the system?
"You see a lot of diamonds go via Antwerp or via Tel Aviv or via New York, and people will try and slip through certificates of origin for those types of locations," continues Dr. Nutt. "If a diamond is smuggled out of the Congo and sold in exchange for weapons, and purchased out of Rwanda, it is a conflict diamond. If somebody offers you a certificate of origin that says it's from Rwanda, so it's fine, well Rwanda doesn't have any diamond mines.
"If you don't have the time to take the initiative to find out which countries are concerning in terms of conflict diamonds—and historically it's been Sierra Leone, Angola, the Congo in particular—at the very least make sure you buy Canadian."
_______________________________________________________
ARE DIAMONDS RARE?
"There's always going to be people who want to buy a diamond. It is an artificial economy, there's no question. [South African-based mining and trading corporation] De Beers, for years, has been accused of withholding diamonds and not putting them into the market because it deflates prices, so they're artificially driving up the prices. But at the same time, there are some people who will always buy diamonds. They see it as a symbol of love or as an important thing. Diamonds are one of the easiest ways for consumers to exercise choice because when you're talking about oil, it becomes very hard to trace where oil comes from. Or when you're talking about coltan, which is in our cell phones, video games and computers, that's smuggled out of the Congo and sold in exchange for weapons and fuelling the war there, that's a lot more difficult to trace. Diamonds are something that consumers can exercise due diligence about and it's very easy to make a choice." — Dr. Samantha Nutt
"It's hard to say we shouldn't buy diamonds because that's maybe my opinion, but I don't feel like everybody in the world is going to agree with me because there are people who make a living off of selling jewelry and diamonds. I think we need to let people know that diamonds aren't rare. You can man-make diamonds now. I was watching something the other day where you can take a piece of your animal's hair and give it to this company and they can turn it into a diamond for you with high-pressure and you have it as a piece of jewelry for the rest of your life. That's crazy." — red-1
* Chicago-based LifeGems Memorial creates diamonds from the carbon remains of people's loved ones. Within the process, the carbon bonds with minerals using extreme heat and pressure, forming a diamond. www.lifegem.com
Air Jordan 1 Mid Pine Green/White-Black-University Red For Sale