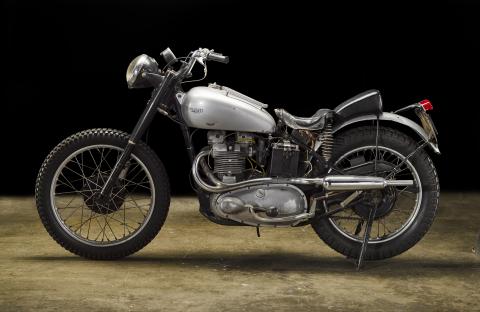 Arthur "The Fonz" Fonzarelli's motorbike from Happy Days set a world record for a Triumph motorcycle at auction, selling for $231,562 (all U.S. dollar figures) at Bonhams TMC Presents ... Hollywood Cool sale on Dec. 8 in Los Angeles, with some of the proceeds going to This Is About Humanity.
Henry Winkler, who played The Fonz on the popular 1970s and '80s Happy Days television show, auctioned off several memorabilia items. The Fonzie character was the most merchandised in American television, resulting in Winkler's large personal collection. Several items from Winkler's post-Happy Days career as an actor, director, producer and author were also in the auction.
A portion of the auction proceeds will be donated to This Is About Humanity, a charity run by Winkler's daughter Zoe that raises awareness and funds for families separated at the United States-Mexico border.
This Is About Humanity was founded in 2018 to help support those individuals with essentials for living, access to legal services, mental wellness check-ups and shelter assistance. It also provides for a range of projects that include educational bus trips to the border, donations to legal services, construction projects at shelters, and material goods for unaccompanied minors.
The Happy Days Triumph motorcycle in the auction was exhibited at The San Diego Automotive Museum from 2017 to 2021. Its sale price far exceeded its pre-sale estimate of $80,000 to $120,000.
The 29-lot auction of Winkler-related memorabilia sold for $408,265. It also included:
a Fonz outfit, including blue jeans, white T-shirt, black biker boots, and leather jacket that sold for $75,312;
original "ghostface" masks from the film Scream that sold for $27,812 and $25,312;
a pair of mechanic coveralls worn by Fonzie that sold for $14,025, twice its pre-sale estimate;
a collection of political memorabilia that sold for $4,845;
a collection of letters and ephemera related to Happy Days that sold for $3,825;
Happy Days softball tournament uniforms and merchandise that sold for $2,805;
a collection of Happy Days dolls and figures that sold for $2,167;
a U.S. Army shirt worn by Fonzie that sold for $2,040;
and a collection of costumes worn in the movie The Waterboy that sold for $2,040.