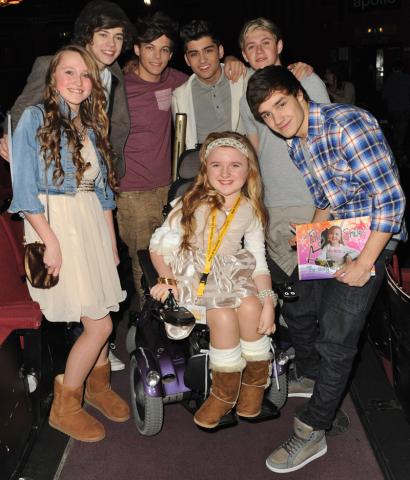 There's Ollie, Tilly, Rebecca and Gina, all huge fans of One Direction, the newest UK boy band to enjoy adoration from millions of young people.
These kids are a little different though in that their serious illnesses often prevent them from attending concerts and doing what "normal" kids do because they are hospitalized or dealing with their medical conditions, which are sometimes terminal.
Ellie Thompson, 9, has leukemia; Rebecca Commander, 15, has cystic fibrosis; Tilly, 11, has spinal muscular atrophy; and Gina, 16, has Hodgkin's lymphoma.
One Direction — comprised of Niall Horan,18; Zayn Malik, 19; Liam Payne, 18; Harry Styles, 17; and Louis Tomlinson, 20; — became Ambassadors for Rays of Sunshine this past December, and quickly realized the impact they can have on these kids, even in a short visit.
The children's charity grants wishes for seriously ill children in the UK aged 3 through 18.
"We go out and meet kids in different neighbourhoods and they come to our concerts sometimes and we meet them," Payne told samaritanmag.com. "We're in an incredible position where we can make even people with the most frowns smile. I think that's really important that we use that to our advantage and not just let it fall by the wayside."
Sometimes it takes a while for artists to pick a charity to support; perhaps they want to find the one that resonates the most with them or they are simply busy building up their fanbase and getting their profile to a certain level, but One Direction fast-tracked to fame.  
The five boys were individual contestants on the UK television talent search X Factor in 2010 and were all sent home by judges Simon Cowell, Nicole Scherzinger and Louis Walsh. They were then brought back if they agreed to work together as a boy band.
One Direction did very well in the competition, making it to the third spot. After the show, the group signed to Cowell's Syco Music. Their debut album, Up All Night, came out late November and sold a half-million copies by year-end and their first headlining tour sold out in minutes. The video for the single "What Makes You Beautiful" has over 50 million views.
The group is touring North America this month with America's Big Time Rush (Feb. 24 to March 9) and the album comes out here March 13.
"Everybody who's in this sort of position that we're in has got a massive opportunity to help people and give them a little bit of hope and bring a little bit of a smile to their day," says Payne of One Direction's involvement with Ray of Sunshine (Cowell and former X Factor contestants Leona Lewis and JLS are also Ambassadors).
"You've got to take the time out really. And that's all it takes really, a few hours to spend time with somebody and make them smile and you've made their day."
He brings up a recent visit One Direction had last month with a little boy named Ollie and his brother Alfie, on their way to perform a show in Glasgow, Scotland. They stopped in at their house for a few hours.
"It was really sad," Payne tells samaritanmag.com. "Ollie was only five years old and he was suffering from a huge brain tumour. He only had, literally, a few days to live. He had an older brother who's only eight.
"So when you think about that and you can go and meet the family and kind of cheer them up a little bit, as much as you can, although they're in such a difficult position; it's just unimaginable the kind of pain they must be going through.
"We went down and played video games with them and played with toys with him and made him smile a little bit. His parents said that was the first time they saw him come out of his shell and smile a little bit because when we got there he was really shy. So I think it's really nice when you get to do things like that and make at least a little bit of a difference in a really bad situation."
NASA x adidas Ultra 4D Silver