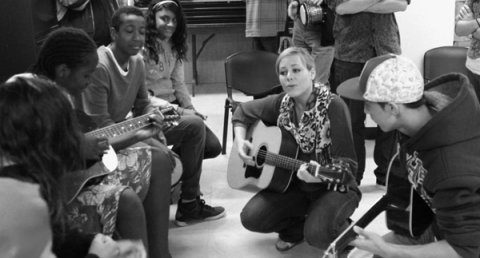 Christine Newman notices a positive difference in the kids and youth after they experience her program, Building Bands Canada. The 25-year-old created the Toronto-based non-profit to provide free music lessons and instruments to marginalized youth, some of them incarcerated.  Her program encourages self-expression and reinforcement, which she feels is important to help these kids gain a sense of self worth and take charge of their lives.
"A lot of them have never received positive [feedback]," Newman tells Samaritanmag. "Once they have that in their lives, they build self-esteem and that helps them make their own improvements. It helps them realize that people can go to university, get student loans, jobs, and not live on welfare their whole lives."
They even help kids with resumes and get jobs, she says.
According to Building Bands Canada's mission statement, "...We believe that when at-risk children and youth have access to productive activities to participate in, they will be less likely to participate in non-productive activities; such as drugs, alcohol, violence or crime..."
The charity now has over 200 members and is active in 13 locations encompassing homeless shelters, youth detention centers, community centers and schools across Ontario in Toronto, Curve Lake, Millbrook, Oshawa and Peterborough. 
"We get community donations and we host fundraisers in all the cities to buy new instruments," explains Newman. The volunteer instructors range from child and youth workers to local musicians.
For the incarcerated youth, Building Bands Canada also has a "new start" program "which allows youth who
have participated in our programs to apply to work as music teachers
or fundraisers for our organization upon completing their sentence," it says on the web site.
Troubled teenagers are given volunteer opportunities teaching music classes, and assisting with program design and fund-raising, "allowing them to rediscover their strengths."
Newman, who grew up in an average household in London, Ont.,  admits she had her own preconceived idea of what a youth correctional facility would be like before she first visited.
"I had this vision of them being like prisoners in jumpsuits, but now I see them as normal kids who got into the wrong situations," she says.  "I got used to them fairly fast; I forget sometimes that I'm in a prison. It's just a fun experience for me.
"The kids love it.  I've never had a problem with many of them, even when they're forced [to participate because they're] in a prison setting.  They always enjoy it; it breaks up their day. 
"They're pretty selective. We let them do what they want, like if they don't want to learn drums, we can teach them guitar instead.  If they don't want to learn guitar, then we can let them do songwriting, if that's what they want.  They have a lot of control over what they're learning.
"It's all about what they want and what feel comfortable doing.  When you give them that kind of control they really like what they're doing."
Newman, herself classically trained on violin but also plays basic guitar and sings, has volunteered in the past for major charity organizations from the Canadian Diabetes Association to Canadian Breast Cancer Foundation, but wanted to do something that resonated more strongly with her. "The arts were a huge part of my life growing up," she says. 
Four years ago, then 21, she put on a small charity event in Peterborough, Ont., while in her last year at Trent University.  "I wanted to have a fundraiser where I knew that 100 percent of the money was going to the cause," she explains. "I've always known that I was meant to help at risk youth and I thought that music was the most universal way to do that.
"The money went towards musical instruments for a youth shelter there so kids could start their own bands. I thought if they were having jam sessions, then they could be doing something productive. " Building Bands Canada grew from there.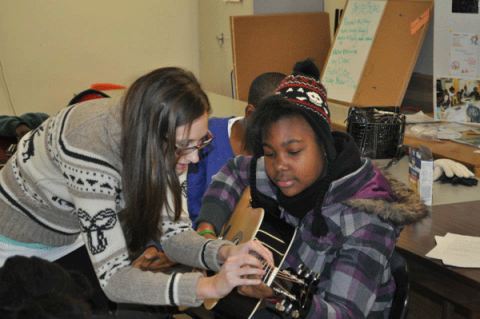 Locals quickly found out about her cause and many jumped onboard to volunteer and teach a variety of classes from strings, guitar and drums to glee club and music theory — and sometimes songwriting.
On "theme days," they will pick a topic to write about, Newman says, such as freedom or bullying. "It's therapeutic and a way for kids to express themselves without having to talk about these things. They can do it through music and it's much easier for them." 
"With girls, we talk about things like placing value on yourself and your body, not allowing people to treat yourself in a certain way.  With guys, we talk about violence in hip hop, the mistreatment of women, inappropriate terms that are often used in hip hop when talking about women.  We have these conversations all the time.
"We definitely get negative feedback from the community sometimes," she says.  "Kids definitely want to write hip hop and they want to write about their lives, which is real life.  I don't give them any restrictions on what they can write.  I think it's their expression, but what they say outside and in a group is different.  A lot of these kids have seen abuse, poverty, drugs — not nice things in their lives.  That all comes out in their songs. 
"We're recording them and putting them on the album to show that these are the lives kids are living," she adds.
This fall, Building Bands Canada will hold an audition for a musical and the kids and teens will be responsible for everything from directing it to creating the props. Building Bands Canada also holds open mics at venues including Toronto's Orbit Room, Cadillac Lounge and Loon's Pub (where there is one tonight, Aug. 29).
"They get all kinds of opportunities," Newman says.
Newman also curates a donated prom and graduation dress program for the female Building Bands participants called Christine's Closet. "I started it because many of the youth girls that I teach don't have the means to buy dresses to wear to their graduations," she explains. "They might not want to go to these events because they might be labeled for not having a nice dress or wear normal clothes."
She gets contacted by women who have extra dresses and goes to pick them up. There is no web site for Christine's Closet but she posts about it on Building Brands' Facebook page. "The girls are super excited to get new dresses, shoes and makeup. We make a day out of it as a group and make a fashion show. They scream and shriek and do all the things young girls do.
"I really believe in equal access," explains Newman of why these two grassroots ventures are her passion.
"I think my family raised us to be aware that we were fortunate, and to be mindful that there were people that weren't as privileged as us; but nothing could have prepared me for the type of poverty that I've seen through Building Bands; kids that don't have food, or proper living conditions, young girls that work as sex workers to pay for food; it has been a total culture shock.
"In the education system particularly, certain kids are given every opportunity and others are forgotten, like children in alternative schools and jails and bad families.  It's always been a passion of mine to make sure everyone has an equal opportunity. 
"A way to approach these youth and give them an opportunity is through the arts. If I could do more than music, I would." Sounds like she is.
Air Jordan 1 Mid "What The Multi-Color" For Sale